Dir: Rob Reiner. US. 2016. 97mins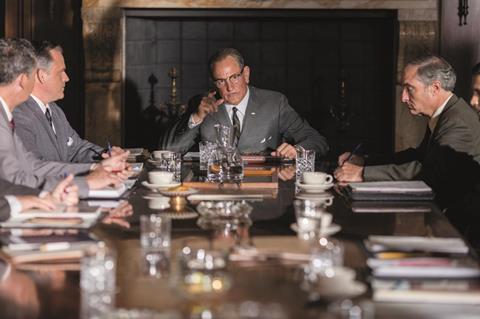 An ambitious, bareknuckle politician ascends to the presidency, but not the way he expected, in LBJ, a biopic both fascinated by the intricacies of power and a little overawed by its subject's righteous cause. In films like The American President, director Rob Reiner has shown a patriotic fervour for progressive politics, and his unapologetic embrace of President Lyndon B. Johnson, played with spice by Woody Harrelson, has its stirring moments as we watch him succeed John F. Kennedy after his 1963 assassination.
LBJ feels like a safe history lesson more than an inquiry or a revelation.
The earnestness doesn't leave much room for nuance, however, with even Johnson's complexities simplified. Launching at Toronto, LBJ comes at a time when presidential intrigue remains a popular driving engine on TV comedies (Veep) and dramas (House Of Cards), to say nothing of recent films that have dealt with the Civil Rights era, including Selma and the Broadway play-turned-television movie All The Way.
LBJ jumps between time periods, focusing largely on the years before Kennedy's (Jeffrey Donovan) murder to examine Johnson (Harrelson) as he ponders his own run for the White House in 1960, eventually agreeing to serve as Kennedy's vice president. Feuding with Kennedy's brother, Attorney General Bobby Kennedy (Michael Stahl-David), who dislikes his brusque Southern manner, Johnson must navigate the politics of the Oval Office before taking the reins himself when tragedy strikes.
Even in his best films, Reiner prefers a sentimental, crowd-pleasing style, and LBJ has a clean efficiency as we watch the insecure Johnson pass legislation through sheer tenacity, his bulldog style a symptom of feeling inferior to charismatic, good-looking politicians like John Kennedy. Harrelson's makeup work is initially distracting, but the viewer acclimates, helped in large part by the actor's bruising, backslapping performance emblematic of this future president's no-nonsense spirit.
In a similar vein to Lincoln, LBJ is as much a portrait of a president as it is a tutorial in how the business of government works — and as with Steven Spielberg's film, Reiner's drama focuses on the passing of a crucial law that will bring America closer to racial equality.
The shrewd machinations of negotiation, compromise and persuasion have an undeniably allure in LBJ, and indeed the film is strongest when it's simply a procedural documenting how Johnson worked his way to the vice presidency, began fighting for Kennedy's Civil Rights Act, responded to Kennedy's assassination and assumed power, and then secured passage for the bill.
With that said, however, what consistently hampers LBJ is a generally starchy approach to compelling material. This is a movie in which audiences will notice the makeup, prosthetics and accents, LBJ straining to bring history to life rather than feeling effortless in its presentation. No better example exists than Jennifer Jason Leigh, who has little to do as Johnson's loyal wife Lady Bird — it's less a performance than a recreation, the actress trapped behind a fake nose that makes her look more like the former First Lady but contributes to the overall stilted feel.
And although Johnson's feelings of inadequacy around the Kennedys suggest how much harder it was to take John Kennedy's place, LBJ starts to become a highlight reel once he assumes the presidency, commemorating his greatest achievements without offering enough weight to the enormity of the undertaking. To be sure, Reiner does argue that Johnson was, to his core, a ruthless strategist — even when asserting himself into the role of president — but that potentially intriguing character shading goes largely uncommented upon. As such, LBJ feels like a safe history lesson more than an inquiry or a revelation.
Production companies: Acacia Filmed Entertainment, Star Thrower Entertainment, Castle Rock Entertainment, Savvy Media Holdings
International sales: Voltage Pictures, sales@voltagepictures.com
US sale: Creative Artists Agency, filmsales@caa.com
Producers: Matthew George, Rob Reiner, Liz Glotzer
Executive producers: Martin Shafer, Elizabeth A. Bell, Julie B. May, Glenn P. Murray, Mike Ilitch Jr., Danny Roth, Damiano Tucci, Michael Tadross Jr., Chris Conover, Hernan T. Narea, Daniel Alberto, Allan Mandelbaum, Lloyd Braun, Andrew Mittman
Screenplay: Joey Hartstone
Cinematography: Barry Markowitz
Production design: Christopher R. DeMuri
Editor: Bob Joyce
Music: Marc Shaiman
Main Cast: Woody Harrelson, Michael Stahl-David, Richard Jenkins, Bill Pullman, Jeffrey Donovan, Jennifer Jason Leigh