A father and daughter find their isolated existence threatened in Debra Granik's moving drama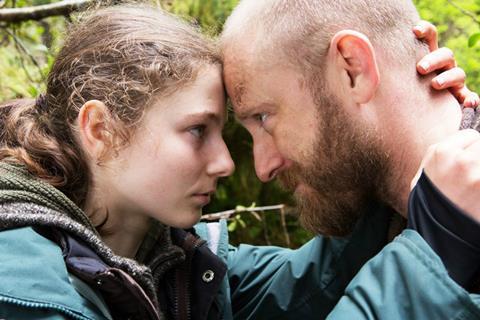 Dir: Debra Granik. US. 2018. 108mins
A father and daughter live off the grid, but how much longer can they live together? That question drives the exceedingly moving Leave No Trace, a character drama told with remarkable understatement and specificity by director Debra Granik and actors Ben Foster and Thomasin Harcourt McKenzie. In films like Winter's Bone (2010), Granik has been adept at chronicling marginalized individuals, but her new effort reveals a sustained tenderness she's never before achieved.
Leave No Trace is content to tell its slim story with unrushed care
Premiering at Sundance, Leave No Trace should spark interest from buyers, bolstered by good reviews and Granik's track record. (Winter's Bone won Sundance's US Dramatic competition, earned four Oscar nominations and propelled newcomer Jennifer Lawrence to stardom.) Admittedly, this is an intimate, somewhat familiar tale, which may create an inevitable commercial ceiling, but art-house crowds will take notice.
As the film begins, Will (Foster) and his teen daughter Tom (McKenzie) reside in the deep forests of Portland, Oregon, happy to live off the land and sleep in a tent far from civilization. But their rugged idyll is upset by the arrival of local authorities, who arrest them for trespassing and force them to meet with social service agencies and integrate into society. At first, the restless Will tries to make the best of this imposed domesticity, but soon he and the adoring Tom head back into nature.
With echoes of The Ballad Of Jack And Rose and Captain Fantastic, Leave No Trace is a close study of a father who has turned his back on humanity and the child he raises in this unconventional wilderness lifestyle. (What exactly happened to Tom's mother is left a mystery.) Granik has adapted Peter Rock's novel My Abandonment, and the source material provides her with the same kind of wandering, eternally searching protagonist that populated her debut drama Down To The Bone and her underrated, little-seen 2014 documentary Stray Dog.
Granik's partner in this endeavour is Foster, who gives Will a silent volatility that always hints at a secret pain running so deep within this gentle, melancholy character that we fear what would happen if he ever erupted. Instead, Will is nothing but loving to Tom, who seems to gravitate to the peculiar circumstance in which she's been raised. Unfortunately for Will, his insistence that she be an independent free-thinker may have consequences: Over the course of Leave No Trace, McKenzie charts Tom's slow realization that the life he's chosen for them might not be the one she wants for herself anymore.
The film doesn't flesh out the characters' back stories — although we will eventually come to understand Will's motivation for rejecting society — and, likewise, Granik resists the urge to editorialize about their unusual life. Neither a glib celebration of marching to the beat of one's own drum nor a cautionary tale about the dangers of being seduced by eccentrics, the film would rather spend its time sympathizing with its leads — as well as many of the people they meet along the way - war veterans, well-meaning social workers, disillusioned teens, kindly religious leaders, fellow drifters - who all seem to be seeking a contentment that keeps alluding them.
Because of its muted tone and narrative similarities to other off-the-grid stories, Leave No Trace isn't always riveting, content to tell its slim story with unrushed care. That leisurely pace allows Foster and McKenzie to develop a father-daughter rapport in which the power dynamics slowly start to readjust. Will and Tom never stop loving one another, but unspoken tensions cause them to re-evaluate their relationship and shared purpose. It's a film that never overwhelms but it lingers, leaving its mark on the viewer.
Production companies: Bron Creative, Topic Studios, Harrison Productions, Reisman Productions, Still Rolling Productions
International sales: Endeavor Content, dmcintosh@endeavorcontent.com
Producers: Anne Harrison, Linda Reisman, Anne Rosellini
Executive producers: Aaron L. Gilbert, Jason Cloth, Andy Pollack, Michael Bloom, Adam Pincus
Screenplay: Debra Granik & Anne Rosellini, based on the novel My Abandonment by Peter Rock
Cinematography: Michael McDonough
Production design: Chad Keith
Editor: Jane Rizzo
Music: Dickon Hinchliffe
Main Cast: Ben Foster, Thomasin Harcourt McKenzie, Jeff Kober, Dale Dickey