Focus delivers a twilight-years Western aimed at older audiences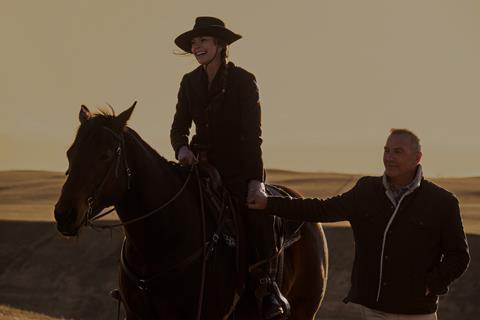 Dir/scr Thomas Bezucha. US. 2020. 114 mins.
One thing can be said for certain about Let Him Go from director and screenwriter Thomas Bezucha: it knows its target demographic. Resuming their Superman partnership – they played the Man in Blue's parents – Kevin Costner and Diane Lane star as a loving couple living out their retirement on a Montana ranch who become entangled with a violently feral Dakota family and its blonde matriarch, played with wig-clutching abandon by British actress Lesley Manville.
Bezucha has his heart clearly set on a twilight-years tragedy
Although the Venn intersection between audiences for Manville's Phantom Thread and Man Of Steel doesn't appear to be large, Costner and Lane are catnip for older crowds, particularly those fond of a sedate Western, and/or a tender love story. The film has a 1960s period setting, the popular source novel was written by Larry Watson, and it features Costner, who once played Wyatt Earp, as a retired sheriff. It's overall tone is sincerely mournful, the outcome stubbornly predetermined, until Let Him Go still takes a speedy purple swerve in the third act. Ending up hopelessly lost in the Dakotas like its appealing main characters, Let Him Go was backed by Focus and will be distributed by Universal outside the US, where it is set to open theatrically on November 6. The biggest surprise here is that writer/director Costner, who also executive produced, would sit back for the ride.
Bezucha has his heart clearly set on a twilight-years tragedy: that much is clear from the opening sequences when retiree couple George Blackledge and his wife Margaret (a horsewoman) face into the sudden death of their only son in a riding accident on their Montana ranch. He leaves behind a widow Lorna (appealingly played by Kayli Carter) and an infant. The film then moves forward in time to the marriage of Lorna to bad-boy Donnie Weboy (Will Brittain). The couple leaves town in a hurry, and Margaret, with a reluctant George in tow, sets out to find her pre-schooler grandson – and, yes, bring him home.
Their quest will lead them to the Weboy clan, living "off-grid" in the Dakotas: much is spoken by frightened neighbours and relatives of how dangerous they are, but, once found, they turn out to comprise Blanche (Manville) frying up a batch of porkchops surrounded by an array of nameless family goons. Her motivations aren't particularly comprehensible, drowned as they are in a hail of tics and extravagant accent work, or perhaps that's in the writing: it's all a soup. Either way, the part is ludicrous: Melissa Leo needn't fear any encroachment on her territory by Manville, who will presumably hope that Bring Him Home never opens near her own house.
Diane Lane, so appealing in 2015's Paris Can Wait (which was aimed at the same demographic), is the film's driving force, her character stubborn, her brusqueness unexplained. George and Margaret are old-timers, closely bonded with each other, their horses and their land, but she also seems to have taken against Lorna for no appreciable reason. Their reconciliation, if that's what it is, proves rushed and unconvincing. George is largely around to offer unconditional support to Margaret and a validation of her equine skills as, quite literally, a horse whisperer. A final character, that of a Native American boy called Peter (Booboo Stewart), is perhaps intended as a surrogate son for the couple. It also gives DoP Guy Godfree a chance to linger on the land, and deliver some stunning imagery of campfires at night and the dawn light rising.
Technical credits are strong until the film arrives at its destination: a drearily-conceived desolate farm house which is meant to hoard secrets but only delivers some cheap props. Calgary subbed for the Dakotas during the shoot, and while that fact isn't immediately apparent to audiences, there is a feeling of inautheticity to the film which becomes more evident as it progresses, Bezhucha seems to have spent all his effort and imagination on the journey: the destination an afterthought, the denouement bizarrely prolonged, and all but written in a flashing neon sign above the Blackledges' heads.
Production company: Mazur Kaplan Company
International sales: Focus Features/Universal Pictures International
Producers: Thomas Bezucha, Paula Mazur, Mitchell Kaplan
Screenplay: Thomas Bezucha, from the novel by Larry Watson
Cinematography: Guy Godfree
Production design:
Editing: Jeffrey Ford, Meg Reticker
Music: Michael Giaccino
Main cast: Kevin Costner, Diane Lane, Lesley Manville. Kayli Carter, Will Brittain, Booboo Stewart