Paul Thomas Anderson channels the spirt of Robert Altman for this San Fernando Valley 70s-set story of young love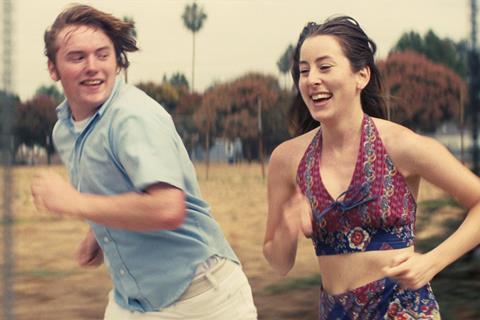 Dir/scr: Paul Thomas Anderson. US. 2021. 133 mins.
A study of young love in Southern California in the 1970s, Paul Thomas Anderson's coming-of-age story is fully immersive and pleasingly laidback. Making her acting debut, musician Alana Haim creates a marvellous portrait of a disaffected twentysomething struggling to find direction, reluctantly falling into the orbit of a smooth-talking teenager (Cooper Hoffman) who is determined to woo her. With shades of Robert Altman's freewheeling spirit embedded in this tale of politicians, Hollywood producers and waterbeds, Licorice Pizza gains momentum as its ambles along, resulting in Anderson's gentlest, most endearing picture to date.
Anderson isn't after easy nostalgia
The film, which opens on November 26 in the US and January 7 in the UK, might not initially generate the same level of awards buzz as some of the director's more imposing works. But its 1970s setting and period soundtrack may make it a more inviting commercial prospect, which could prove crucial since Licorice Pizza lacks the star power of his earlier films. (Bradley Cooper only has a small role, as does Sean Penn.)
Alana (Haim) meets Gary (Hoffman) at his high school on picture day, where she is working as an assistant to the photographer. He's immediately smitten with her, and even though Alana is older by several years, he wields a mixture of confidence and charm to convince her to go out to dinner with him. Gary insists they're destined to be a couple, an assertion she dismisses as absurd, but because he operates several side businesses — not to mention is a semi-successful television actor — he entices her into his surreal world, even though she has no intention of pursuing a romantic relationship.
Taking place in the Valley, which has served as the backdrop for several Anderson pictures, Licorice Pizza exhibits a more carefree vibe, quietly amused by Gary's precocious swagger. A regular at a local restaurant catering to Hollywood players — the owner always makes sure he gets his usual table — Gary exudes an older-than-his-years air, but there's something artificial about his posturing, perhaps hinting that he's hiding some deep unhappiness. Hoffman, the son of the late Oscar-winner (and frequent Anderson collaborator) Philip Seymour Hoffman, imbues the character with the gift of gab and an ever-present smile. He's a salesman and a hustler, cajoling adults to buy waterbeds and schmoozing casting agents to land his next commercial.
Gary is such a force of nature that it's understandable why Alana, against her better judgment, keeps hanging out with him — not because she's attracted to him but because she's intrigued by this odd young man. For much of this episodic, somewhat digressive film, we simply observe these two characters as their friendship grows, Gary constantly hoping that eventually she'll return his feelings for her. Licorice Pizza expertly conveys youthful infatuation in all its intensity and awkwardness — how adolescents begin to understand adulthood by pursuing love connections that probably won't last. Working alongside co-cinematographer Michael Bauman and shooting on film, Anderson makes the vividness of those early flashes of love powerfully evocative — the picture's faded colours suggest a treasured old photograph.
But Anderson isn't after easy nostalgia: Licorice Pizza observes the 1970s' sexism, racism and homophobia, the intolerance presented matter-of-factly, a depressing everyday occurrence. And Haim's performance also keenly taps into an era in which young women didn't yet feel completely liberated. Alana can be cuttingly funny, and yet she desperately wants to find love in order to give her life meaning — a restlessness that will put her in contact with both handsome older movie stars (an oily Penn) and idealistic mayoral candidates (Uncut Gems co-director Benny Safdie). Like Gary, Alana is a bundle of insecurities, but Licorice Pizza is sensitive in its acknowledgement of the gender norms that make her life choices more constricting than his.
It's perhaps inevitable some of Alana and Gary's misadventures will be more memorable than others. Not unlike Altman's 1970s films, Licorice Pizza constantly seems capable of jumping off into several possible tangents, making it hard to always know precisely where the story is headed. Cooper, playing real-life film producer Jon Peters as a deliciously self-absorbed caricature, suddenly becomes an important figure in the narrative, just as Tom Waits' Hollywood muckety-muck Rex Blau gets his own moment. The film's plot even incorporates the gas shortages that were crippling America at the time.
But what holds Licorice Pizza together is the writer-director's affection for these two young people as the big, scary grownup world opens up in front of them. It would be unsporting to reveal if they ever become a couple, but one would certainly agree they're meant to be together in Anderson's woozy, resonant vision.
Production company: Ghoulardi Film Company
International sales: Focus Features/Universal
Producers: Sara Murphy, Adam Somner, Paul Thomas Anderson
Production design: Florencia Martin
Editing: Andy Jurgensen
Cinematography: Michael Bauman, Paul Thomas Anderson
Music: Jonny Greenwood
Main cast: Alana Haim, Cooper Hoffman, Skyler Gisondo, Mary Elizabeth Ellis, John Michael Higgins, Christine Ebersole, Harriet Sansom Harris, Sean Penn, Tom Waits, Bradley Cooper, Ryan Heffington, Nate Mann, Benny Safdie, Joseph Cross