Dir: Roger Ross Williams. US. 2015. 91mins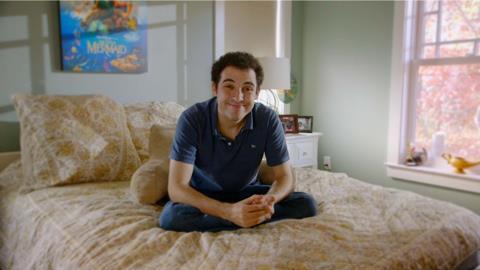 A touching story about how one family managed to reach their autistic son, Life, Animated is a sentimental, uplifting documentary that mostly transcends the limitations of its resolutely feel-good approach. Affectionately chronicling Owen Suskind, whose autism at a young age left him uncommunicative until his father discovered the boy's ability to speak through beloved Disney films, this Sundance crowd-pleaser is boosted by some lovely animated re-enactments, as well as a tastefully compassionate tone that doesn't try to oversell what is already a potently emotional story.
Some of the film's most affecting moments come through animations designed by artist Mac Guff, who illustrates how Ron eventually learned that his child could communicate through the dialogue of Disney cartoons
Life, Animated (which recently screened at the True/False Film Festival) has been scooped up by The Orchard for North American distribution and is represented by Dogwoof for most international markets. Set to be released later this year, the film seems to have all the earmarks of a serious Oscar contender for Best Documentary, but even before then it should connect with specialty audiences looking for a tear-jerking tale with a happy ending. If all that wasn't enough to bolster box office, Life, Animated will also be helped by the visibility of a popular memoir that Owen's father Ron Suskind wrote about his son's autism in 2014. Good reviews and glowing word-of-mouth should lead to solid grosses for a nonfiction film.
In Life, Animated, director Roger Ross Williams seeks to encapsulate Ron Suskind's book — also titled Life, Animated, which recalled the journey to unlocking Owen's closed-off personality — while also detailing how Owen (now in his early 20s) has progressed since. This is done through talking-head interviews with Ron, his wife Cornelia, their older son Walter, and Owen, as well as through footage of Owen preparing to leave home to go to school and becoming involved with his first serious girlfriend.
All of this is rather straightforward and polished, but some of the film's most affecting moments come through animations designed by artist Mac Guff, who illustrates the family members' memories of Owen as a boy and how Ron eventually learned that his child could communicate through the dialogue of Disney cartoons. Speaking gibberish, Owen was withdrawn in his youth, only really able to bond with his family when they all watched Disney movies together. Once Owen's father recognised that the child used character dialogue to articulate his own fears and observations, Ron had the key to draw his son out.
Guff's animations — occasionally simple pencil drawings, other times more elaborate and lush illustrations — provide a nice emotional framework for what could otherwise be simple regurgitations of stories the Suskind family have told countless times. Avoiding cutesy preciousness, the animations bring a vibrancy to Owen's backstory while simultaneously creating a pleasing visual component that sidesteps the potential phoniness from which documentary re-creations often suffer.
It also doesn't hurt Life, Animated that the Suskinds are a very likeable bunch. Though the family members' interviews have a professional, easy-going sheen, they never feel overly rehearsed or manufactured, the emotions still very close to the surface. (As for Owen, because conventional conversation can be a struggle for him, he often answers in simple, declarative statements, a testament to how much autism still affects his daily existence.)
However, the sunny, inspirational tone can indirectly underline what's not acknowledged in Life, Animated. For instance, although anyone would be grateful that the Suskinds got through to Owen, it's hard not to notice that the family's financial resources and access helped allow for such a breakthrough. (Ron Suskind is a Pulitzer Prize-winning journalist and celebrated author.) This is not to say that the Suskinds shouldn't be allowed to use their means to aid their son, but the film never quite addresses the fact that many, many families with autistic children will never be so fortunate, their struggles unlikely to be the subject of a book or a documentary. (Along those same lines, the family was able to get the participation of the Disney studio to include clips from the company's films in Life, Animated, and Ron Suskind's memoir was published through a Disney imprint.)
If the film is silent on these matters, it's nonetheless ungracious to judge Life, Animated too harshly because of that lack of acknowledgment. Despite the film's positive energy, Williams (who won an Oscar for his documentary short Music By Prudence) leaves room for the family's continuing fear of what will happen to Owen once his parents are too old to take care of him. (Perhaps Life, Animated's most poignant moment comes during a quick comment from Walter, who fears the responsibility of someday looking after Owen on his own.) Williams has a hopeful story to tell about living with autism, but his film has the good sense to know that even happy endings will be flecked with a degree of caution when it comes to this still-mysterious disorder.
Production companies: A&E IndieFilms, Motto Pictures
International sales: Dogwoof, info@dogwoof.com
Producers: Roger Ross Williams, Julie Goldman
Executive producers: Molly Thompson, Robert DeBitetto Robert Sharenow, Ron Suskind
Cinematography: Tom Bergmann
Editor: David Teague
Music: Dylan Stark, T. Griffin
Website: www.lifeanimateddoc.com