Bill Nighy leads this handsome, period adaptation of Akira Kurosawa's masterpiece, Ikiru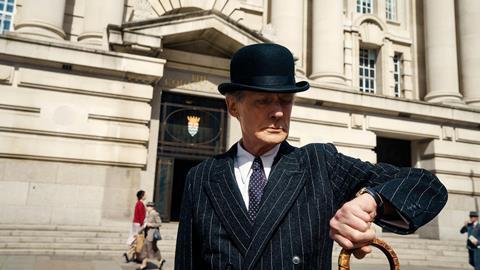 Dir: Oliver Hermanus. UK. 2022. 102 mins
The sober, grey existence of a veteran civil servant in 1950s London is rocked by the news that he is suffering from a terminal disease, in this handsome, high quality adaptation of Akira Kurosawa's masterpiece Ikiru (To Live). The film, which explores themes of reawakening and redemption, was adapted by Nobel and Booker Prize-winning author Kazuo Ishiguro and helmed by Oliver Hermanus, continuing a rich seam for the director of stories dealing with male repression. Bill Nighy brings a quiet dignity to the role of Mr Williams, an anchor of buttoned-up solidity in an old-fashioned weepie which captures the lush sentimental swirl of the original while also evoking a distinctive sense of backdrop and period.
Should appeal to a similar mature-skewed literary-inclined arthouse audience to that of Eva Husson's Mothering Sunday.
Along with Nighy's affecting performance, that vivid sense of time and place - evoked by typically excellent costume designs from Sandy Powell, and a rich Kodachrome colour palette which calls to mind the photography of people like Saul Leiter and Fred Herzog - will be a key selling point for this picture. The film, which has been acquired for the UK by Lionsgate and by Sony Pictures Classics in multiple territories, should appeal to a similar mature-skewed literary-inclined arthouse audience to that of Eva Husson's Mothering Sunday. The presence in the cast of Aimee Lou Wood, star of the hit Netflix series Sex Education, might also be a draw. However, there may be questions within certain sections of the audience about the wisdom of revisiting a film as well-regarded as Ikiru.
Ishiguro's screenplay sheds the narration which was a device in the original film. Instead the picture introduces a new character, a recently employed office junior called Mr Wakeling (Alex Sharp), who serves as our guide to the labyrinthine bureaucracy of County Hall. Our first glimpse of Mr Williams (Nighy), through the eyes of Mr Wakeling, reveals him to be a dessicated paper pusher who has spent a career diverting planning requests over to other sections of the municipal council.
A consultation with his doctor jolts Mr Williams out of his rut. With the news that he has potentially a matter of months left to live, Williams realises that it is time to start living. But he hasn't the faintest idea how to do so. To the consternation of his staff, he is absent from work without explanation; he finds himself in Brighton in the company of Mr Sutherland (Tom Burke), a writer and connoisseur of the seedier side of seaside debauchery. Mr Williams enjoys a night of excess, evoked through an impressionistic abstracted cinematography and a heartsick rendition of a Scottish folk song. But it is his return to London, and a chance encounter with his perky office colleague Margaret (Aimee Lou Wood), which persuades Mr Williams to make his final days count.
Ishiguro reprises the approach of the original film in using the third act to posthumously explore Mr Williams' legacy, both through flashbacks and through the jostling of his former colleagues to claim the credit for his achievement: a children's playground built on a former bomb site in the East End. Wisely, this section of the screenplay is tightened up considerably compared to the original, but the two films share a climactic scene in which the central character sits alone at night on a child's swing. But while Takashi Shimura in the original role had a childlike, almost innocent, quality, Nighy – dignified, patrician but somewhat vampiric in appearance – doesn't sit quite as comfortably in this key moment, a slight tonal misstep in an otherwise sensitively handled adaptation.
Production company: Number 9 Films info@number9films.co.uk; Film i Vast info@filmivast.se; Film4, Filmgate Films info@filmgate.se;
International Sales: Rocket Science jls@rocket-science.net
Producers: Stephen Woolley, Elizabeth Karlsen
Screenplay: Kazuo Ishiguro
Based On: Akira Kurosawa's film Ikiru
Cinematography: Jamie D. Ramsay
Editing: Chris Wyatt
Production design: Helen Scott
Music: Emilie Levienaise-Farrouch
Main cast: Bill Nighy, Aimee Lou Wood, Alex Sharp, Tom Burke, Colin Blyth, Richard Cunningham, Oliver Smiles