Hugh Jackman saddles up one last time for James Mangold's Western-infused Wolverine epic Logan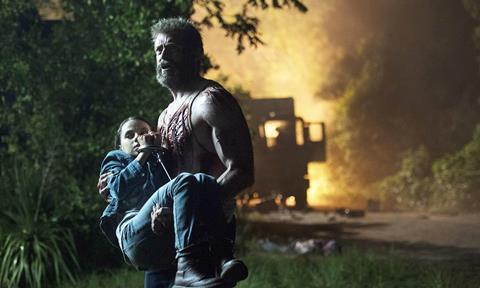 Dir: James Mangold. US. 2017. 136mins
The final Wolverine movie to star Hugh Jackman is a dark, mournful, bloody affair — but that fresh coat of gloomy paint doesn't do enough to enliven the character, the X-Men universe or comic-book films in general. Boasting a few nifty action sequences and the always-compelling Jackman, Logan self-consciously aspires to retire this iteration of the adamantium-clawed hero with epic grandeur, and the results are often rousingly bleak. And yet, the risks taken — largely felt in the more profane language and graphic violence — only make the formulaic redemption story and clichéd emotional underpinnings increasingly frustrating.
Logan drapes itself in the pitiless, widescreen aura of the Western.
After premiering at the Berlin Film Festival, this Fox offering will hit UK theatres March 1 and the US two days later. No doubt the studio is concerned that the X-Men franchise is showing some signs of commercial fatigue. Last year's X-Men: Apocalypse grossed only $544 million worldwide after 2014's Days Of Future Past collected $748 million, and the last standalone Wolverine film (2014's The Wolverine) earned $415 million. Logan's R rating might cut into the potential audience, but the betting is that fans will still make the trek to the multiplex to see Jackman one last time in the role.
Set in 2029, Logan finds Wolverine (Jackman), also known as Logan, hiding out with an ailing Charles Xavier (Patrick Stewart) and another mutant, Caliban (Stephen Merchant), to avoid humans who are looking to wipe out the last of the X-Men. Not surprisingly, Logan has no interest in the outside world, but he reluctantly agrees to help a young girl, Laura (Dafne Keen), who is being hunted by mysterious soldiers as she tries to make her way to a legendary safe house for mutants.
Directed and co-written by James Mangold, who also helmed The Wolverine, Logan drapes itself in the pitiless, widescreen aura of the Western. Not only does Logan make explicit reference to Shane, the film borrows the genre's self-critical eye, questioning our need to mythologise heroes. (Intriguingly, in the world of Logan, kids have X-Men comic books, although the adventures depicted are far more fabulous than what Logan has actually experienced.)
Initially, the ultra-violent, almost post-apocalyptic approach is refreshingly visceral, giving us a Wolverine who swears, drinks and tears through his adversaries with animalistic ferocity. Likewise, Mangold doesn't shy away from the story's darker textures: Xavier is close to death, the idealism of his mutant academy is long gone, and Logan can't regenerate as easily as when he was younger. In this way, the mortality-obsessed Logan also recalls the Western — particularly, the focus on an aging gunslinger eyeing his final shootout.
But Logan's air of self-important weariness, though expertly captured by cinematographer John Mathieson and production designer Francois Audouy, is at the service of a generic tale of a proverbial lone wolf who allows himself to care one more time. It's innocent, nearly mute Laura who opens Logan's heart, and Keen has a sweet face that belies the viciousness that Laura unleashes once we learn that she has the same lethal claws and fighting skill as Wolverine. However her character mostly feels like a done-to-death dramatic device that conveniently sets up a tender father-daughter dynamic that Logan first rejects but inevitably embraces.
Likewise, Logan's umpteenth struggle with his mutant identity — something that Jackman has been exploring on screen regularly since 2000's X-Men — simply doesn't have any novelty anymore, despite the actor's reliably soulful turn and Logan's despairing tone. This notion of introducing more "realistic" comic-book characters — a trope attempted with several superhero franchises — proves especially ineffective here since the filmmakers have given us a more vulgar, bloodthirsty Wolverine without offering comparable depth or a sense of how haunted he is by the pain he's experienced.
The problems extend to Logan's villains. Richard E. Grant makes for a rather ho-hum evil geneticist who wants to clone the X-Men's DNA, while Boyd Holbrook is unimpressive as a somewhat-flamboyant killer. Logan unveils another, surprise bad guy about halfway through, but even this twist underwhelms, leaving our faltering hero without a worthy enemy for this climatic cinematic showdown. If this, indeed, is Jackman's final ride in the saddle, then Logan ends up with some of the same fundamental strengths and weaknesses of the earlier Wolverine standalone films: he's a charismatic, indestructible figure who's more thrilling than the movie that contains him.
Production companies: Marvel Entertainment, TSG Entertainment, Kinberg Genre, Hutch Parker Entertainment, the Donners' Company
Worldwide distribution: 20th Century Fox, www.foxmovies.com
Producers: Hutch Parker, Simon Kinberg, Lauren Shuler Donner
Executive producers: Stan Lee, James Mangold, Joe Caracciolo, Jr., Josh McLaglen
Screenplay: Scott Frank & James Mangold and Michael Green, story by James Mangold
Cinematography: John Mathieson
Production design: Francois Audouy
Editors: Michael McCusker, Dirk Westervelt
Music: Marco Beltrami
Website: www.foxmovies.com/movies/logan
Main cast: Hugh Jackman, Patrick Stewart, Boyd Holbrook, Stephen Merchant, Richard E. Grant, Eriq La Salle, Elise Neal, Elizabeth Rodriguez, Dafne Keen