The UK's Kate Herron directs Tom Hiddleston and Owen Wilson in the MCU's latest Disney+ limited series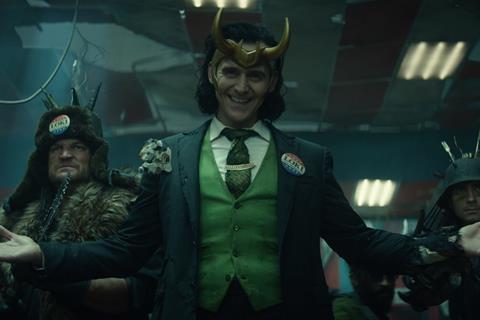 The Marvel Cinematic Universe's most delightfully dastardly villain gets his own spinoff series with Loki, which transports the God of Mischief into an X-Files-style buddy-cop adventure. Disney has thus far only released the first two episodes (of six) to critics, but there's certainly potential here, especially in the interplay between Tom Hiddleston's titular trickster and Owen Wilson's laidback agent, whose job it is to hunt down temporal anomalies in order to ensure there are no disturbances in the cosmos timeline.
The appealing push-pull tension between Loki and Mobius seems to be Loki's most binge-able element so far
This fun world debuts on Disney+ on June 9, with a new episode dropping on subsequent Wednesdays for the following five weeks. If the first two instalments are any indication, each Loki chapter will run about 50 minutes and feature plenty of comedic back-and-forth between Hiddleston and Wilson, who are joined by Gugu Mbatha-Raw, Sophia Di Martino, Wunmi Mosaku and a yet-to-be-seen Richard E. Grant. On the strength of WandaVision and The Falcon And The Winter Soldier, there's no reason to think Loki won't be comparably popular as fans await the long-delayed, big-screen arrival of the next MCU picture, Black Widow.
Loki requires viewers to recall a peripheral moment from Avengers: Endgame: as part of their mission to collect the Infinity Stones, our heroes went back in time to 2012, changing the past in the process. In this alternate past, Loki (Hiddleston) snagged the Tesseract, which allowed him to escape capture by teleporting away. That film never explained where the 2012 version of Loki went, but the show provides the answer, opening with him landing in the middle of the Gobi Desert. There, he's immediately arrested by the Time Variance Authority (TVA), a top-secret law-enforcement organisation tasked with protecting the one true timeline that binds the universe.
Because this 2012 Loki created his own timeline by using the Tesseract, he is branded a Variant and set to be punished — until veteran agent Mobius (Wilson) recruits him as a partner, believing this god's powers and craftiness might be invaluable to help catch an even-more-dangerous Variant who has eluded him.
Anyone who has watched previous MCU series on Disney+ can safely expect plenty of twists, as well as an intriguing dabbling in genres not usually associated with the flagship films. Director Kate Herron (a former Screendaily Star of Tomorrow) and creator Michael Waldron have crafted a derivative but enjoyable sci-fi/fantasy detective show in which Loki and Mobius follow clues and travel across time to track down the mysterious Variant. The two actors quickly fall into a comfortingly familiar oil-and-vinegar dynamic, with Loki trying to charm and outsmart Mobius, who ultimately holds the upper hand: he can eradicate Loki for his time crimes at any point.
Loki can get bogged down in its discussion of timelines and multiverses — for instance, this Loki doesn't know what happened to the Loki from Avengers: Infinity War — but thankfully the creative team keeps the narrative engine humming, filling the screen with eye-catching details. Specifically, Kasra Farahani's retro-cool production design imagines the TVA as a chic 1960s office, albeit one equipped with cutting-edge technology. Part of Loki's initial pleasure comes from seeing how Waldron lays out this strange reality in which Loki now finds himself. The Asgardian learns the intricacies of the TVA as viewers do, and the show drops little morsels as it goes along. (It turns out that working at a place which is aware of everything that has happened in the past and the future grants employees full knowledge of the terrible climate-change disasters awaiting Planet Earth.)
Since his introduction in 2011's Thor, Hiddleston has been a wonderfully snide Loki, and although the character eventually joined forces with the Avengers, the award-winning actor has always been more satisfying when Loki is up to no good. Two episodes aren't enough to get a full sense of where this 2012 version of Loki will eventually go, but Hiddleston drops hints which suggest that this tentative team-up with Mobius may not be built to last.
Hiddleston's playful arrogance nicely complements Wilson's lovably hangdog demeanour. Decked out in shockingly silver hair, the sharp, easygoing Mobius refuses to let Loki's haughty air intimidate him. Surely there are surprises to come — and one hopes Mbatha-Raw, playing Mobius' long-suffering boss, will have more to do in the final four episodes. But the appealing push-pull tension between Loki and Mobius seems to be Loki's most binge-able element so far.
Dir: Kate Herron. US. 2021.
Production company: Marvel Studios
International distribution: Disney+
Executive producers: Kevin Feige, Louis D'Esposito, Victoria Alonso, Stephen Broussard, Tom Hiddleston, Kate Herron, Michael Waldron
Writers: Michael Waldron, Elissa Karasik
Production design: Kasra Farahani
Editing: Paul Zucker
Cinematography: Autumn Durald Arkapaw
Music: Natalie Holt
Main cast: Tom Hiddleston, Owen Wilson, Gugu Mbatha-Raw, Sophia Di Martino, Wunmi Mosaku, Richard E. Grant