Finn Wittrock and Zoe Chao make an appealing match in Steve Basilone's shapeshifting debut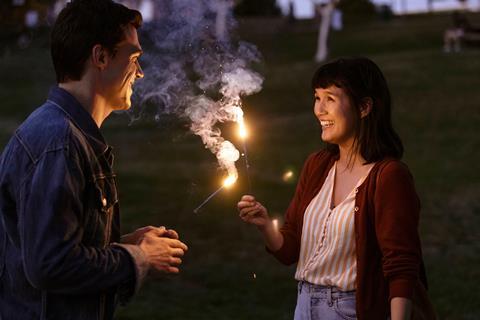 Dir/scr: Steve Basilone. US. 2020. 91mins.
A young man struggling with grief and his mental health meets a vibrant woman who lifts him out of his fog — but is she too good to be true? That's the premise of the romantic drama Long Weekend, but the question will become even more pointed for audience members as they start to suspect the film won't be able to deliver on its inviting setup. Alas, that concern proves warranted, which is a shame since, for much of its runtime, Finn Wittrock and Zoe Chao make for an endearing couple, even after her character drops a potentially preposterous bombshell about herself that he chooses to believe because he wants to be with her. Eventually, however, writer-director Steve Basilone's feature debut succumbs to melodramatic cliches and a manipulative third-act twist that crumbles under scrutiny.
A modest charmer
Set for a North American launch on March 12, this Sony release is an especially strong showcase for Chao, who has appeared in supporting roles in indies such as Downhill. Long Weekend will appeal to those who want a love story spiked with a little mystery — is Chao's character who she says she is? — and some philosophical musings about fate and destiny.
Wittrock plays Bart, a Los Angeles writer whose mother's death sent him into a dark spiral and whose fiancee subequently broke off their engagement. Recovering but still emotionally fragile, he meets Vienna (Chao), a vivacious out-of-towner who won't say much about her background — or why she doesn't have an ID or cellphone but does walk around with a backpack containing tens of thousands of dollars in cash. Nonetheless, their instant rapport triggers a passionate relationship. After enough prodding from Bart, though, Vienna finally reveals why she's so evasive — and why he has to help keep her incredible secret.
A writer on TV series such as Community, Basilone crafts the film with a whimsical flair, and although it would be unsporting to spoil Vienna's shocking revelation about where she's from, let it be said that Long Weekend manages to make this new information plausible within the story's romantic-whirlwind framework. What also helps is Chao's radiant personality and sharp comedic tone: Vienna is such a grounded, warm presence that her startling assertion almost feels reasonable. And because Bart is falling for her, he decides to overlook what's ludicrous about her supposed mission. Doesn't everyone do irrational things when they're in love?
The flirty chemistry between Wittrock and Chao — paired with Vienna's acknowledgement that she will only be in LA for a few days — gives Long Weekend a similar atmosphere to Before Sunrise, which was also about strangers who develop a powerful bond over a short timeframe. Wittrock capably portrays Bart's frailty — we sense the effort the character has made to piece himself back together after suffering a mental breakdown — and he manages to balance this young man's aching sincerity and sarcastic sense of humour. Like Chao, Wittrock has to convince the audience that Vienna's fantastical story should be believed, and his empathetic manner is such that viewers will want to go along with what transpires — at least for a little while.
Unfortunately, in Long Weekend's later stages Basilone betrays the audience's goodwill by introducing a plot twist that encourages us to question everything we've seen — and wonder whether one of the characters is actually more damaged than we thought. The problem with the twist is twofold — it's both fairly predictable and its ultimate resolution is never in doubt because of what has taken place.
There is plenty to find enjoyable in this modest charmer — including Casey Wilson and Damon Wayans Jr. as Bart's supportive married friends. Yet because so much rides on the intentionally farfetched premise, the film must concoct a finale that not only justifies our suspension of disbelief but also satisfyingly resolves the intriguing buildup. And it's here that Basilone's sentimental streak gets the best of him, prompting an overwrought emotional ending that both feels unearned and shortchanges Vienna. Wittrock and Chao have such a spark that it's disappointing that Long Weekend is ultimately one more picture about how an amazing woman helps a nice but ordinary guy turn his life around. Chao's lively performance — not to mention the audience — deserves better.
Production companies: Fifty Seventh Productions, Rebelle Media
Worldwide distribution: Sony
Producers: Deanna Barillari, Laura Lewis, Theodora Dunlap, Sam Bisbee, Audrey Rosenberg, Jess Jacobs
Production design: Jen Dunlap
Editing: Libby Cuenin, Stephanie Kaznocha
Cinematography: Felipe Vara de Rey
Music: Lauren Culjak
Main cast: Finn Wittrock, Zoe Chao, Casey Wilson, Jim Rash, Damon Wayans, Jr., Wendi McLendon-Covey