A pair of sea creatures take human form in Disney/Pixar's latest heartwarming tale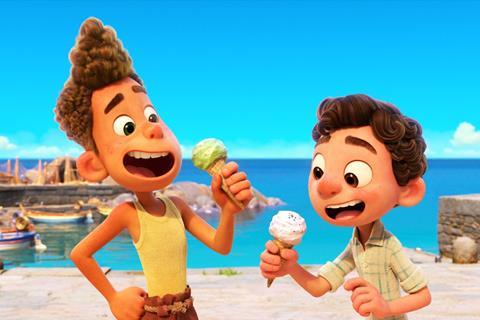 Dir: Enrico Casarosa. US. 2021. 100mins
A literal fish-out-of-water story, Luca is among Pixar's gentlest pictures, a charming examination of the friendship between two adolescent sea creatures who want to explore the wider, human world. Less ambitious than most of the studio's films — both in terms of eye-popping spectacle and narrative inventiveness — the feature debut of Oscar-nominated director Enrico Casarosa instead projects plenty of warmth, specifically in its study of identity, bigotry and the challenges young people face when navigating their anxiety-inducing entry into adulthood.
As with Ratatouille and Coco, the US-based Pixar has attempted to capture a country's culture with as much specificity and reverence as possible
This animated film will cater to family audiences when it releases on Disney+ on June 18 across the majority of the globe, following a special screening at Annecy. Unlike other recent Pixar projects, Luca doesn't boast many high-profile names in the voice cast — Sacha Baron Cohen has an amusing, brief cameo as a confused anglerfish — but the company's track record will probably be sufficient enticement.
Luca takes place in summertime 1950s/60s Italy, where friendly teenager Luca (Jacob Tremblay) is a sea monster living underwater with his protective parents Daniela (Maya Rudolph) and Lorenzo (Jim Gaffigan), who warn him that humankind views them as terrifying beasts. Undaunted, Luca dreams of seeing the world, and gets his chance after meeting Alberto (Jack Dylan Grazer), a fellow sea monster who happily resides in a nearby coastal town among people. When these creatures are on dry land they take human form, but if they get wet they return to their sea-monster selves — which proves nerve-wracking since there's a handsome reward for anyone who kills these aquatic beings.
Casarosa (who previously directed the Pixar short La Luna) drew from his own Italian childhood, which probably explains the film's unhurried, lightly sentimental tone. There's little in the way of action set pieces and, at 84 minutes not including end credits, Luca is undeniably slight. But there's also relief in its modesty: rather than shoehorning spectacle and stakes into this story, Casarosa gives the film and its easygoing humour room to breathe.
Naturally, the teenagers will discover that, alongside the delights of the human world, there are risks. A rain shower, a splash from a fountain, even a glass of water could reveal their identity, and Luca's mild suspense is built around the characters avoiding liquids. But early on, the picture simply enjoys watching Luca and Alberto get to know one another. Alberto radiates an older-brother energy, bragging about his vast knowledge of the human world and taking the impressionable Luca under his wing. But Luca eventually realises that his new pal's bluster is a coping mechanism for insecurities he's trying to hide. The film is quite attuned to the intricacies of young male friendships with their mixture of vulnerability and testosterone-driven posturing.
In these initial stretches, Luca luxuriates in the languid rhythms of a lazy summer; production designer Daniela Strijleva gives us an idyllic seaside Italy of cosy shops, shimmering sunlight and rolling hills. But the boys' reverie is interrupted by the arrival of Giulia (Emma Berman), a brainy teen who visits her father during the summer, always feeling like an outcast among the locals — in particular, the arrogant bully Ercole (an enjoyably haughty Saverio Raimondo). Longing to own a Vespa that will allow them to travel, Luca and Alberto team up with Giulia to enter a triathlon whose winner gets a cash prize. But as they train for the competition, Luca starts spending more time with Giulia — and Alberto grows jealous of Luca's new friendship.
Dan Romer's emotionally dextrous score nicely underlines Luca's searching, sensitive spirit, supplemented by tracks from Italian performers such as Gianni Morandi and Edoardo Bennato that give the film a sense of place. As with Ratatouille and Coco, the US-based Pixar has attempted to capture a country's culture with as much specificity and reverence as possible. That's especially laudable on Luca, which celebrates diversity among individuals — even if they have scales and a long tail.
Luca and Alberto's bond will be tested when one of them is exposed as a sea creature — and the other must decide if he'll defend his chum or continue pretending he's human to avoid similar persecution. Understatedly, Luca critiques the fear of being a target, but also argues for the importance of embracing one's uniqueness. The townspeople's hostile reaction to sea creatures is an obvious but effective metaphor for intolerance, but the film returns to its focus on Luca and Alberto as its reaches its touching finale. The world can be a hostile, ignorant place, but having a friend who truly understands you can make all the difference.
Production company: Pixar Animation Studios
Worldwide distribution: Disney
Producer: Andrea Warren
Screenplay: Jesse Andrews, Mike Jones, story by Enrico Casarosa, Jesse Andrews, Simon Stephenson
Production design: Daniela Strijleva
Editing: Catherine Apple, Jason Hudak
Cinematography: David Juan Bianchi, Kim White
Music: Dan Romer
Main voice cast: Jacob Tremblay, Jack Dylan Grazer, Emma Berman, Saverio Raimondo, Maya Rudolph, Marco Barricelli, Jim Gaffigan, Gino La Monica, Giacomo Gianniotti, Sandy Martin, Sacha Baron Cohen