Amy Poehler directs this conventional but entertaining portrait of Lucille Ball and Desi Arnaz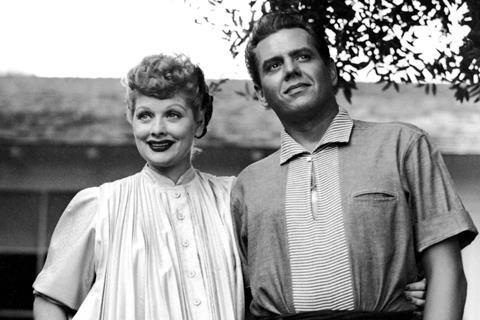 Dir: Amy Poehler. US. 2022. 102mins
Hot on the heels of awards contender Being The Ricardos comes the 'real' story of Lucille Ball and Desi Arnaz, a sensitive if conventional-to-a-fault showbiz documentary directed by first-timer Amy Poehler and set for global streaming through Amazon; a perfect berth for this nostalgic piece. Poeher breaks no new ground herself when it comes to tracking the lives of this revolutionary showbiz couple, and repeated montages can wear thin despite Ball's brilliance, but this is a charming accompaniment to Aaron Sorkin's drama, also an Amazon production. Desilu, Ball and Arnaz's game-changing in-house production company and studio, would approve.
Benefits greatly from a raft of archival footage
Anything that burnishes Ball's reputation is to be welcomed, and highlighting how Ball and Arnaz worked on and off the screen as Hollywood's first inter-racial couple only goes to illustrate how the struggles of today are the struggles of every day. The film breezes over the issues of Ball supposedly being 'difficult' to work with as well as Arnaz's womanising and drinking, in favour of a blow-by-blow chronological account of their lives together. That's not problematic for the piece per se, but where it does fall shy is by not giving a more detailed account of Ball's craft. A blink-and-you-miss-it reference to her vaudeville roots and work with Buster Keaton gives the comedienne short shrift on her precision physical skills and, while Bette Midler and Carol Burnett – both mentored by Ball – make interesting contributions, Lucy And Desi really fails to properly dissect what made her one-of-a-kind in favour of a focus on their partnership.
What we're left with, though, is a hugely enjoyable romp through Ball's career prior to meeting Arnaz; starting out as a model in New York, she was spotted on the street and flown out to LA as a last-minute replacement in a Goldwyn film, eventually rising to become the 'Queen of the Bs'. Desiderio Arnaz, meanwhile, a Cuban refugee, was busy reinventing himself as the Congo King of America. They met on the set of Too Many Girls: pretty soon they eloped to get married, immediately moving in with – and financially supporting – their entire families. They spent most of the following nine years apart and I Love Lucy, born in the infancy of television, was an attempt for the couple to spend more time together; and for the 40-year-old Ball to get pregnant.
That pregnacy, odd though it may seem now, was to be one of several landmarks for the couple. The use of three cameras on live TV with no retakes had never been thought of before, while her on-screen relationship with the accented Arnaz and written-into-the-plot pregnancy were considered revolutionary (one of the saddest revelations here is how gossip columnist Walter Wichell broke the news of one of her pregnancies before she herself even knew). Yet the pressures of shooting 41 shows in 41 weeks would tell on the couple; her perfectionism and his need to control the business (Desilu ended up buying RKO Studios) were just two of the factors that eventually tore them apart. Poehler documents their lives after I Love Lucy, which ran for six years until 1957 (or 180 shows). She certainly seems to have lived a happier life, with an enduring second marriage, while he worked too hard – producing shows like Star Trek and Mission: Impossible – before finally admitting his alcoholism. They remained friends until his death.
Lucy And Desi benefits greatly from a raft of archival footage, including some stunning home movie footage of the family-centred couple at play with their children Desi Jr and Lucie (both of whom took part in this documentary, with Lucie speaking on-camera). Repeated montages and a schmaltzy score can lessen their effect, but Poehler has strong sense of the couple's contribution to the entertainment industry, and nobody watching her documentary will emerge anything less than convinced of how outstanding that was.
Production companies: Imagine Documentaries, White Horse Productions
International distribution: Amazon Studios
Producers: Michael Rosenberg, Justin Wilkes, Nigel Sinclair, Jeanne Elfant Festa, Amy Poehler, Mark Monroe
Editing: Robert Martinez
Music: David Schwarz
Featuring: Lucie Arnaz Luckinbill, Bette Midler, Carol Burnett, Eduardo Machado, Charo, Desi Arnaz Jr