Daniela Muñoz Barroso presents a dynamic portrait of late Cuban congan musician Mafifa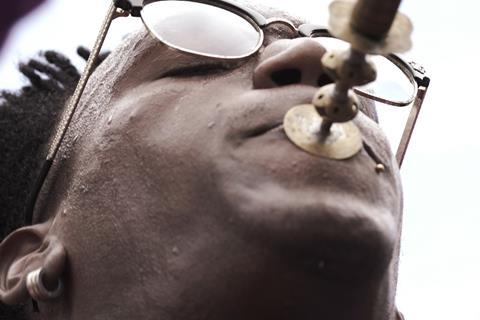 Director: Daniela Munoz Barroso. Cuba 2021. 77minutes
A rare, welcome example of a biographical documentary whose own style matches the unorthodox and radical example of its subject, Daniel Munoz Barroso's Mafifa irresistibly plunges the viewer into the hectic world of Cuban conga music. Premering in the non-competitive Luminous sidebar at IDFA, this is just the kind of micro-budget production which can so easily be overlooked, but which deserves ample play in festivals and small-screen outlets both general and non-fiction oriented.
There is real energy and dynamism here
Arriving four years after her little-seen, hour-long ¿Qué remedio? La Parranda, Mafifa is an auspicious first feature-length directorial outing for 27-year-old Munoz Barroso, who also co-scripts (with Joanna Montero and Carlos Melian Moreno) and handles all camera-related duties. Indeed, the film is very much a first-person POV enterprise which has no truck with the usual conventions of documentary cinema. We discover each location and individual at exactly the same time as the director, who simply accosts passers-by in search of information and just turns up at the houses of her interviewees.
The latter — invariably garrulous, articulate and quirky — are the neighbours, colleagues and surviving relatives of Gladys Acuna Linares, who died a little over four decades ago aged 44. Nicknamed 'Mafifa' for reasons lost in the mists of time, she achieved considerable renown within her region for playing the campana, or bell. The latter is a percussion instrument made from the metal brake-drum of a motor-vehicle, coming in various sizes: tiny Mafifa opted for the heaviest model.
Munoz Barroso picks up Mafifa's trail in the lady's native city of Santiago de Cuba, where her troupe Los Hoyos remain the superstars of conga. A boisterous form of collective street performance associated with special festivals, conga involves the numerous musicians and singers mingling freely with the public.
The results of Munoz Barroso's wanderings are edited in impressionistic style by Joanna Montero, who leaves all the production's rough edges intact. Interviews are often conducted in extreme close-up via handheld camera, achieving a rare directness and intimacy as the engaging Munoz Barroso befriends her helpful interlocutors. There is real energy and dynamism here. This is a work which — like the participants in conga — occasionally slips into a trance-like state of primal, elemental abandon, such as the exhilaratingly wild evocation of a drenching rainstorm in the latter quarter.
The real wonder of the film, however, is the sound-design accomplished by Glenda L Martinez Cabrera and her team. As she notes early on in her extensive voice-over, Munoz Barroso experiences "progressive bilateral hearing loss"; Martinez Cabrera muffles and masks some sounds to convey the sensory perspective of a filmmaker whose work revolves around aural stimulations.
Munoz Barroso is modest about her intentions here, admitting that she cannot explain why she initially became so fixated on the subject of Mafifa; other than a general desire "to leave that old planet which is myself." And even at the end, she realises that this free-spirited, convention-bucking woman — who excelled in the male-dominated conga arena while rejecting all romantic attachments — must always remain something of an enigma. "The woman as a whole remained absent." Even so, the film itself is concrete proof that Mafifa's example continues to inspire subsequent generations: her vibrations will live on.
Production company: Estudio ST
International sales: Habanero Film Sales, acalvino@habanerofilmsales.com
Producers: Leila Montero, Daniela Munoz Barroso
Screenplay: Daniela Munoz Barroso, Joanna Montero, Carlos Melian Moreno
Editing: Joanna Montero
Cinematography: Daniela Munoz Barroso
Music: Sarah Gutierrez, Pepe Gavilondo