A Congolese charcoal seller attempts to build a better life for himself in this Critics Week-winning documentary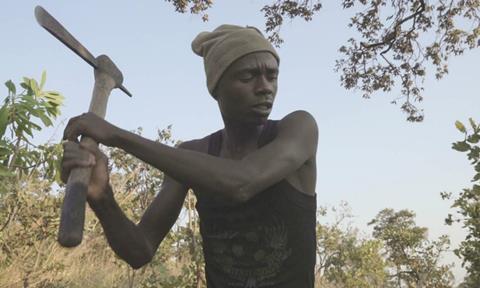 Dir/scr. Emmanuel Gras. France. 2017 96 mins.
Helming an intimate, slow-building chronicle about one man's efforts to make, transport and sell charcoal proves a rewarding task for French filmmaker Emmanuel Gras, and largely rewarding viewing as well. Claiming its title from the Swahili term for the pivotal substance, Makala takes the observational approach to the hardships of Congolese life, charting a tough but insightful journey.
An appreciation of the need for perseverance and endurance in the face of considerable despair
The first documentary to play in competition at Cannes Critics Week, it won the sidebar's grand prize, which should help the film secure further interest on the festival circuit.
Acting as his own cinematographer on his third full-length effort after 2011's Cesar-nominated Bovines and 2014's 300 Souls, Gras endeavours to achieve that ever-crucial factual feat: getting physically and emotionally up close and personal with his subject, 28-year-old Katanga Province resident Kabwita Kasongo, without projecting any sentiment onto his plight. While Gaspar Claus' score initially seems a little too overt it's astutely deployed, with the sounds of life providing a fitting primary soundtrack.
Gras' camera captures a bleak existence; while audiences might flinch at the idea of eating rats, for example, no one on screen does. As shot in chronological order, such moments are justt some of the ebbs and flows in Kabwita's quest to build a new home for his family. A dutiful husband and father, he has a plot of land earmarked, but needs to purchase 15 sheets of metal for the roof of his dream house.
Accordingly, felling a towering tree has rarely felt as urgent and essential as it does here — just as trekking day and night, pushing an overloaded bicycle that's clearly Kabwita's prized possession, has rarely felt as vital. Each quiet reaction to his situation, be it a flicker of an eye or a slumping shoulder, is equally loaded with meaning.
When Kabwita is caught in the throws of his work, the documentary watches intently. In rare moments where he sits back and takes stock of his situation, it also takes pause. When he's in the thick of bartering with potential buyers, it moves with him, the visuals unable to keep still. Indeed, Gras endeavours to bring lyricism to his images, via well-placed shadows across Kabwita's face and quick roams across desolate landscape, but honing the film's focus so intensively on one person helps convey the same feeling.
Still, Makala demonstrate that Kabwita's tale isn't unique. Unexpectedly widening the frame to show that he is just one of several people making the same difficult trip along the roadside, for example, provides a revealing moment. As such, when any slivers of hope rear their head, they don't fuel grand realisations or happy outcomes. Instead, seething through the documentary is a gradual appreciation of the need for perseverance and endurance in the face of considerable despair — and the reality that, in his struggles, Kabwita is not alone.
Production company: Bathysphere
International sales: Les Films du Losange, r.vial@filmsdulosange.fr
Producer: Nicolas Anthomé
Cinematographer: Emmanuel Gras
Editor: Karen Benainous
Music: Gaspar Claus