A long night in Malibu with David John Washington and Zendaya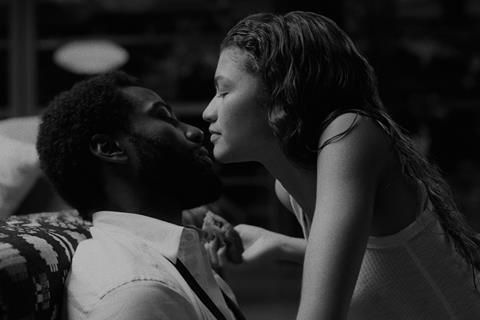 Dir/scr. Sam Levinson. US. 2020. 105 mins.
It's a Virginia Woolf-y night in Malibu, and Malcolm (John David Washington) and Marie (Zendaya) tear each other apart at the seams fearlessly in a noisy retread of George and Martha's shenanigans. Shot, like Mike Nichols' 1966 film of Edward Albee's play, in stark black-and-white, and beginning in a similar manner, with clink of a whisky bottle on the return home from a party, Malcolm & Marie takes place in a glass modern box house filled to suffocating levels with the hot air of Levinson's talky two-hander.
It's tricky to ask audiences to sit in on a 105-minute fight at the best of times
It's the worst fight of their lives, says Marie, on the biggest night of Malcolm's life – his film has just premiered to rapturous applause and he is waiting for the reviews to trickle in. He forgot to thank Marie, though, in his speech - a problem underscored by the fact her life as young drug addict actually inspired his picture. Written quickly and shot over two weeks during the Pandemic last summer, Malcolm & Marie is rooted in the insider business of film. It tackles racism in Hollywood, "stupid white film critics" at the LA Times, sexual politics in the film business, casting in the movie industry, etc, etc. Lessons learned are slim. Malcolm "takes shit too far" is one, and, ultimately, "it's all a mystery what drives an artist".
There's no mystery about money, though, and the high price Netflix reportedly paid for Malcolm & Marie means it won't ever be assessed through the prism of box office performance. There's hopes of an awards push for Zendaya and a bravura show from John David Washington, and their commitment should be recognised (although, as producers, they've already experienced some significant success). This is a woefully self-indulgent piece, however: fascinating at the outset in its frank assessment of race and authenticity – written by a white man - but ultimately a hollow drum. It turns out that Levinson, the son of Barry and driving force behind TV's Euphoria, can't delve much deeper than the conviction that "cinema doesn't need to have a message, it needs to have a heart!" delivered at top volume.
A company film aimed at a company town, Malcolm & Marie was shot at the Caterpiller House in Carmel, completed in 2010 and a real scene-stealer as shot by Marcell Rev. It's a gleaming symbol of success into which Malcolm and Marie stylishly tumble after the world premiere of his film. He puts on some music, pours himself a drink, and dances through the living room in his tux: the camera hungrily tracks him from the outside. He starts to talk about how he wowed the audience, how the white critics loved his film, how they lapped up a picture about a girl trying to get clean starring a black actor and made by a black director.
"Not everything I do is political," he says. "But there's always a white-ass writer making it about race." This heralds the first mention of that LA Times critic, who Malcolm will return to again and again (and again) throughout the piece.
So far, so interesting, especially when Marie reminds Malcolm of his own privileged background. The source of their argument is also intriguing: behind it lies a push-pull, a suggestion of neediness mixed up with dominance and dependency, exemplified by how they both have different recollections of how the film came together. A key observation is made when Marie accuses Malcolm of being unable to de-escalate a situation. This will prove to be true, with diminishing returns.
Levinson engages in some strident showboating as Malcolm and Marie move their attacks from room to room and back again. When the review by the afore-mentioned LA Times writer arrives, and it's a rave, it prompts Malcolm to launch himself on an exceptionally long, profane and angry monologue about the ignorance of critics. With kudos to Washington for delivering it in what looks like one take, it all starts to feel like Levinson has a large, Assassination Nation-sized chip on his shoulder and it's dragging the film down that stylish staircase. Ultimately, who cares? Certainly not Marie, with Zendaya sharp and resonant as the voice of reason, conveying her character's own fears and insecurities and a wide competitive streak (even while clad in a singlet and knickers, which the film has its own meta-justification for).
It takes real skill to pull off a film such as this; Levinson and his team have more than enough talent to tackle it in front and behind of the camera. As a writer, though, Levinson can't quite manage to perform a Peter Pan and unstitch the shadow of cinema from every thought this picture briefly alights upon to give it any sort of wider relevance. It's tricky to ask audiences to sit in on a 105-minute fight at the best of times, but one that hinges on a casting decision shows a defiant insularity which should prove polarising, especially now, in these claustrophobic times. Even while doing this, though, Malcolm & Marie is never less than gorgeous to watch, its protagonists gleaming and glossy and inviting, even if all you want them to do is slam the door on their privilege, and, to paraphrase them both, shut the f** up.
Production company: Little Lamb Production
International distribution: Netflix
Producers: Kevin Turen, Ashley Levinson, Sam Levinson, Zendaya, John David Washington
Screenplay: Sam Levinson
Cinematography: Marcell Rev
Production design: Michaeal Grasley
Editing: Julio C Perez IB
Music: Labrinth
Main cast: Zendaya, John David Washington