Dean Fleischer-Camp and Jenny Slate turn their beloved internet shorts into a bittersweet comedy feature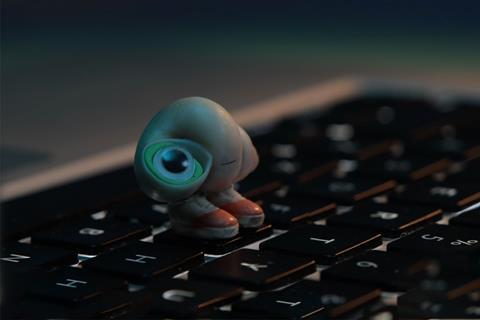 Dir: Dean Fleischer Camp. US. 2021. 90mins
The bite-sized appeal of director Dean Fleischer Camp and actress Jenny Slate's viral sensation Marcel The Shell was twofold: the character is an adorable one-inch-tall seashell who talks, and his eponymous short films were the perfect length to appreciate his novel, innocent worldview. Now making the leap to features, Marcel remains entertaining company – although the thinness of the conceit becomes far more apparent at that length. Nonetheless, Marcel The Shell With Shoes On manages to harness enough of what initially made this diminutive protagonist such an unexpected treat; in particular, Slate's endearing vocal performance.
Despite those clear limitations, the property's core qualities remain largely intact
Fans of the Marcel shorts — the original, also called Marcel The Shell With Shoes On, debuted in 2010 — will be excited about the return of their lovable hero. (Camp and Slate's last Marcel short came out seven years ago.) Premiering at Telluride, the feature maintains the shorts' winning combination of live action and stop-motion animation, but the secret weapon turns out to be the addition of Isabella Rossellini, who voices Marcel's kindly, ailing grandmother; the only family he has after the rest of his clan disappears. Undeniably twee and fairly protracted even at 90 minutes, Marcel will capitalise on the character's popularity but may not extend his shelf life.
As with the shorts, Marcel is conceived as a pseudo-documentary in which we observe an offscreen filmmaker, Dean (Camp), interviewing Marcel (Slate), a precocious seashell who wears shoes, has one glued-on googly eye and speaks English. The film expands that setup, explaining that Dean has just moved into an Airbnb after splitting with his wife, deciding to chronicle his conversations with this creature he's found in his new domicile. Meanwhile, Marcel is sad because the rest of his family of shells — save for his Nana Connie (Rossellini) — were taken away once the couple who used to live in the house broke up and collected their belongings.
Camp, who wrote the screenplay with Slate and Nick Paley, injects a meta-twist by revealing within the film that the real-life three-to-four-minute Marcel shorts that appeared on YouTube in the early-to-mid-2010s will make Marcel an internet celebrity, prompting interest from 60 Minutes' Lesley Stahl, who wants to do a segment on him. The sheltered Marcel is confused by all the attention, but he's hoping that maybe going viral will help him reunite with the house's previous occupants so he can see his shell family again.
Unfortunately, the original shorts' plotless effervescence is harder to sustain at feature length. The quirky preciousness of Marcel's perspective on life — and the amusingly unexplained fact that he's sentient — starts to lose its sparkle, requiring the filmmakers to introduce a narrative engine to give the proceedings forward momentum. But the storyline involving Marcel's viral fame isn't particularly inspired, and its self-referential nod to the character's actual internet popularity comes across as overly cutesy.
And yet, despite those clear limitations, the property's core qualities remain largely intact. The stop-motion is impressive in its offhand way, deftly integrating Marcel into the live-action environments, and Slate's precise voice work continues to shine. Marcel may be childlike and bighearted, but he's also slyly sarcastic, exuding a melancholy air while finding plenty of everyday things that delight him. (He still has his pet Alan, a piece of lint he walks on a leash like a dog.) Marcel is such a clever creation that it's fun to be back in his company.
The shorts caught on, one suspects, in part because of Marcel's lack of cynicism, with viewers responding to this kind, vulnerable little seashell. (Also appealing was Camp and Slate's improvised back-and-forth dialogue in character, which gave the shorts an unguarded spontaneity.) The feature tends to overdo the positivity — here, it feels a little more self-conscious — but the growing friendship between Dean and Marcel, who are both lonely, has its poignant moments. (Plus, knowing that Camp and Slate, who used to be married, are no longer together adds a wistful element to Marcel — the marriage may not have lasted, but their bond remains.)
If much of Marcel is familiar, Rossellini adds freshness as Connie, who looks after Marcel and offers him encouragement. The actress's rich, lilting voice is a nice counterbalance to Slate's more pinched tone, giving this grandmother shell a maternal grace. The film preaches the importance of compassion, and Rossellini's unaffected performance exudes that attribute — even if her effortlessness too often underlines what's sometimes so strained about Marcel's whimsy.
Production company: Cinereach
International sales: Endeavor Content, dmcintosh@endeavorcontent.com; and CAA, benjamin.kramer@caa.com
Producers: Elisabeth Holm, Andrew Goldman, Caroline Kaplan, Paul Mezey, Dean Fleischer Camp, Jenny Slate
Screenplay: Dean Fleischer Camp, Jenny Slate, Nick Paley, story by Dean Fleischer Camp, Jenny Slate, Nick Paley, Elisabeth Holm, based on characters created by Dean Fleischer Camp and Jenny Slate
Production design: Liz Toonkel
Editing: Dean Fleischer Camp, Nick Paley
Cinematography: Bianca Cline
Music: Disasterpeace
Main cast: Jenny Slate, Isabella Rossellini, Rosa Salazar, Thomas Mann, Dean Fleischer Camp, Lesley Stahl