A kinetic call to arms from Brazilian first-time director Wagner Moura, with Seu Jorge in the lead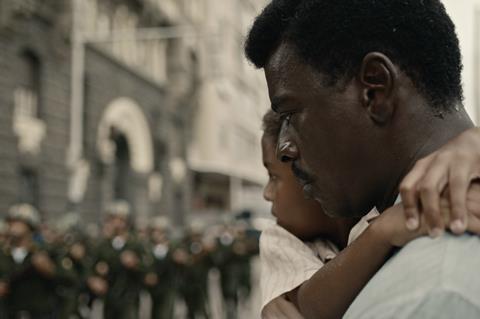 Dir. Wagner Moura. Brazil. 2019. 155 mins.
Brazilian drama Marighella is an urgent film in its commitment and cinematic intensity, and it could hardly be more timely. As Brazil faces a new far-right government under Jair Bolsonaro, Wagner Moura's political biopic looks back to the dictatorship that subjugated the nation just a few decades ago and asks its audience to consider the role that militant rebels might play in the near future.
Marighella's thriller intensity, and a compelling lead by singer-actor Seu Jorge, will supply international art-house clout.
Punchy as all hell, this is the directing debut of Moura, who – before he starred in Netflix's Narcos – was the lead in José Padilha's 2008 Berlin Golden Bear winner Elite Squad. Moura has clearly learned from that film's take-no-prisoners style, but most of all, Marighella – its producers including City of God's Fernando Meireilles – comes across as a thoughtful but super-charged exercise in the docudrama lineage of Pontecorvo's The Battle of Algiers. In an angry age, Marighella should fuel festival debate about the nature and effect of political militancy, while its thriller intensity, and a compelling lead by singer-actor Seu Jorge, will supply international art-house clout.
The film begins with captions filling us in on Brazil's military dictatorship, which begin in 1964 with a coup d'état and a suspension of civil rights. We're also given a thumbnail biog of Carlos Marighella, poet, congressman, descendant of African slaves, and founder of National Liberation Action, a resistance group with a commitment to armed struggle against the government. He was also the author of revolutionary texts which, a later scene shows, Jean-Paul Sartre helped promote. The anti-regime struggle was supported by certain factions, notably students and the Church, but wasn't yet subscribed to by the wider public, and attempts to win such support are a key theme here.
The opening scenes, set in Sao Paolo in 1968, come on like thunder, as Marighella, disguised in a wig, leads his cell in a raid to capture arms on a train. The film then jumps back four years to Rio to show Marighella enjoying downtime with his young son Carlinhos, before security forces ambush him in a cinema.
Back in Sao Paolo, Marighella argues about strategy and ideology with colleagues, citing people's struggles in Cuba, Algeria and Vietnam as models to follow. There are other action sequences ahead, kinetically shot by Adrian Teijido, notably a bank raid that ends in a shootout. But much of the subsequent action is dedicated to the pursuit of the militants by police inspector Lucio (Bruno Gagliasso), depicted in somewhat one-note fashion as Marighella's icy-eyed, viciously ruthless nemesis: he embodies the worst excesses of an authoritarian regime, as seen in the brutalisation of the friars who are among Marighella's allies. There's also a terrific scene in which a newspaper editor publicises a radio broadcast by Marighella, thereby calmly and knowingly signing his own death sentence.
The film sometimes depicts its hero as a larger-than-life totemic figure: as in his fiery glare to camera, in extreme close-up. Seu Jorge – the actor and singer best known on the international screen for his Bowie-goes-bossa interludes in The Life Aquatic – certainly has an authoritatively compelling presence, with his palpable physical energy and thunderous deep voice. But the film also provides Marighella with nuance, emphasising his character as a devoted family man, in conversations with his wife and comrade-in-arms Clara (Adriana Esteves) and taped letters to his son, intermittently heard in voice-over. He's also a likeable joker: at one point, he pretty much convinces a nervous friar (Henrique Vieira) that he'll have to help the cause by sleeping with a colonel's wife who has a thing about Dominicans.
There's strong support from the actors playing the revolutionaries: among them, Bella Camero as Marighella's ideologue-strategist sidekick, and Humberto Carrao as the group's outright firebrand. Tracking Marighella's shifts of position, from espousing a hardcore eye-for-an-eye approach, to his attempts to persuade his comrades that it's time to hold back, the film somewhat downplays Marighella's own responsibility for violence, suggesting that it's his younger comrades who are the real hardliners. It's one way to make Marighella a sympathetic, admirable hero while somewhat suspending the interrogation of the value of armed action.
This is, however, essentially an action biopic rather than a film of political debate. Nevertheless, an end credits image of the guerrilla cell roaring with militant intent suggests that Marighella can very much be seen, literally or figuratively, as a call to arms.
Production companies: O2 Filmes, Globo Filmes, Maria da Fé
International sales: Elle Driver, sales@elledriver.eu
Producers: Bel Berlinck, Andrea Barata Ribeiro, Wagner Moura, Fernando Meirelles
Screenplay: Felipe Braga, Wagner Moura
Cinematography: Adrian Teijido
Editor: Lucas Gonzaga
Production design: Frederico Pinto
Music: Antonio Pinto
Main cast: Seu Jorge, Adriana Esteves, Ana Paula Bouzas, Bruno Gagliasso, Bella Camero