Dir: Wes Ball. US. 2015. 131mins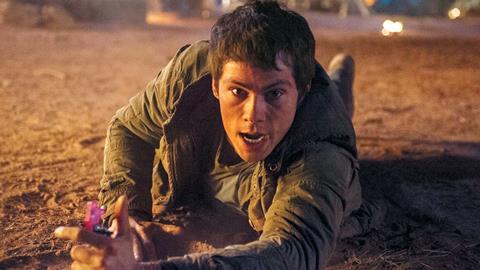 With more action and less mystery, a returning director and main cast and a handful of sketchy new characters, The Scorch Trials makes for an efficient yet uninspiring sequel to last year's successful young adult novel adaptation The Maze Runner. Sometimes feeling – as middle chapters often do – more like a brisk jog than an actual run, this dystopian sci-fi adventure does little to broaden the franchise's appeal but will probably keep fans hanging on for the release of the Maze Runner trilogy finale, The Death Cure, in February 2017.
Aside from one major (though very late) plot twist, there's little development among the returning characters.
The original film, released in the same late August slot, grossed $102.4m domestically and $238.3m internationally, so it makes sense that worldwide distributor Fox is opening Scorch on Sept 10 in the UK, Australia and several other markets and a week later in the US. The result should be another sizeable worldwide gross, with international markets accounting for a big chunk of the final tally.
Scripted by T S Nowlin (one of the three writers on the original), the sequel makes some significant changes to the plot of author James Dashner's 2010 YA novel set in a post-apocalyptic world ravaged by climate change and a fatal virus known as the Flare.
Nowlin gives the story more sense of peril by having Thomas (returning lead Dylan O'Brien) and his fellow Gladers – including romantic interest Theresa (played again by the UK's Kaya Scodelario) – escape from the clutches of WCKD, the unfortunately acronymed organisation that's been subjecting the Gladers to a series of trials which might lead to a cure for the Flare.
With WCKD operatives in pursuit, Thomas and co set out into the Scorch, a wasteland of desert, mountains and ruined cities populated by Cranks – humans at various stages of Flare infection. The Gladers team up with Scorch pirate Jorge (Breaking Bad's Giancarlo Esposito) and his right hand woman Brenda (Rosa Salazar, from Insurgent) and go in search of anti-WCKD resistance movement, the Right Arm.
Under the direction of Wes Ball (best known before the original Maze Runner for his visual effects work and 3D short Ruin), the film unfolds as a relatively straightforward chase thriller, leaving out most of the novel's sci-fi hardware elements and its teasing flashbacks. The Cranks – which take the form of either fast-moving zombies or barely recognisable monsters – give the film a not particularly original horror aspect.
Aside from one major (though very late) plot twist, there's little development among the returning characters. And none of the newly invented characters – among them a WCKD henchman played by Game of Thrones' Aidan Gillan, the leader of the Right Arm (Kill the Messenger's Barry Pepper) and a rebel scientist (Lily Taylor) – is distinct or powerful enough to add much to the mix.
Production companies: Gotham Group, TSG Entertainment, Temple Hill Entertainment
Worldwide distribution: 20th Century Fox
Producers: Ellen Goldsmith-Vein, Wyck Godfrey, Marty Bowen, Lee Stollman, Joe Hartwick Jr
Executive producers: Lindsay Williams, Eddie Gamarra, Wes Ball, T S Nowlin
Screenplay: T S Nowlin, based on the novel by James Dashner
Director of photography: Gyula Pados
Production designer: Daniel T Dorrance
Editor: Dan Zimmerman
Costumer designer: Sanja Milković Hays
Music: John Paesano
Website: http://mazerunnermovies.com
Main cast: Dylan O'Brien, Ki Hong Lee, Kaya Scodelario, Thomas Brodie-Sangster, Giancarlo Esposito, Aidan Gillan, Barry Pepper, Lili Taylor, Patricia Clarkson, Rosa Salazar