Ambitious documentary portrait follows the infamous bad boy of tennis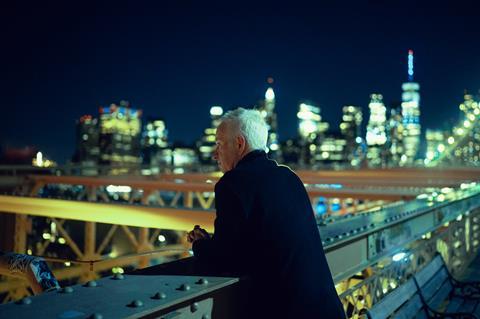 Dir/scr: Barney Douglas. US. 2022. 103 mins.
John McEnroe was a brilliant, polarising tennis player, something writer/director Barney Douglas struggles to encompass in all its fascinating complexity. McEnroe grapples with an athlete whose fiery temper and brash manner helped transform his sport, and the footage of his most famous matches remains electrifying. And yet, the film suffers from stylistic and structural choices that end up backfiring, leaving this captivating figure at a distance - unfortunate for a project with such access to him and his inner circle.
McEnroe provides colourful commentary as we see clips from his early career
As befits a documentary about such a quintessential New Yorker, McEnroe premieres at the Tribeca Festival before streaming on Showtime starting September 2, during this year's US Open - a tournament McEnroe won four times. Douglas is just the latest director to pursue a McEnroe-themed project in recent years, following the 2017 feature Borg vs. McEnroe and 2018's nonfiction essay film John McEnroe: In The Realm Of Perfection. Needless to say, interest among tennis fans should be considerable, especially considering the film also includes interviews with fellow legends Billie Jean King and Bjorn Borg.
Douglas builds the documentary around conversations with McEnroe, who looks back at his life and career. The film gives a swift overview of his meteoric rise and his memorable Grand Slam championship matches with Borg, his rival turned friend. But McEnroe also traces his decline, fuelled by drugs and a tumultuous marriage to Oscar-winning actress Tatum O'Neal.
Ambitiously, McEnroe is structured as if it takes places over the course of one late night and early morning as McEnroe silently walks around New York City, his separate on-camera studio interviews serving as interludes or, perhaps, a glimpse into his mindset while he wanders the streets lost in thought. Initially, this approach gives the documentary a restless energy, suggesting that Douglas wants to portray his subject as an anxious work in progress, still wrestling with his demons and trying to make sense of himself at the age of 63.
But the film overdoes this narrative device, requiring McEnroe to perform the occasional theatrical flourish such as answering a ringing payphone or, curiously, standing in the middle of an empty sunbaked desert highway. These attempts to visualise McEnroe's inner torment come off as gimmicky rather than insightful or arresting, and they underline another weakness of the documentary, which is that its interviews aren't especially revealing.
McEnroe provides colourful commentary as we see clips from his early career, rising up the ranks and winning his first Grand Slam title, but for those familiar with his exploits on and off the court, McEnroe doesn't add much to our understanding of the athlete. When he talks about his perfectionism, which he indicates has been both blessing and curse, there's poignancy — as there is when he discusses the ups and downs of his relationship with his father, who long served as McEnroe's agent. But running less than two hours, the documentary offers too little of too many possible approaches to be a satisfying portrait.
Indeed, the run-through of McEnroe's career highlights is somewhat cursory, while the exploration of the motivations and insecurities that drove him isn't probing enough. As for his trademark temper tantrums — he would angrily berate chair umpires for missing calls — McEnroe fails to illuminate a crucial aspect of his personality, which made him unpopular at the time but has since become something the culture generally finds endearing about him. King and especially Borg provide some helpful context about what made McEnroe tick, but even here Douglas doesn't dig deeply enough, and the film's interviews with his second wife, songwriter Patty Smyth, and his children, are frustratingly superficial.
Now a celebrated television analyst who pokes fun at his former bad-boy image in commercials, McEnroe has arrived at a happy ending that hardly seemed assured back when he was battling addiction and the paparazzi, his rise to stardom in some ways exacerbating his personal issues. As Borg vs. McEnroe and In The Realm Of Perfection demonstrated, he continues to captivate us decades after he terrorised the court and fostered a love/hate relationship with fans. McEnroe hints at what was so galvanising about this sports icon — how this cocky Queens kid thumbed his nose at tennis' refinement, bringing a punk-rock sensibility as he became its greatest player for years. But by taking on so much, the film ends up shortchanging the multitudes contained within him.
Production company: Sylver Entertainment
International sales: Dogwoof, luke@dogwoof.com
Editing: Steve Williams
Cinematography: Lucas Tucknott
Music: Felix White