A look at the legendary chestbuster sequence 40 years after it first exploded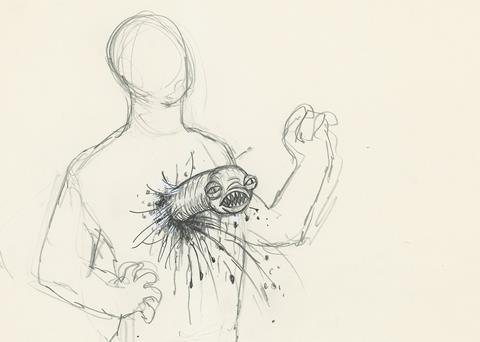 Dir. Iso Alexandre O'Philippe. US. 2019. 93 mins.
MEMORY: The Origin Of Alien is a highly-entertaining slither around the creation myths of the 1979 cinema classic. It's as enjoyably nostalgic as the Hitchock ode 48/62, the last documentary made by French director Iso Alexandre O'Philippe, and can look forward to much the same commercial trajectory – starting with another Sundance launch. The 40th anniversary feeding frenzy which is about to take place won't harm its hatching either.
Particularly interesting in the #metoo age is that all parts were written to be unisex
Assembling a motley crew of talking heads – from veteran producer Roger Corman to star Tom Skerrit, podcasters, sci-fi heads, Alien experts, art critics, professors of Greek mythology and anyone in between – it ostensibly lacks the 'live' estimony of director Sir Ridley Scott (captured instead in archival footage). Yet that absence proves a balancing force, given that the two other creative drivers of the film, writer Dan O'Bannon and artist HR Giger, are no longer with us to give their testimony either. While there's a lot in MEMORY which may perhaps be familiar to die-hard fans, it will delight those who still rightly revere it as the ground-breaking space opera. And O'Philippe's doc is clear-eyed enough to underscore the fact that Alien is the one perfect film which the following five in the franchise have been hunting down with diminishing returns.
A silly, highly amusing three-minute prologue – a fiction insert detailing the reawakening of the Furies at the behest of Clytemnestra in the Temple of Apollo – establishes quite firmly that we're in the realm of myth and fantasy and viewers may, or may not, want to proceed with caution. Although MEMORY follows some templates of the format, trying to lock Alien into a cultural and political framework, the film itself transcends that obviousness. The doc works best when it simply focuses on how O'Bannon, Giger and, Scott brought Alien to the screen, a perfect creative storm. (Interestingly, it pinpoints Alejandro Jodorowsky as a vital link in the process, and his failed Paris-based production of Dune - the subject of another engrossing doc, 2013's Jodorowsky's Dune).
As becomes clear throughout the documentary, the notorious "chestbuster" scene with John Hurt was the money sequence from script to screen to audience, and it's also the climax of MEMORY. It's what attracted financing and Fox, and its contextualisation via archival footage, out-takes and commentary is a delightful examination of a pivotal cinematic moment. O'Philippe leads the audience carefully there, starting with the orginal source, Missouri-born Dan O'Bannon whose wife Diana recalls his rural childhood with no phone, TV or library, a life-long fear of swarming insects and an admiration for HP Lovecraft.
Looking at Alien's antecedents in the 1950s and 1960s, O'Philippe delves briefly into John Carpenter's student space film Dark Star (1974), which O'Bannon worked on and felt should have led to a co-director credit. They fell out. But Dark Star was seen by Jodorowsky, and that led O'Bannon to Paris to work on Dune, where Jodorowsky in turn introduced him to Swiss artist HR Giger.
The stark contrast between the gritty, terrifying world of Alien and previous Hollywood sci-fi up to and including Star Wars is brought to the fore, as is the male rape subtext of the film, the "retribution of the repressed feminine", as one pundit states. The central thesis here is that Alien comes from our collective dreams anf fears, what Tolkein referred to as the "cauldron of stories" dating back to ancient times, in particular the Greek myth of Clytemnestra, Orestres and the Furies.
There's plenty of nuggets of information to relish – particularly interesting in the #metoo age is that all parts were written to be unisex. The sets were also sized to scale; the figure in the chest-buster came directly from the tortured imagination of Francis Bacon and his painting 'Three Studies for Figures At The Base of the Crucifixion'. Dan O'Bannon suffered and eventually died from Crohn's, a painful disease of the gut. And, in an early incarnation to be directed by Walter Hill (who eventually passed), O'Bannon had to pay for Giger's concept drawings out of how own pocked.
What becomes clear is that Alien was a perfect meetingplace for its leading figures. The fact Ridley Scott isn't on screen reflecting on his contribution somehow means it's even clearer to see. The grit, the talent, the ability to force through decisions such as shooting in anamorphic Panavision or convince the studio it was fine to have no action for the first 45 minutes, and the whole hearted support of O'Bannon and Giger in what they did. Could a similar feat be managed today?
MEMORY refers to the title of the first draft of Alien, O'Bannon's 29 pages which eventually formed the first act.
Production company: Exhibit A Pictures
International sales: Indie Sales, neschbach@indiesales.eu, mgondre@indiesales.eu
Producer: Kerry Deignan Roy
Cinematography: Robert Muratore
Editor: Chad Herschberger
Music: John Hegel