Franchise reboot is a comedic black hole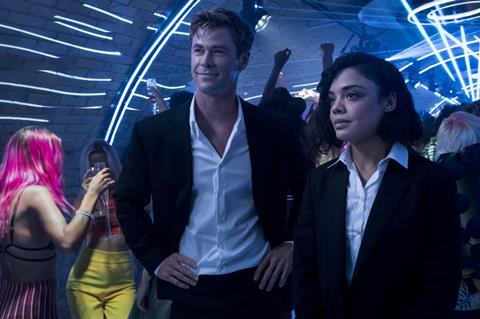 Dir: F. Gary Gray. US. 20119. 115mins.
The delightful chemistry Tessa Thompson and Chris Hemsworth displayed in Thor: Ragnarok is nowhere in evidence in Men In Black: International, a stunningly inert spinoff from a franchise that, long ago, was a sleek, breezy lark. Thompson brings her reliably spry comedic talents as a new recruit who discovers all the extra-terrestrials in our midst, but she's easily overmatched by a witless script, laboured plot and, most depressingly, a badly misjudged performance from her usually-charming co-star. It's not simply Will Smith's effortless magnetism that is missing — International has none of the ingenuity or buoyancy of the 1997 original.
Expect alienating reviews.
This Sony release, which arrives in the UK and US on June 14, will probably struggle to match the $624 million worldwide that 2012's Men In Black 3 mustered — and that film featured Smith and his long-time partner Tommy Lee Jones. Hemsworth is a superstar thanks to Thor, but he's had trouble commanding similar box office away from his Marvel role. Expect alienating reviews and muted word-of-mouth.
Thompson plays Molly, who has dreamed of joining the Men In Black since she was an astronomy-loving little girl. Once she talks her way into a job, the newly christened Agent M is assigned to the London branch, where she teams up with cocky, foolhardy Agent H (Hemsworth) to protect a benign alien. But their mission turns deadly, suggesting the possibility that there may be a rogue agent in the MIB.
This is the first movie in the series not to be directed by Barry Sonnenfeld, and Fate Of The Furious filmmaker F. Gary Gray proves to be a blandly competent replacement. The screenplay, from writing duo Art Marcum and Matt Holloway, tries to incorporate what made the first film such fun — smart-ass humour, a menagerie of kooky alien supporting characters, and inventive sci-fi action sequences — but much of International merely recycles rather than reinvigorates those familiar elements.
Beyond its quirky novelty, the original Men In Black was energised by the oil-and-vinegar rapport of Smith's strutting new agent and Jones' grouchy old pro. International illustrates just how hard it is to craft a crackerjack comedic duo. Thompson and Hemsworth had a grand time trading barbs in Ragnarok, but here their exchanges are terribly strained. Agent M is serious and earnest, while Agent H is a bit of a cad, but these opposites don't attract — instead, they're trapped together in a comedic black hole where no light or humour can escape.
It's especially disappointing how stiff Hemsworth is as Agent H, London's most celebrated MIB agent who has let his past heroism go to his head. Whether as Thor or in the 2016 Ghostbusters reboot, the Australian actor has demonstrated a light touch, undercutting his hunky good looks with a wonderfully silly streak. Agent H would seem to be another perfect pretty-face/dumb-lug character, but Hemsworth overdoes the arrogance and stupidity, making him irritating company. International's aliens aren't memorable, either, and one feels especially bad for Kumail Nanjiani, who voices a bite-sized being who becomes Agent M's loyal protector. Very few of the film's jokes land, and Nanjiani is asked to deliver reams of stale one-liners in his thankless role as International's zany comic relief.
Like other franchises, International nods in the direction of the Time's Up movement, mostly paying lip service to notions of gender equality. There's a decent, albeit forced, joke about the fact that the agency isn't called the Men And Women In Black. But Agent M is the umpteenth recent heroine whose entire personality is that she likes science, although give credit to Thompson for providing her own smarts and style to a character who definitely needs dimensions.
The screenplay eventually sends Agents M and H on a global hunt to retrieve a mysterious gem and expose the agency's mole, but all of that narrative busywork is dull and predictable. (It's fairly easy to guess what's going on, yet it takes forever for those surprises to be revealed.) At least Emma Thompson gets to maintain her dignity as Agent O, the prim-and-proper (but also quite cutting) head of the MIB in New York. Like the film's other Thompson, the Oscar-winning actress has to get laughs through sheer force of will since few of her human or alien co-stars are much help.
Production company: Amblin Entertainment
Worldwide distribution: Sony
Producers: Walter F. Parkes, Laurie MacDonald
Screenplay: Art Marcum & Matt Holloway, based on the Malibu Comic by Lowell Cunningham
Production design: Charles Wood
Editing: Christian Wagner, Zene Baker, Matthew Willard
Cinematography: Stuart Dryburgh
Music: Danny Elfman & Chris Bacon
Main cast: Tessa Thompson, Chris Hemsworth, Kumail Nanjiani, Rebecca Ferguson, Rafe Spall, Emma Thompson, Liam Neeson