Pitch-dark comedy and sociopolitical commentary collide in Paul Negoescu's portrait of a bumbling cop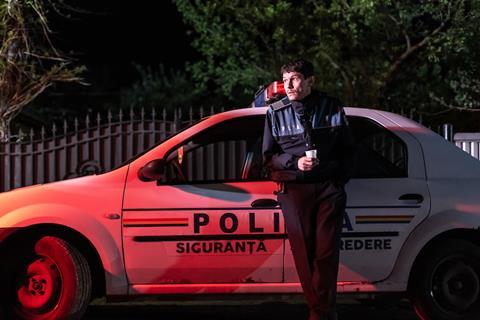 Dir: Paul Negoescu. Romania/Bulgaria. 2022. 106 mins.
A bumbling country cop gradually relocates his long-discarded moral compass in Men Of Deeds, a slow-burning and likeable pitch-dark comedy from Romanian director Paul Negoescu. Best known at home for 2016 box-office smash Two Lottery Tickets, Negoescu tacks closer to mainstream than arthouse with his fourth feature, premiering in the main competition at Sarajevo. A smart underpinning of sociopolitical comment will open further festival doors without necessarily boosting Negoescu's international renown.
Men Of Deeds' climax is an effectively jarring explosion of violence involving numerous firearms and even an axe
The leading lights of Romania's still-flowing New Wave (Mungiu, Jude, Puiu, Porumboiu) are all writer-directors. Negoescu, responsible for the scripts of his first three features — the first and third were A Month In Thailand (2012) and The Story Of A Summer Lover (2018) — here adapts the work of debutant screenwriters Radu Romaniuc and Oana Tudor. The result is an observational character study of fortyish divorcee Ilie (Iulian Postelnicu), through whose eyes we get to know Babuleni, the (fictional) village where he has lived and worked for an uneventful decade.
The setting is the placid farm country of Western Moldavia, the north-eastern region of Romania close to the somewhat porous border with Moldova; the main "industry" here is smuggling, organised by avuncular longtime mayor Costica (Vasile Muraru). Ilie, who comes across as something of a Chaplinesque naif, is content to turn a blind eye to such shenanigans if it helps him fit in with his neighbours and their chummy rural ways. He retreated to Babuleni — we learn in a dialogue exchange with his ex-wife Mona (co-screenwriter Tudor) — following an unspecified professional trauma in a big city, where his attempts to "play the knight" proved disastrous.
Ilie's quiet life, dominated by dreams of owning his own cherry orchard, is disturbed first by the arrival of straight-arrow younger colleague Vali (Anghel Damian) and then by the discovery of a messily murdered corpse. The two cops are a study in contrasts: Ilie slovenly, lazy and socially awkward, sporting a sad, wispy excuse for a moustache and with the top buttons of his shirt perpetually undone; Vali clean-cut handsome, confident and alert, quickly forming a dim view of his commanding officer ("a narrow-minded redneck that can't see beyond his limitations").
They take predictably differing attitudes to the homicide case: go-with-the-flow Ilie is happy to buy the explanation proffered by Costica and his bearish ecclesiastical sidekick Edi (Daniel Busuioc) that the death was simply an unfortunate accident; Vali decides to dig deeper. Complications rapidly ensue, involving plentiful further bloodshed.
Arriving as it does after more than ninety minutes of sedately paced scene-setting, Men Of Deeds' climax is an effectively jarring explosion of violence involving numerous firearms and even an axe. Taking pages from the Coen brothers and Tarantino playbooks, Negoescu steers proceedings into the territory of the western in these latter stages — Ilie the equivalent of the sheriff who belatedly takes up arms against the bad guys.
This shift of genres is underlined by the restrained, almost minimal score by Marius Leftarache which is all the more effective for being kept low in the mix. Ana Draghici's widescreen cinematography captures the splendours of far-flung locales, whose bucolic surfaces hide a grim network of long-festering corruption whose tendrils extend far beyond the village and even the region.
The title's "man of deeds" is a big-city lawman (Vitalie Bichir) summoned by Costica to nip the murder investigation in the bud, a slick operator whose philosophy ("for us what's important is to get the job done, not to worship principles") exudes the kind of corrosive cynicism increasingly evident in the political spheres of central/eastern Europe — and beyond.
Production companies: Tangaj Production, Papillon Film, Screening Emotions, Avanpost

International sales: Tangaj Production, office@tangajproduction.com
Producers: Nikolay Todorov, Poli Angelova, Anamaria Antoci, Ana-Maria Voicu

Screenplay: Radu Romaniuc, Oana Tudor

Cinematography: Ana Draghici

Production design: Vanina Geleva

Editing: Eugen Kelemen

Music: Marius Leftarache

Main cast: Iulian Postelnicu, Vasile Muraru, Annemarie Chertic, Anghel Damian, Oana Tudor, Daniel Busuioc, Crina Semciuc, Vitalie Bichir