Ari Aster's anticipated follow-up to 2018 breakout Hereditary is a wild sojourn.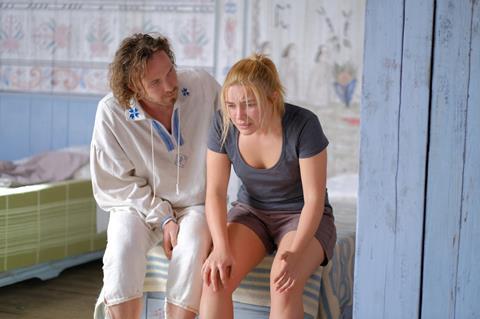 Dir/scr: Ari Aster. USA. 2019. 140 mins
"Stop it, you're fine," Midsommar's main character desperately tries to tell herself early in Ari Aster's second feature — which, like his debut Hereditary, is a portrait of grieving told through horror. But her pep talk is paltry in the face of the terror that awaits her and the audience. Sometimes hypnotic, sometimes overcooked, always intriguing, Midsommar seeks scares that are surreal and demented, taking us to a strange rural Swedish community where plenty of bad things will most assuredly occur. Aster's bold flourishes occasionally fall flat, but Florence Pugh holds the film together — especially when its plotting stumbles or its shocks grow predictable.
Aster has created such an evocative premise that it floods the viewer with queasy possibilities of what may follow
Arriving in the US on July 3 and the UK on July 5, Midsommar may have trouble matching Hereditary's $79m worldwide gross. Although there's considerable interest from art-house crowds, this wilfully upsetting and odd offering could frighten away mainstream audiences, which will make strong reviews all the more crucial to drive business.
Pugh plays Dani, a young woman struggling with depression who, as Midsommar begins, is devastated by a family tragedy. Unbeknownst to Dani, her checked-out boyfriend Christian (Jack Reynor) considered breaking up with her before this tragedy, but now he feels obligated to stay with her a little longer as she works through her sorrow.
Reluctantly, Christian agrees to let her tag along with his friends — studious Josh (William Jackson Harper) and immature Mark (Will Poulter) — as they venture to a small Swedish village with their classmate Pelle (Vilhelm Blomgren), who wants to introduce them to his family's ancient rituals. The Americans see the outing as an exciting vacation, but soon they're sucked into a ceremony they can't escape.
Like Hereditary, Midsommar is the story of a traumatised woman, alienated from the world, who may be in great peril. But where that 2018 film delivered many jolts at night, Aster's new horror movie coyly takes us to Sweden in the summertime, when that corner of the world is bathed in perpetual sunlight. Working again with cinematographer Pawel Pogorzelski, Aster crafts a bright, idyllic woodsy landscape that quickly proves ominous — the gorgeous, sunny setting belies the barbaric violence that ensues.
On the one hand, Aster has created such an evocative premise, calling to mind previous horror movies about cults and pagan ceremonies, that it floods the viewer with queasy possibilities of what may follow. But on the other, Midsommar raises expectations that it sometimes fails to satisfy. Dreadful things are in store but, with some notable (and marvellously chilling) exceptions, they frequently play out in typically alarming ways. Disappointingly, Aster also intermittently abandons narrative logic in order to waylay his characters with gruesome surprises that, under close inspection, don't make much sense.
As a result, it's probably best to embrace Midsommar as a hyperbolic, unsubtle exploration of toxic masculinity and loss, with Pugh serving as our emotional anchor. The young actress, terrific in everything from Lady Macbeth to Fighting With My Family, delivers a supple performance that, nonetheless, requires her to go big during the movie's feverish later sections. Before then, though, she gives us a Dani who's so beaten down by her family woes and unromantic boyfriend that she's come to expect very little from anyone. Consequently, Dani is almost fatally passive and apologetic, constantly so fearful of other people's feelings that she never considers her own. Midsommar's cathartic terrors are, in a sense, an outward expression of the pent-up rage and helplessness coursing through Dani, and Pugh expertly articulates that confusion and anguish.
Aster has such a dim view of Dani's male companions that the characters feel a bit underwritten. Reynor is convincing as a callow, selfish young man, while Poulter overdoes Mark's blissful denseness. Midsommar rather obviously makes the point that Dani really is on her own in this bizarre realm, but the shortcomings of Aster's screenplay are rectified, for the most part, by his brilliant staging, which maximises the terror of open spaces and the inexplicable customs of this insular, eerily calm community.
The film's inventive sound design, slyly disorienting special effects and mix of different musical styles help patch over what can be silly or forced elsewhere. As opposed to Hereditary's hushed, focused terror, Midsommar explodes with blood and gore — as well as ideas about our primal nature and the universe's startling ability to mete out justice, no matter how unexpectedly. Not every ambition succeeds, but it's invigorating to watch Aster and Pugh guide us on this wild sojourn.
Production companies: B-Reel Films, Square Peg
International sales: A24, jaime@a24films.com
Producers: Patrik Andersson, Lars Knudsen
Production design: Henrik Svensson
Editing: Lucian Johnston
Cinematography: Pawel Pogorzelski
Music: Bobby Krlic
Main cast: Florence Pugh, Jack Reynor, William Jackson Harper, Vilhelm Blomgren, Will Poulter