Debut filmmaker Snow Hnin El Hlaing throws open the doors of a Myanmar medical centre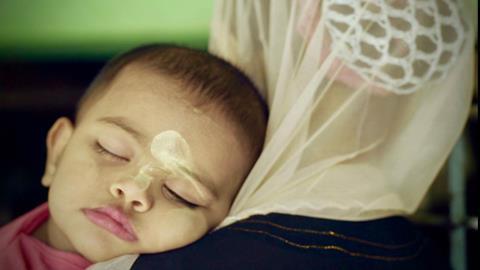 Dir. Snow Hnin Ei Hliang. Myanmar. 2021. 91 minutes
The opening shots of Snow Hnin Ei Hliang's debut feature, along with its title, lends a natural expectation that Midwives will focus on the challenges of childbirth in the remoter regions of Myanmar, its temples shrouded in highly-photogenic early-morning mist as its populace lives with the harsh after-effects of a military coup and a crackdown on protestors. The tricky birth witnessed in close-up at the onset will be the last such sequence, however, as Midwives moves down into the dusty village streets and the story of a Buddhist midwife and spiky-tongued medicine woman and her trainee, a Muslim Rohingya in the disputed province of Rakhine.
A small-scale, covert glimpse of lives led behind the headlines
A small-scale, covert glimpse of the lives led behind the headlines – 1m Rohingya still live in refugee camps outside the country, the victims of ethnic-cleansing – Midwives should find a home at festivals, particularly those with a geo-political focus or female-oriented sidebars, after its world premiere at Sundance. Narratively, it can feel fragile, and often as if much might have been lost in translation, but this is undoubtedly an achievement for Snow Hnin Ei Hliang (and yes, her name is difficult to pronounce even for Burmese, as one sequence amusingly illustrates).
The betel-chewing, potty-mouthed Hla runs a clinic in this Rakhine outpost; one of her first utterances during that difficult birth is: 'I told you bitches to shut up!". Her surgery is no more than a bamboo shack, open at the sides, with incense burners and mosquito coils. One of the attendees gives thanks to Allah, leading the viewer to realise we may be in troubled territory. Burma is officially Buddhist, Hla is Buddist, and her headstrong apprentice Nyo Nyo is Muslim, referred to constantly as a 'klar', or 'darkie' by Hla.
Behind all that bluster lives a kindly soul, though. Hla is victimised and threatened by Buddhists because she treats Muslims, who don't really like her treating them either – they don't speak the same language. The Rohingya are imprisoned here, denied permits to travel and routinely abused and killed by marauding soldiers; occasionally the action stops to listen to gunfire in the street outside. One solution is for Nyo Nyo, who isn't keen on her husband or children and fancies a life with her sister in Rangoon, to learn the trade of midwifery and set up by herself. She's impatient though, and dreams of money. Ultimately, like Hla, who sets up a fish shop when the army shuts her down, she'll prove to be resourceful when the chips are down.
The challenges of making this film in Myanmar must have been enormous and, unsurprisingly, the camera sticks mostly to domestic confines — past the temples, and that's an aerial shot, there are scant exteriors to Midwives. Nor do we get much of an understanding of the socio-economic situation of women there, although it clearly isn't good — the effects of childbirth on such young bodies must be traumatic, and Hla's mother, doubled over and contorted, pays evidence to that.
They all wear the face daubs of the thanaka, leading the viewer to realise how far away they are, and how remote and fragile this life of theirs is. And that's equally as valid for the brave Hla, who continues to help her fellow woman despite the consequences, as it is for Nyo Nyo. These two women, despite their differences, have so much in common, and Hla essentially just wants Nyo Nyo to be responsible and trained before she tries to take medical matters into her own hands.
Production companies: Snow Films, Ama Film, Eyesteel Films
International sales: Eyesteel Films, bob@eyesteelfilm.com
Producers: Bob Moore, Ulla Lehmann, Mila Aung-Thwin, Snow Nnin Ei Hliang
Cinematography: Soe Kyaw Htin Tun
Editors: Mila Aung-Thwin, Ryan Mullins, Snow Hnin Ei Hliang
Music: Olivier Alary, Johannes Malfatti