Docu-fiction follows a 12-year-old girl as she attempts to outrun Brahmaputra river floods and find her father in Dhaka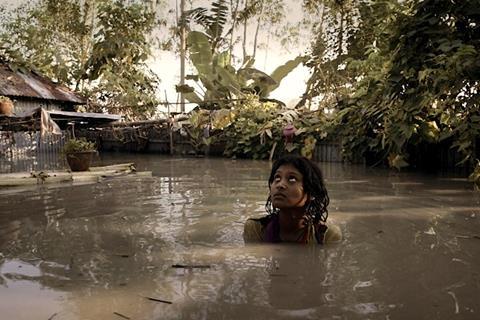 Dir: Angelos Rallis. Greece, France, Germany. 2023. 92mins
The catastrophic impact of climate change is brought home in a torrent as we watch 12-year-old Afrin try to cope with flooding on one of the mud islands in the Brahmaputra river. Beginning in verite territory, Angelos Rallis' beautifully shot, affecting hybrid documentary then moves to a more structured framework as Afrin, whose mother is dead and father absent, travels to the city. The Greek director worked in loose collaboration with the youngster to protect her safety while telling a story of migration that is mirrored by innumerable children in Bangladesh.
Likely to melt the hearts of audiences everywhere
The film had its world premiere in Thessaloniki, where Rallis' previous work Shingal, Where Are You?, about Yezidi refugees, won a Special Mention in 2017. While feeling firmly rooted in the reality for many living in poverty in Bangladesh, Mighty Afrin, which was shot over five years, has a construction that – though pulling no punches on the climate crisis – offers a hopeful narrative arc for its magnetic young subject that is likely to melt the hearts of audiences everywhere.
Afrin's situation is bleak from the start, as we see her swimming in the polluted, muddy waters of the Brahmaputra river, trying to shore up the already-flooded island where she lives. Homes on the island are inundated with water as more rain falls, the enormity of the situation captured at close quarters as wind and rain lash the camera as well as Afrin. There's little time for chat as we watch the youngster purposefully go about her business, barricading the mud with branches, moving a goat to a boat, too busy to even cast a look at the camera. When someone says, "Everything is over, everyone is moving", it's not hard to see why.
As the situation worsens, Afrin decides to head to the capital Dhaka in search of her father. Rallis follows her first by self-paddled boat against the expansive beauty of the Brahmaputra, and then by train. When she arrives in the city, Afrin falls in with a small collective of kids who gather rubbish from the streets at night to either sell it or burn it for a handful of coins.
Although unscripted – and, in fact, with very little dialogue at all – the hybrid nature of the film allows Rallis some latitude; beyond depicting the extreme conditions many street kids find themselves in, he keys us into Afrin's emotional experience through the use of an "imagined" flashback to the island and one or two other devices that would not normally be brought to bear in traditional documentaries. While this may offend purists, those who are interested in inventive hybrid documentaries will find this a welcome addition to the growing list of films that aren't afraid to push their way out of the box.
As we watch Afrin and her newly acquired young friends scavenge rubbish down a street lined with fires, or clambering over ghastly mountains of refuse, it's hard not to think we've been transported to one of Terry Gilliam's finest post-apocalyptic dystopias. To realise it's real only makes it worse. Rallis doesn't need to lean into the squalor as we see how Afrin, again often too exhausted for conversation, tries to cope with the sheer onslaught of the city. At one point she puts her hands over her ears and Rallis mutes down the sound design, helping us to feel her reaction to the aggressive noise of Dhaka. Alexis Rault's score, too, picks up on elements of the soundscape, such as the blare of horns, reflecting them back through the music.
If there are times when we feel we're gazing into the despair of Afrin's soul, Rallis, who shot and co-edited the film himself, also shows an eye for moments of joy. He's there to catch the exhilaration of Afrin's first train ride and the sheer unbridled wonder of encountering colourful electric lanterns strung above a city street. That Afrin had a camera watching over her and, now 16, is safe and spends part of her time helping other children get off the streets is a relief – but it's also clear that, in the bigger picture, her experience is just a drop in the ocean compared to the dangers faced by myriad kids like her.
Production companies: AR Productions
International sales: Cargo Film & Releasing contact@cargofilm-releasing.com
Producers: Angelos Rallis, Maria Del Mar Rodriguez, Birgit Kemner
Cinematography: Angelos Rallis
Editing: Nadia Ben Rachid, Angelos Rallis
Music: Alexis Rault