Remake of the 2011 Mexican crime drama starring Gina Rodriguez as a kidnapped American tourist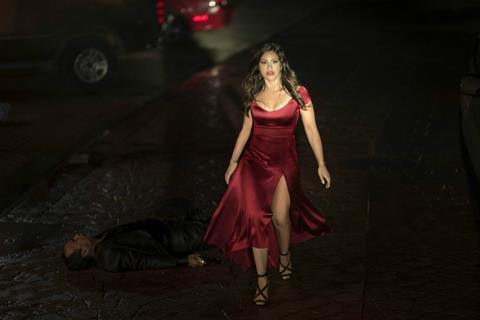 Dir: Catherine Hardwicke. US. 2019. 104mins.
A bullet-riddled tale of unlikely female empowerment, Miss Bala toys with exploitation and social commentary but doesn't have the ingenuity or nerve to successfully pull off either. This remake of the 2011 Mexican crime drama features Gina Rodriguez as a mild-mannered American who travels to Tijuana to see her friend, only to discover what she's capable of once she runs afoul of drug lords, crooked cops and callous DEA agents. Twilight director Catherine Hardwicke gives the proceedings a perfunctory pulp spirit, but the B-movie flair quickly settles into routine.
Tends to overdo its feverish intensity and bland feminist message
Sony will be releasing Miss Bala in the US on February 1 during a weekend when many viewers will be distracted by the Super Bowl. Rodriguez's track record as the star of the TV series Jane The Virgin should help, as will the fact that this is a rare Latino-led action movie. Still, Miss Bala, which is opening in limited internationa markets through February and March, may prove to be a stronger performer on streaming services than during its initial theatrical run.
Rodriguez plays Gloria, a Hollywood makeup artist who drives to Mexico to help her best friend Suzu (Cristina Rodlo) win a local beauty contest. The night before the event, they attend a party which is taken over by criminals, including the intimidating Lino (Ismael Cruz Córdova). In the melee, Gloria can't find Suzu and is taken prisoner by Lino's thugs, who have plans for this innocent woman.
Director and cowriter Gerardo Naranjo's 2011 film Miss Bala harnessed a Tarantino-esque energy as its main character found herself drawn into a progressively more harrowing and intricate plot. Hardwicke's thriller retains several of the key narrative beats — especially the queasy sense that poor Gloria is sinking deeper and deeper into a moral quicksand — but tends to overdo its feverish intensity and bland feminist message. This Miss Bala strains rather than struts, mimicking the pumped-up swagger of myriad crime-thrillers while introducing a Cinderella story about a young woman tapping into her sultry, action-hero side.
While Jane The Virgin is primarily a comedy, Rodriguez has shown an attraction to serious material, as witnessed by her gripping work in the meditative 2018 sci-fi film Annihilation. One of her assets in Miss Bala is that she can capably play a "regular" woman — someone who's pushed around at her job and mocked for not being beautiful enough when she attends the pageant with Suzu — and then reveal new aspects of her personality once she's fighting to stay alive. In clichéd ways, Gloria discovers her inner strength by learning how to use weapons and rock a sexy dress, but the actress somewhat helps sell the contrivances.
Less believable is Miss Bala's "how could things get any worse?" storytelling, which consistently raises the stakes, either by presenting Gloria with implausible new obstacles or increasingly convoluted circumstances. Hardwicke's ho-hum action sequences don't help — or the fact that Gareth Dunnett-Alcocer's screenplay adopts a jaded tone that's meant to be grizzled and profound but is, instead, a lot of empty posturing.
Hardwicke frames Gloria's journey as a metaphor for the ways that women are exploited and marginalised. (In addition, Miss Bala surveys the border tension between the US and Mexico, and how those with ties to both countries feel torn in their loyalties.) But the film's ungraceful approach to its themes only underlines the general paucity of inspiration. And although Miss Bala wants to help Gloria become more assertive, it's done at the expense of Mexican characters who are, for the most part, drug dealers, criminals and lowlifes — in other words, the same sorts of stereotypical villains we see in plenty of other thrillers.
Córdova fights to bring some dimensionality to Lino, who views Gloria not just as his captive but his property. But the character isn't particularly interesting, and when Hardwicke hints at a kinky attraction between Lino and Gloria, it simply feels silly. Hollywood would do well to make more movies that celebrate strong female characters and people of colour. But when the results are as forgettable as Miss Bala, the good intentions hardly seem worth it.
Production companies: Canana, Misher Films
Worldwide distribution: Sony
Producers: Kevin Misher, Pablo Cruz
Screenplay: Gareth Dunnet-Alcocer, based on the Spanish-language film
Production design: Marco Niro
Editing: Terilyn A. Shropshire
Cinematography: Patrick Murguia
Music: Alex Heffes
Main cast: Gina Rodriguez, Ismael Cruz Córdova, Aislinn Derbez, Matt Lauria, Anthony Mackie