Trace Lysette shines in this quietly thoughtful drama about a trans woman visiting her dying mother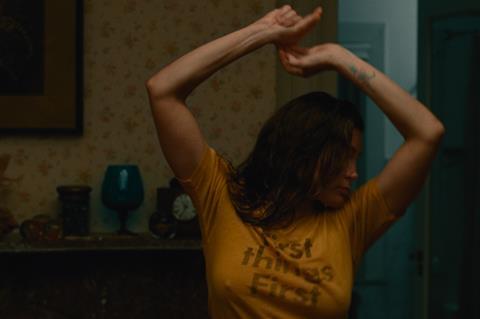 Dir. Andrea Pallaoro. US/Italy. 2022. 112 mins.
Trace Lysette takes a classic cinematic role and makes it her own in Monica, a quietly thoughtful and impressively acted drama about an estranged child who returns to the thorny bosom of her family as an adult for her mother's final days. Director and co-writer Andrea Pallaoro banishes easy sentiment and proselytising in this touching film, allowing the audience to take a journey with the titular Monica and discover her story on the way. Lysette's lived experience as a trans woman, which mirrors that of her character, helps the actor deliver a powerful, internalised performance, flashing slivers of spirit amid the hurt and reticence and endless resilience. You can feel Monica's pain, sense her past.
A film above all about love
With Patricia Clarkson playing Monica's dying mother Eugenia, or Jeanie, this is a beautifully composed piece which often uses silence and touch as its dominant emotions. It's always quiet, apart from ambient songs from the radio (Pulp's 'Common People' being a typically apt touch), but Lysette is an eloquent presence without ever having to give 'the speech' that other films would require. Playing out, sometimes a little too languorously, to a slightly on-the-nose but nonetheless effective conclusion, this is a film for upmarket, socially-inquiring audiences, and perhaps awards — Lysette's performance will give Monica some media heat. It's screening In Competition at Venice, Pallaoro's third film to do so: the last, the chillier Hannah, won the top acting prize for Charlotte Rampling.
Pallaoro, and Katelin Arizmendi's camera, are with Monica all the way — this is a classic 'woman's film' — beginning with an arresting first image of her on a sun bed, the neons giving way to an orange flare on her eye mask which settles onto her burnished hair in her hot-red convertible. It's a colour palette — red, orange, blue — which will burn in the embers of the rest of the film, occasionally flaming up. But neither Monica nor her car are in terrific shape: her only companion is her phone, where she leaves messages for an estranged lover, and hears of her mother's illness before giving a client a silent massage (it's never explicit in Monica, but sex work is certainly in her past, and occasionally her present).
A two-day drive takes Monica home to Cincinnati, to a house which has also seen better days. Her mother Jeanie doesn't have long to live, and Monica's return has been engineered by a sister-in-law (Emily Browning) she has never met. Jeanie doesn't recognise Monica now, in an excruciating scene, and she also left her brother Paul (Joshua Close) behind when she fled for California. A Mexican carer, played by Adriana Barraza, rounds out the quartet. But this is no A Fantastic Woman: apart from one, literal, breakdown, Monica never gets that speech. Jeanie doesn't either, and Clarkson revels in shading Jeanie's character so the audience can see the flint and stubbornness that prompted the family break-up, alongside the maternal love that drives her towards a reconciliation she can never express in words.
Pallaoro, an Italian living and working in California, has made his reputation on films which eschew dialogue and take their time, like Hannah, and its predecessor, 2013's Medeas. This is warmer, though, than Rampling's hollowed-out film: there's something about Lysette's screen presence that screams life in the middle of the ossification which is going on around her, and which Pallaoro shows in one scene where she dances to a cheesy Italian pop song, another where she waits in a bar and then takes her sexual gratification in her own hands. We're not allowed to forget that life isn't just dangerous for Monica, personally, but physically risky as well.
Production design by Andrew Clark gels nicely with Arizmendi's camera: the family house is a place of shadow, where Jeanie's jewels gleam illicitly on Monica's neck, and the drained-out swimming pool is swamped by its own vegetation. Monica, a film above all about love, may end on a faltering note given the politics that currently surround the US National Anthem and the future for the country's marginalised communities, but it's nonetheless reassuringly clear Monica, herself, will always love and be loved.
Production companies: Varient Entertainment, Solo Five Production, Melograno Films
International sales: The Exchanger, info@theexchange.ws
US sales: UTA, filmsales@unitedtalent.com
Producers: Gina Resnick, Christina Dow, Eleonora Granata Jenkinson
Screenplay: Andrea Pallaoro, Orlando Tirado
Cinematography: Katelin Arizmendi
Production design: Andrew Clark
Editing: Paolo Freddi
Main cast: Trace Lysette, Patricia Clarkson, Emily Browning, Joshua Close, Adriana Barraza, Graham Caldwell