A Fililpino motel houses an ancient demon in Bradley Liew's ambitious yet haphazard creature feature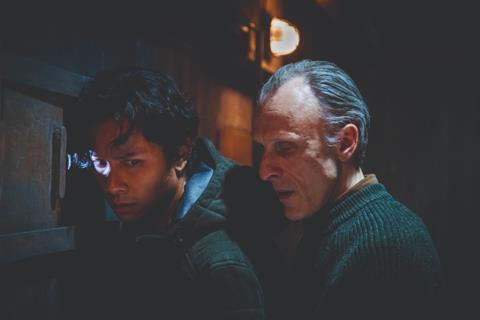 Dir: Bradley Liew. Philippines, Malaysia, Singapore, Indonesia, Taiwan, Slovenia. 2019. 88mins
From Psycho to Vacancy, motels have long proved a death trap of choice for horror filmmakers. Motel Acacia is no exception, as Bradley Liew imagines an establishment that is part prison, part slaughterhouse and home to a ravenous tree demon straight out of Filipino mythology. There are some intriguing ideas running throughout, but the execution tends towards the haphazard and unpersuasive. Silly in places, confusing in others and long in development, Motel Acacia may be one of those films that makes complete sense to those who made it, but not necessarily to those who are watching it; Midnight Madness programmers and genre fans might be willing to give it the benefit of the doubt.
The film is ambitious enough on paper as it tackles colonialism, racism, climate change and much more
Liew's second feature after Singing In Graveyards (2016) melds traditional horror with elements of social commentary, political analysis and folklore to create a cautionary tale on the state of the planet. There is also some humour in the mix – some of it intential – along with decent performances, with a charismatic Nicholas Saputra making the biggest impression as a former accountant trying to survive his ordeal in the cursed motel.
The opening third of the film is all darkness and dread as mixed-blood Filipino JC (JC Santos) drives through snow-covered mountains with his domineering Caucasian father (Jan Bijvoet) to the remote motel that he will take over. There is talk of border patrols and images of a lengthy wall splitting the countryside. Upon arrival, the innocent JC soon discovers the truth about what happens at a motel that feels more like a Bond villain's lair. He seems remarkably unphased by an establishment that is set up to gather and exterminate immigrants. Resident in the hotel is a tree demon, or Kapre, that devours any man that comes into contact with its creeping tendrils and gloopy drool. JC is also warned: "Never bring a woman into this room. Ever!"
Motel Acacia flirts with more conventional storytelling as JC finds himself at the motel with three immigrants who have paid good money for fake IDs, comfortable accommodation and safe passage. They are joined by a young couple who have rescued JC from a howling winter storm, and by JC's co-conspirator Angeli (Agot Isidiro) who simply wants paid. A tale that had doffed its cap at the corporeal horrors of vintage Cronenberg and the arboreal terror of films like William Friedkin's The Guardian now strays into Agatha Christie territory, as a group of strangers are trapped in a remote location at the mercy of a mystery killer.
The film is ambitious enough on paper as it tackles colonialism, racism, climate change and much more. It still can't help succumbing to very familiar genre conventions, though, as characters run for their lives along gloomy corridors and do battle with rubbery looking beasties clinging to their limbs. Flashbacks provide a little history of the tree demon and there is mention of a sinister "Town Council" who seem to have some responsibility for what happens at the motel. Characterisation is sketchy and we never know enough about any individual to really care whether they live or die. The editing creates a jumpy rhythm in which it often feels as if some key information is missing.
Production companies: Black Sheep, EPIC Media
International sales: Picture Tree International pti@picturetree-international.com
Producers: Bianca Balbuena, Bradley Liew, Jeremy Chua, Bostjan Virc, Sinisa Juricic, Kriz Gazmen, Marizel S. Martinez
Screenplay: Bradley Liew, Bianca Balbuena
Production design: Benjamin Padero, Carlo Tabije
Editing: Benjamin Tolentino
Cinematography: Larry Manda
Music: Chris Letcher
Main cast: JC Santos, Jan Bijvoet, Agot Isidro, Nicholas Saputra.