Dir: Kadri Kõusaar. 2016. Estonia. 89 mins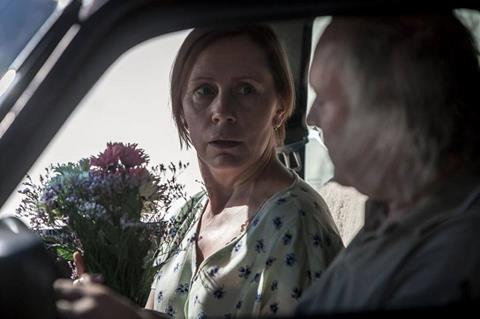 Director Kaadri Kõusaar's third feature unfolds in the kind of small town where criminal activity usually means a sweater swiped from a washing line. It's a community unprepared for the ramifications of a real crime; a shooting which has left a local teacher in a coma, to be cared for by his stoic, long-suffering mother Elsa (Tiina Mälberg).
Sardonic in tone, and economic in running time, this is a neat, contained little drama
Estonia's submission for the Foreign Language Oscar is a nimble domestic thriller, which downplays its humour with a dispassionate, cool eyed approach. Through a series of wry, deadpan bedside scenes, the film gradually explores the truth behind the crime which has rocked this small town.
The film, which is loosely based on an Irish radio play, reaches the Black Nights Film Festival already well into its festival run. It could go on to enjoy modest arthouse theatrical attention, particularly if it makes it onto the Foreign Language Oscar long list. Marketing that plays up the tonal similarities with recent successes from Iceland (there is an appealing dourness to the humour, reminiscent of Rams) might help the picture find an audience.
There's an oppressive quality to this film, which, like the mother of the title, is largely confined to the home where gunshot victim Lauri (Siim Maaten) lies, impassive and unconscious. Unable to work because of her responsibilities as a carer, Elsa is quietly climbing the walls. She cleans ferociously and serves up coffee and grim little plates of biscuits to the numerous well-wishers who come to visit her son.
Rather unforgivingly lit to emphasise her drawn complexion and washed out red hair, Elsa looks like a woman who feels like the drab walls of her modest home are closing on her. Costume choices are also eloquent; Elsa favours shapeless, mismatched frocks in washed out tones, and a funereal flower print blouse ties in with a running floral motif throughout the film. Her husband Arvo stagnates in front of the television. But Elsa has a secret. She is in the throes of a torrid affair with Aarne, the supervisor at the school at which her son formerly worked.
Using the bedside of Lauri as a kind of confessional booth, Kõusaar weaves together clues and potential culpability for almost everyone who visits. Lauri's friend Andres (Jaak Prints) bleats about his financial difficulties. Local eccentric Liina (Katrin Kalma) muses about whether a pillow to the face might be the best option for Lauri. And when the browbeaten investigating officer reveals that Lauri had withdrawn a large amount of money from his account shortly before his death, the visitors take turns in surreptitiously ransacking the room to try and locate the missing cash.
Sardonic in tone, and economic in running time, this is a neat, contained little drama. The final twist is a little too laboured, however, to fully click with the light touch of the storytelling up until the final act.
Production company: Meteoriit
International Sales: Film Sales Company andrew.herwitz@filmsalescorp.com
Producer: Aet Laigu
Screenplay: Leana Jalukse, Al Wallcat
Cinematography: Jean-Noël Mustonen
Editor: Tambet Tasuja
Score: Jaan Pehk
Main cast: Tiina Mälberg, Andres Tabun, Andres Noormets, Siim Maaten, Jaan Pehk, Jaak Prints