A moving case for visibility in the face of hatred and violence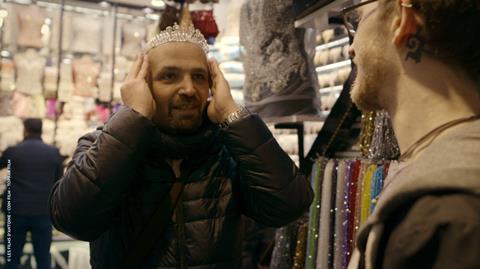 Dir/scr: Ayse Toprak. Turkey/France/Germany. 2017, 85mins.
Given the hatred and violence directed towards the LGBT+ community in Syria by ISIS, the very notion of a Mr. Gay Syria seems frivolous at best and tasteless at worst. Ayse Toprak's moving documentary makes a persuasive case that visibility is a vital weapon in the fight against oppression. The story of lives changed, for good or ill, by the competition should find a warm welcome from festivals, especially those with an LGBT+ or human rights focus.
The pitfalls of staging a Mr. Gay Syria competition provide a revealing insight into the plight of individuals but also some much bigger issues
Toprak starts at the side of a dusty road to Syria where we find Hussein in a no man's land of uncertainty. The bulk of an involving, empathetic documentary comes six months earlier in Istanbul as 24 year-old barber Hussein decides to enter the competition to be crowned Mr. Gay Syria. The competition is the brainchild of journalist Mahmoud Hassino, himself a refugee in Berlin. Hassino believes that staging such an event will raise the profile of gay Syrian refugees in Turkey who have fled violence and torture in their homeland and who have only received modest support from the wider world.
Sending Mr. Gay Syria to the Mr. Gay World event in Malta should be a means of gaining publicity, raising awareness and challenging perceptions. It might also be a bit of fun.
Over the course of a film that unfolds in Istanbul, Malta and Germany, we gain a greater insight into Hussein's life and meet some of the other men brave enough to enter the competition. There are a few explicit references to the situation in Syria and the growing intolerance within Turkey but those circumstances are a constant, menacing backdrop to everything that happens.
Endearing fellow contestants include cook and incurable romantic Omar who lives with his boyfriend Nader as he awaits news of an asylum application to Norway, and Wissam, whose performance for the Mr Gay Syria heats is an energetic expressionistic dance in skintight rubber and high heels.
Hussein remains at the heart of the story, as he is the one who has the most to lose or gain from his participation in Mr Gay Syria. We learn that he is married with a young daughter, comes from a conservative family and faces stern opposition were he to come out to his mother or father. He is constantly poised between being true to himself and fearing the considerable consequences that would come from embracing his role as Mr. Gay Syria.
Cinematographer Hajo Schomerus offers a bustling sense of life on the streets of Istanbul and captures some lovely moments of Hussein's life in the barbershop and the affectionate bond with his daughter. The film makes a determined effort to feel up beat and positive, an intention helped by the expressive music of Zeid Hadman.
The film may set up expectations of a happy ending in which everything is resolved, but Torpak presents us with a much more realistic vision of a complicated situation that has no easy solutions. There is little sign of Mr. Gay World rising to the challenge of supporting Hussein, while authorities and organisations fail to understand the urgency of requests from gay refugees inside Syria. Visibility remains an issue and the pitfalls of staging a Mr. Gay Syria competition provide a revealing insight into the plight of individuals but also some much bigger issues. It never feels trivial at all.
Production Companies: Les Films Antoine, Coin Film, Toprak Film
International sales: Taskovski Films sales@taskovskifilms.com
Producers: Ekin Çalisir, Antonine Simkine, Christine Klauk
Cinematography: Hajo Schomerus
Editor: Nadia Ben Rachid
Music: Zeid Hamdan