Dirs. Lucy Bailey, Andrew Thompson. UK. 2009. 94 mins.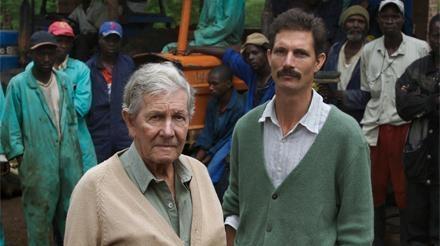 Offering a rare opportunity to peer inside today's Zimbabwe – international media outlets are banned from the country – Mugabe and The White African was evidently filmed illicitly but betrays none of those signs in a handsome, HD-shot production which seems set for theatrical consumption and possible awards recognition. Its story is tense and surprisingly moving, pre-empting Claire Denis' fictional White Material with its real-life right-vs-might cast of embattled white farmers in Africa.
How far will the Campbells go to fight for what they believe is right?
Bailey and Thompson, however, add a cinematic refinement to the drama with some superior lensing, sharp editing and a tense soundtrack which reinforces the trials onscreen. This is a classy documentary which, buoyed by positive notices and word of mouth, should go down well in art-house theatres, festivals and eventually on the small-screen, where it may provoke the debate its protagonists so desperately need.
Increasingly cut off from the world, Zimbabwe – which had an official inflation rate of 231 million percent in 2008 – has moved from being Africa's breadbasket to the continent's basket case. Since the beginning of the decade, white African farmers have been thrown off their land as part of the increasingly-erratic 84-year-old premier Robert Mugabe's land reform policies. The bitterness and conflict that marked the end of the former Rhodesia and Mugabe's accession to power nearly three decades ago has resurfaced in the premier's visceral hatred of his former white, Colonial, oppressors.
But 75-year-old Mike Campbell and his family are just farmers, and tough ones at that. One of the few white farmers left in Zimbabwe as filming starts in 2007, Mike has bought and paid off the loan on Mt Carmel, which sustains 500 people, with the title being granted post-independence. The corrupt state wants his land, but Mike and his son-in-law Ben Freeth won't give up without a fight, and they have taken Mugabe to the South African Development Community's (SADC) human rights Tribunal in Namibia for protection.
Viewers, aware that the SADC has been reluctant to censure Mugabe, know that Campbell may be doomed to failure – even if he succeeds in the courtroom, what will be the price? As the Campbell's friends fall prey to bands of "war veteran" thugs, what marks this documentary out is the family's clear-eyed determination, grit, and a faith in God which almost elevates this beyond the racial issue that it is.
How far will the Campbells go to fight for what they believe is right? It is clearly dangerous to be on the farm, where Mike's three small grandchildren live. As Mike and Ben leave their home yet again for another postponed hearing in Namibia, there's a sense of dread and almost reckless danger which is highlighted later when brutal beatings take place in Mt Carmel.
The relationship between the film-makers and the principals here is evidently a trusting one and Bailey and Thompson are blessed with two strong, likeable characters in Mike and Ben. The the film-makers end Mugabe And The White African on an optimistic note, an interesting directorial decision in the light of what has taken place on Mr Carmel since but a dramatically successful one.
To sign up for Screen's weekly Reviews Newsletter with all the week's new releases, international openings and full festival reviewsdelivered free to your mailbox every Friday, please click HERE
Production company
Arturi Films
International sales
HanWay Films
+ 44 (0) 207 290 0750
Producers
David Pearson
Elisabeth Morgan Hemlock
Cinematography
Andrew Thompson
Editor
Tim Lovell
Music
Jonny Pilcher
Sound
Sebastian Dunn
James Snowden