Rotterdam opens with an expansive biopic of the artist Edvard Munch at four pivotal ages of his life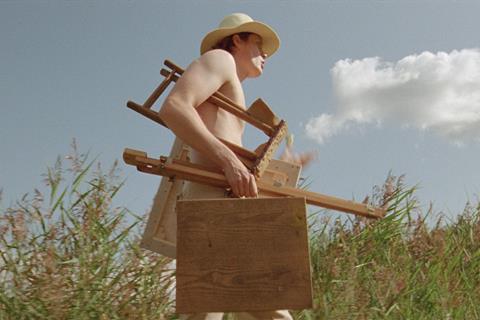 Dir: Henrik Martin Dahlsbakken. Norway. 2023. 104mins
Almost half a century after maverick British auteur Peter Watkins' Edvard Munch (1974) boldly redefined the cinematic biography, the Norwegian artist's countryman Henrik Martin Dahlsbakken approaches the same turbulent life anew. Moving freely across four time-frames which depict the painter of 'The Scream' (and many other masterworks) at the ages of 21, 29, 45 and 80, via different filmmaking styles and with four separate performers essaying the eponymous role, Munch is unusual in structure if disappointingly conventional in content.
Mattis Herman Nyquist, as the rangy, hipsterish, late-20s Munch, is easily the film's most dynamic screen-presence
Chosen to kick off the first proper in-person Rotterdam since 2020, where it premiers in the Dutch festival's Limelight section, Munch has obtained North American distribution via Juno Films (perhaps hoping for a successor to Mr Turner and At Eternity's Gate) and will stream across much of Europe on Viaplay in March. And despite its stylistic visual flourishes — it's mainly widescreen in colour, but academy-ratio monochrome for the nightmarish section where Munch is a middle-aged alcoholic — it may actually work more effectively on the small screen.
Munch continues a prolific period for Dahlsbakken: it's his fifth feature to be released since 2020. Best known for adventure thriller Cave (2016), he evidently prefers to range across multiple genres but here shows little real affinity with artist-biopic material. Cross-cutting between the four chronological settings — each section handled by a different writer — endows proceedings with a certain degree of narrative brio, and editing juxtapositions emphasise the subject's mental problems, artistic struggles and difficulties in relationships (he never married).
The ploy of having four different individuals — who do not resemble each other — playing Munch at different times of his life, echoing the way Todd Haynes approached the chameleonic Bob Dylan in I'm Not There (2007), is largely successful. As in the Haynes film, gender-fluid casting is deployed: the octogenarian Munch, world-famous but living as a recluse in a Nazi-occupied Oslo, is played by female actor Anne V Krigsvoll, the sixtysomething performer decked out with not-so-convincing old-age makeup and wild white hair.
In the section with Munch as a rising star of the 1892 Berlin art-world, meanwhile, his contemporary August Strindberg is also — somewhat arbitrarily — played by a woman (Lisa Carlehed.) These sections of the film easily are the most intriguing, as Dahlsbakken makes no attempt at period detail: Munch and his pals essentially inhabit the Berlin of the early 2020s, just as Christian Petzold simply used present-day Marseille as backdrop for the 1940s-set Transit (2018).
One spectacular sequence sees Munch and company cycling across the expanse of the former Tempelhof airport, the huge sky rendered in the style of his paintings. It also helps that Mattis Herman Nyquist, as the rangy, hipsterish, late-20s Munch, is easily the film's most dynamic screen-presence; Dahlsbakken might have found fresher insights if expanding his part of the canvas to occupy the entire frame.
As it is, Munch consistently delivers over-familiar commentary on the travails of the artist. A kindly doctor (Jesper Christensen) treating the 45-year-old Munch (Ola G Furuseth) for mental illness — these torments illustrated via visual and aural overload — later diagnoses "the inescapable anxiety of the genius." Conversations tend to be almost exclusively (and repetitively) about art and artists, unfolding in academic rather than organic style.
During the 21-year-old Munch's (Alfred Ekker Strande) discussion with his on-off paramour Milly Thaulow (Thea Lambrechts Vaulen) about finding the emotion within theatre, the spirited Thaulow opines that she doesn't want to be told what to feel. Dahlsbakken, however, can't seem to resist telling his audience what to feel, heavily larding the film with Tim Fain's emotion-stirring score.
Production company: The Film Company
International sales: Viaplay alexandra.aldred@nentgroup.com
Producer: Henrik Martin Dahlsbakken
Screenplay: Mattis Herman Nyquist, Fredrik Hoyer, Gine Cornelia Pedersen, Eivind Saether
Cinematography: Pal Ulvik Rokseth, Oskar Dahlsbakken
Production design: Henrik Martin Dahlsbakken
Editing: Philip Geertsen
Music: Tim Fain
Main cast: Alfred Ekker Strande, Mattis Herman Nyquist, Ola G. Furuseth, Anne Krigsvoll, Jesper Christensen, Thea Lambrechts Vaulen, Ida Elise Broch, Lisa Carlehed, Anders Baasmo, Nader Khademi