Rashid Johnson brings Richard Wright's 1940 novel to present-day Chicago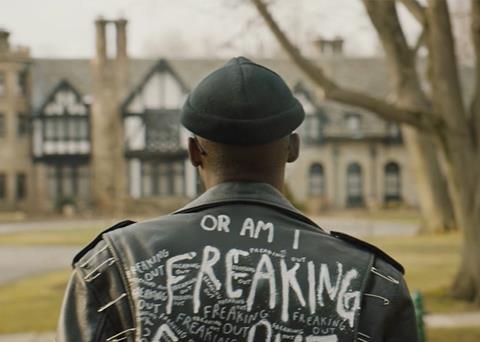 Dir: Rashid Johnson. US. 2019. 110mins
Punk fan, chauffeur, polite young man, potential criminal: Bigger "Big" Thomas is all these in director Rashid Johnson's gutsy adaptation of Richard Wright's 1940 novel — but the sad fact is that the first thing nearly everybody notices about him is that he's black. Native Son tells a fraught story of race in America that is equal parts enraged, exhausted and despondent, and while this slow-motion tragedy sometimes risks more than it can deliver, the film's cumulative effect stuns nonetheless. Ashton Sanders heads a fine cast that forcibly articulates the everyday landmines African-Americans have to navigate in a white society that often seems intent on destroying them.
A prickly, mournful drama
HBO acquired Native Son from A24 shortly before its world premiere in Sundance's US Dramatic Competition, where it opened the section. An indie-friendly ensemble that includes Sanders, KiKi Layne and Bill Camp should raise the film's profile, and perhaps the story's shocking twist will further bring attention to this prickly, mournful drama.
Pulitzer Prize-winning playwright Suzan-Lori Parks adapts Wright's novel, setting it in contemporary Chicago. Sanders portrays Big, who lives on the poorer side of the city with his widowed mother and siblings. Through a bit of good fortune, he lands a job as a driver for an affluent family headed by Dalton (Camp), who asks him to chauffeur his beguiling daughter Mary (Margaret Qualley). Although attracted to her, Big keeps his distance, but fate intervenes, leaving him in a dire situation.
Native Son is the feature directorial debut of Johnson, a visual artist who works with Oscar-nominated cinematographer Matthew Libatique to craft a story that travels across Chicago's different economic strata but focuses primarily on Big, his family and his friends. Johnson casually illustrates the desperation of their existence, as racism, crime and poverty conspire to imperil them. By contrast, Dalton's posh home and refined manner feel like an oasis, but Big is wise enough to know that he must be careful: this white family may seem generous now, but things could change if he steps out of line.
Sanders, who played Moonlight's Chiron during that film's middle section, has shown an ability to blend vulnerability and violence, and he calls upon this talent again here. Big defies easy stereotyping — while others assume he must love hip-hop, he's actually partial to punk and classical — and the actor plays him as a budding man who isn't yet fully formed. The rawness of the performance is offset by the weary look in Big's eyes, almost as if he's already experienced far too much life for someone so young.
Throughout, Native Son highlights the subtle forms of racism that visit Big, whether it's his black friends' annoyance when he eyeballs an attractive white woman or Mary's desire to treat him like an adorable curiosity because of their different upbringings. All of these micro-aggressions are deftly interwoven, and so when a startling moment of temptation and violence eventually erupts, we understand why such a seemingly unfathomable occurrence has transpired.
Before that moment, though, Johnson proves himself quite capable of conjuring moods and tones, giving us a sense of general unease as Big moves from Dalton's rarefied environs to his own rat-infested apartment. Racism isn't blatant in Native Son; rather, it lingers in the air, and the film's twitchy sound design (alongside a collection of aggressive punk tunes) keeps the audience on edge in much the same way that Big is.
Playing a rich, middle-aged liberal, Camp hits just the right note of entitled detachment. Dalton isn't evil, but he's been successful enough to avoid the real-world worries that are Big's realities, and Camp lets that faint smugness sting. Likewise, Qualley is nicely infuriating as a spoiled young woman who loves to torment Big's hormones. Sadly, Layne (playing Big's girlfriend) is a little underutilised, although she has a few bracing scenes near the conclusion.
After Native Son's traumatic sequence, Johnson continues to raise the stakes, sending Big on a harrowing journey that might seem inconsistent with the sensitive, anxious young man we've gotten to know. But while the film's final stretches don't all work, they speak to Native Son's larger truth about the endless alienation that people of colour feel in America.
Production company: Bow and Arrow Entertainment
Worldwide distribution: A24
Producers: Matthew Perniciaro, Michael Sherman
Screenplay: Suzan-Lori Parks, based on the novel by Richard Wright
Production design: Akin McKenzie
Editing: Brad Turner
Cinematography: Matthew Libatique
Music: Kyle Dixon, Michael Stein
Main cast: Ashton Sanders, Margaret Qualley, Nick Robinson, KiKi Layne, Elizabeth Marvel, David Alan Grier, Lamar Johnson, Jerod Haynes, Aaron Clifton Moten, Stephen Henderson, Barbara Sukowa, Sanaa Lathan, Bill Camp