A teenage girl must travel across state lines to get an abortion in this powerful drama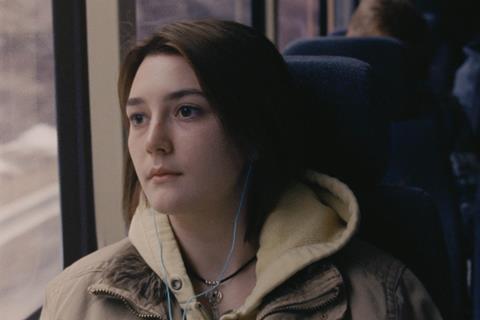 Dir/scr: Eliza Hittman. US/UK. 2020. 101mins
A teenager's complicated quest to get an abortion becomes a meditation on how imperilled women feel every day in Never Rarely Sometimes Always, a straightforward, unassuming drama that, nevertheless, slowly becomes crushingly sad and revealing. In her third feature, writer-director Eliza Hittman builds on the quiet observational strengths of It Felt Like Love and Beach Rats, and while this simple story may not seem inherently momentous, it speaks volumes about the ways in which women are marginalised — especially when it comes to making decisions about their own bodies.
Never Rarely isn't concerned with debate over the morality of Autumn's mission — the film is, instead, a detailed exploration of the difficulties that keep her from terminating the pregnancy
Premiering at Sundance before landing in US theatres on March 13, the film boasts potentially incendiary subject matter, but Hittman's non-inflammatory style may keep this project from becoming a political lightning rod. At the same time, though, Never Rarely should spark thoughtful conversation, and strong reviews out of the festival will only further stoke interest — which will be important commercially since Hittman, as per norm, isn't working with star actors.
Living in small-town Pennsylvania, 17-year-old Autumn (newcomer Sidney Flanigan) faces an unwelcome development: She's 10 weeks pregnant. Not wanting to keep the child — and unable to get an abortion in her home state because she's a minor and, hence, would need her parents' permission — she convinces her cousin and close friend Skylar (Talia Ryder) to journey into New York with her so she can undergo the procedure without her family finding out.
As in her previous two films, Hittman prefers a stripped-down approach, not offering much in the way of backstory for Autumn. Likewise, Flanigan plays the character as aloof, uncommunicative, something of a mystery. Never Rarely makes Autumn provocatively nondescript — really, she could be any young woman in the same difficult circumstances. But Flanigan's muted performance turns out to be a bit of a feint, leaving us unprepared for a scene late in the film that, while still not explaining everything about Autumn, gives us enough insight into what her life has been like.
Although her pacing can sometimes be sluggish, Hittman never burdens her screenplay with gimmicky plot twists or melodramatic manipulations. Not entirely different from 4 Months, 3 Weeks and 2 Days, Never Rarely isn't concerned with debate over the morality of Autumn's mission — the film is, instead, a detailed exploration of the difficulties that keep her from terminating the pregnancy. In Cristian Mungiu's thriller, the characters lived in a society where abortion was illegal, but in modern America, there are roadblocks, too. Because the broke Autumn pays for their trip with stolen money from their grocery-store job, these cousins (who don't have credit cards and can't call their families since Autumn wants her pregnancy to be a secret) will discover how nerve-wracking the big city can be for young women.
Never Rarely has an almost procedural quality, which allows Hittman and cinematographer Helene Louvart to chronicle this story with documentary-like immediacy. And each step of the way, we pick up on constant examples of Autumn (and sometimes Skylar) being targeted — whether it's the jerk at the high school assembly who yells "slut!" when Autumn is performing, or a creepy guy named Jasper (an expertly awkward Theodore Pellerin) who tries to pick up Skylar in New York. Even when Autumn meets the kindly workers at the abortion clinic, what we witness hints at the hardships women face, including the harassment she endures from religious protestors or the high costs of having an abortion. Hittman never leans too hard on any point, trusting that the viewer will recognise that Autumn's journey is a metaphor for a larger societal gender imbalance.
Flanigan's nicely opaque portrayal won't let us forget that Autumn is just a confused teenager struggling silently through a crisis, while Ryder is equally composed and withdrawn. There's a lot expressed between these cousins with simply a look as they come to understand that, whether with this abortion or in other aspects of life, they have to rely on each other since no one else may help them.
Production company: Pastel
Worldwide distribution: Universal Pictures International
Producers: Adele Romanski, Sara Murphy
Production design: Meredith Lippincott
Editing: Scott Cummings
Cinematography: Helene Louvart
Music: Julia Holter
Main cast: Sidney Flanigan, Talia Ryder, Theodore Pellerin, Ryan Eggold, Sharon Van Etten