Tom Hanks saddles up for director Paul Greengrass and Universal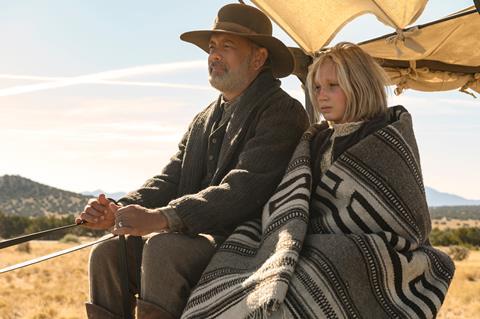 Dir. Paul Greengrass. US.2020. 118 mins.
In News Of The World, British director Paul Geengrass and star Tom Hanks saddle up for their first Western, producing a classic, crafted yet surprisingly propulsive film which, of any out there, stands the best chance of spurring audiences to venture out in the US on Christmas Day (Netflix has taken international rights from Universal). Given Greengrass's Bourne credits, though, there should perhaps be little surprise at the charge he kicks into this reversal of The Searchers, with a poignancy and subtext that feels of-the-moment despite its 1870 setting.
Greengrass can't help but pull a few Bourne tricks from his wheelspoke
Hanks's stabilising believability can anchor any film, but this is a peach of a role for the actor, paired here with the German child star of System Crasher, Helena Zengel. His part, that of Civil War veteran Captain Jefferson Kyle Kidd, a decent man who travels from town to Texas frontier town reading the newspapers to settlers, is a steady yet quietly tormented presence. Zengel plays Johanna, a 10 year-old girl taken by the Kiowa tribe after they killed her parents six years prior. Now her adoptive family has also been murdered and she is being returned to an aunt and uncle she doesn't know.
What's unexpected about News Of The World, and beautifully conveyed through DoP Darius Wolski's wide-screen lens and production design by David Crank, is how relevant such an old-fashioned Western can feel today. This world of Reconstruction, with its Civil War detritus, rampant racism and dispossessed Native American tribes, is conveyed via a deft screenplay by Greengrass and Lion's Luke Davies (adapting the 2016 novel by Paulette Giles). What the audience sees and can recognise is an America which has been ripped asunder, where suspicion and hostility reign and life is bitter and hard and cheap.
Travelling from town to town by himself, Hanks' battle-scarred Confederate veteran brings the news to the communities he visits. His words can counter ignorance and misunderstanding, but they can also be manipulated, in one of the film's more provocative sequences where Captain Kidd lands in a self-declared kingdom with its own newspaper of lies. And the importance of communication underlines the difficulties between Kidd and Johanna, who can only speak Kiowa and one or two words of German.
This provides texture to what can be a rip-roaring adventure on occasion. News Of The World kicks in quickly – Kidd has barely given a reading by the time he finds Johanna alone in the wilderness – and then moves at a much more sedate pace as he tries to find someone to take her "home", a notion the film is also transfixed by (she believes her home is with the Kiowa; he doesn't have one). She's defiant and hurt beyond comprehension, while his wounds aren't only physical: they find a way to appreciate each other through snippets of conversation which are genuinely moving. Hanks works well and generously with his young star, who effectively conveys mute terror and incomprehension as well as savvy defiance and bravery.
As this odd couple gets properly on the road together, Greengrass can't help but pull a few Bourne tricks from his wheelspoke. There's a shootout on a mountaintop which is interesting for the look of glee on Hanks's face as he finds a deadly target (there's no time for moral uncertainty in this place and time). A runaway horse and cart cues a breakneck sequence, while a detour into a dark kingdom necessitates a hair-raising escape.
Unlike, say, the one-eyed Rooster Cogburn in True Grit, recently remade by the Coen Brothers, Hanks' Captain Kidd probably isn't quite as tough as he needs to be to survive this time and place, roaming through the blistering countryside of the Reconstruction south by himself. Handy with a gun, he has a noble touch of the Atticus Finch about him as he reads snatches of news to rooms of eager consumers and bonds with his young charge. Greengrass is definitely aiming for big-screen entertainment here, and Hanks is the actor to deliver it.
The screenplay's ultimate ambition is to move the the audience through the horrors of the time to the prospect of a better future. If that can't quite be managed for America itself (after all, these problems all linger, which is why Texas of 1870 is so recognisable), he'll salvage what he can for the central couple, giving audiences the ending they need as the clock ticks down on 2020. Perhaps Greengrass's straight-line road trip takes a detour into the sentimental that we weren't expecting. Then again, perhaps we didn't know how much we wanted it either.
Production companies: Perfect World, Playtone, Pretty Pictures
International distribution: Universal (US); Netflix (selected territories)
Producers: Gary Goetzman, Gregory Goodman, Gail Mutrux
Screenplay: Paul Greengrass, Luke Davies, based on the novel by Paulette Giles
Cinematography: Dariusz Wolski
Production design: David Crank
Editing: William Goldenberg
Music: James Newton Howard
Main cast: Tom Hanks, Helena Zengel, Elizabeth Marvel, Ray McKinnon, Mare Winningham, Thomas Francis Murphy,