An unhappily married woman embarks on a transformative lesbian affair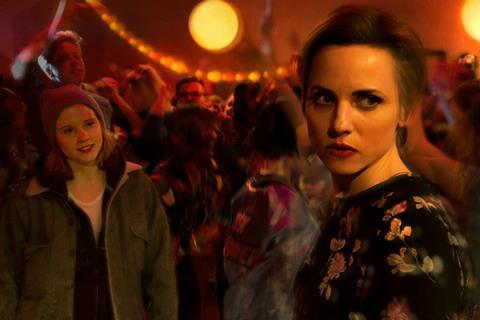 Dir: Olga Chajdas. Poland. 2018. 130mins
A stale marriage and disappointment over her failure to have children are now just things that Nina (Julia Kijowska) takes for granted. But then she meets Magda (Eliza Rycembel), a free-spirited young lesbian who Nina and her husband hope will agree to being a surrogate mother to their child. Nina finds herself attracted to Magda; through their affair she discovers a world of possibility. While first time director Olga Chajdas handles the erotic content with confidence, the storytelling is a little uneven and a slightly soapy approach undermines the film's attempts at emotional honesty.
A gauzy approach to the photography is not unattractive, otherwise production values are solid but not remarkable
Following on from its premiere in Rotterdam, Nina will most likely find a home in LGBTQ-themed festivals and showcases. Theatrical potential will probably be healthiest within the domestic market; tonally a little gaudy, it seems unlikely to connect with the arthouse audience in other territories.
Although it is Julia Kijowska's character who gives her name to the film, rather confusingly the picture first introduces us to Magda. In a pre-title sequence we see her at work, manning the security checks at an airport. There's a frisson of sexual tension as she performs the pat down on a vampy air hostess. We soon learn that the pair are lovers; the air hostess tolerates Magda's many other hook ups, just as long as the bed is empty when she comes home.
Nina, meanwhile, is a schoolteacher who encourages her students to explore feminist art; Natalia Bażowska's installation 'Birth Place', a huge womb into which people can clamber, plays a significant role in the story. Magda and Nina first meet when Nina prangs the other woman's car. Nina is not the type to apologise. She delivers plenty of sullen side-eye and then hands over all responsibility to her husband, a car mechanic who owns a garage. It's such an unpromising encounter that, when Nina's husband decides to invite Magda to dinner, with the intention of sizing her up as a potential surrogate, you expect the young woman to run a mile.
Kijowska, so impressive in Tomasz Wasilewski's United States of Love, seems to have trouble getting to grips with this role. Nina exudes a kind of frazzled inconsistency in her reactions; as a character, she feels written rather than real. Would a woman who hoped to convince a stranger to carry a child for her really suggest that they all smoke a bunch of weed? Would she start extravagantly making out with her husband in front of the other woman, then take umbrage at the suggestion of a threesome? It all feels rather artificial; a sexual attraction that has been manufactured rather than organically evolved.
A gauzy, almost soft focus approach to the photography is not unattractive, otherwise the production values are solid but not remarkable. The element in which the director's lack of experience is most evident is the screenplay. At over two hours in length, the film has a tendency to ramble and repeat itself, exhausting our interest in Nina and Magda's on-off affair long before we take our leave of them.
Production company: Film It
International sales: Film It office@filmit.com.pl
Producer: Dariusz Pietrykowski
Screenplay: Marta Konarzewska, Olga Chajdas
Cinematography: Tomasz Naumiuk
Editor: Kasia Adamik
Production design: Anna Anosowicz
Main cast: Julia Kijowska, Eliza Rycembel, Andrzej Konopka