Catherine Keener shines in a study of an ill-advised romantic affair between a mother and her dead son's best friend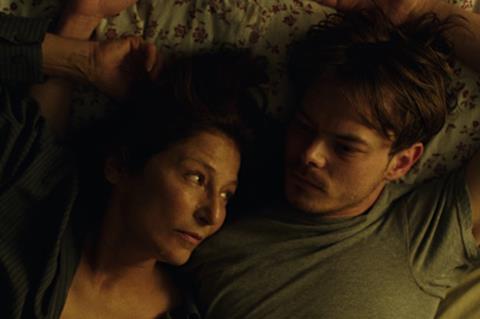 Dirs: Andrew Irvine, Mark Smoot. US. 2020. 89 mins.
A sad tale of dependence, grief and guilt, No Future casts a sympathetic eye on its luckless characters who seem trapped in their miseries. Directors Andrew Irvine and Mark Smoot chronicle the unexpected affair between a recovering addict and the mother of his dead friend, played with gutsy vulnerability by Catherine Keener. This small-scale drama is sensitively rendered, examining two people who share a past that they're only beginning to untangle, resulting in unhappy recriminations that offer little in the way of closure.
No Future reaches a finale that earns its bittersweet aftertaste
No Future premieres at Tribeca, hoping to attract buyers thanks to the star power of Keener and Stranger Things' Charlie Heaton. The film could capitalise on the awards-season interest surrounding Sound Of Metal, which also dealt frankly with drug addiction, but even so this is a modest picture that may play just as well on streaming services as the big screen.
Trying to stay clean after years of heroin abuse, twenty-something Will (Heaton) faithfully attends meetings and cautiously pursues a relationship with caring nurse Becca (Rosa Salazar). One night, though, he's visited by his estranged best friend and former bandmate Chris (Jefferson White), still in the throes of addiction and seeking to reconnect with his old pal. But because Will wants a fresh start, he politely rebuffs Chris, who later that night overdoses in the house of his divorced mother Claire (Keener). Devastated, and wondering if her son's fatal act was intentional, she reaches out to Will, and to their surprise, they're drawn into a tenuous romance because of their shared grief.
Irvine and Smoot (who previously collaborated on The Love Inside) have crafted a film that illustrates how addiction doesn't just ensnare the user but profoundly damages those who love them. Will's despair over Chris' death is compounded by the fact that, unlike Chris, he was able to kick his habit — and that it was Will who initially got Chris hooked. Trying to console Claire, who now has no one in her life, he can't bring himself to tell her that Chris had seen him just before overdosing — and that he'd turned Chris away. When she starts kissing him one drunken night in the throes of anguish, Will engages in the affair partly because he feels such sorrow for this woman — and perhaps also to process his own complicated emotions over losing his friend.
That said, No Future has no illusions about this ill-advised affair, observing as Will begins to withdraw once he recognises how inappropriate their pairing is, causing Claire to spiral. Keener has been given a difficult assignment playing a shattered mother who falls apart after her son's death. The Oscar-nominated actress lets Claire be vindictive, unreasonable, even pathetic, but the performance's steely honesty clues the audience into the pent-up trauma that has been unleashed. Claire mourns for Chris, but she's also lamenting the bad luck that's seemingly followed her — juxtaposed by her anger that Will was able to defeat his demons and get his life back on track. Keener gives us the sense of someone drowning, and it's heartbreaking to watch Claire flail so desperately.
By comparison, Heaton is much more muted, hinting at the turmoil which consumes his character. As opposed to Claire's impression of him, Will is clearly struggling with addiction issues, finding it hard to be close to Becca for fear that she'll leave once she gets to know him. Heaton conveys Will's survivor's guilt — as we'll discover, Chris wasn't the only band member fighting a losing battle with drugs — and the actor's every tormented silence expresses Will's nagging craving to start using again. Heaton and Keener humanise Will and Claire's unhealthy, co-dependent bond, which will eventually open the door for fraught conversations they've put off for too long.
This slim narrative has its predictable moments. (As soon as Will elects not to tell Claire about Chris visiting him, the viewer simply waits for this inevitable bombshell to go off later in the film.) Although the supporting cast gets some nicely observed scenes — especially Jackie Earle Haley as Will's resentful father, who blames his son's addiction for destroying their family — Irvine and Smoot too often use these peripheral characters merely as plot points. The melodrama may occasionally overwhelm the delicate storytelling, but No Future reaches a finale that earns its bittersweet aftertaste — gracefully underlining just how difficult the path to recovery will be for Will who, ironically, may actually be better off than anyone around him.
Production company: Ten Acre Films
International sales: Gersh, jcohen@gersh.com and jbarklis@gersh.com
Producers: Jeff Walker, Lisa Normand, Kelly Williams, Jonathan Duffy
Screenplay: Mark Smoot, story by Andrew Irvine, Mark Smoot
Production design: David Pink
Editing: Brad Besser
Cinematography: Jomo Fray
Music: Jon Natchez
Main cast: Catherine Keener, Charlie Heaton, Rosa Salazar, Jefferson White, Austin Amelio, Jackie Earle Haley