Dir: Liz Garbus. US. 2016. 107mins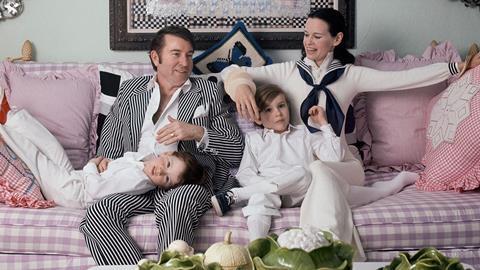 Early on in the documentary Nothing Left Unsaid: Gloria Vanderbilt & Anderson Cooper, the CNN anchor says he believes his iconic mother is a far more interesting woman than her public persona would suggest. The nagging frustration about this heartfelt film is that it, itself, is too much of a polished product, chronicling the many sad, challenging chapters of Vanderbilt's life from a safe distance that keeps us from really understanding the toll on her soul. As a result, Nothing Left Unsaid produces an odd sensation: one almost feels guilty for not being moved more by such potentially wrenching material.
This underwhelming overview too often treats her dark chapters as merely a greatest-hits reel of personal anguish
After its unveiling at Sundance, Nothing Left Unsaid will play on HBO in the States on April 9. The small screen is probably the ideal venue for this intimate film, which cuts between archival footage, talking-head interviews and conversations between Cooper and Vanderbilt. Those familiar with the colourful, dramatic life of Vanderbilt, who turns 92 next month, will probably be interested in tuning in, as well as those who enjoy Cooper's news program Anderson Cooper 360°. But any hope of a mainstream crossover is faint at best.
As its title indicates, Nothing Left Unsaid is meant to serve as an opportunity for Vanderbilt and her son Cooper, who are very close, to talk about everything that's happened in her life before it's too late. Directed by Liz Garbus (whose What Happened, Miss Simone? is up for Best Documentary at the Oscars), the film focuses primarily on Vanderbilt as she recounts a life lived in the public eye almost from birth. A child of the wealthy Vanderbilt family, she was a media sensation at a young age, especially when she became the subject of a high-profile custody trial between her mother and her aunt in the 1930s.
But that was just the beginning of Vanderbilt's amazing journey, which included multiple marriages, an acting career, the death of one husband, a period where she was a fashion mogul, and the death of her son Carter Cooper (Anderson's older brother) to suicide. Along the way, we also see how Vanderbilt has influenced Anderson, the film connecting his interest in doing stories about loss to his tender feelings towards his mother.
There are so many fascinating incidents to cover in Nothing Left Unsaid that it's odd how uncompelling the finished work feels. The documentary often plays like an authorised biography, Garbus presenting Vanderbilt and Cooper as automatically fascinating, sympathetic figures. The tone is more cozy and promotional than inquisitive, Nothing Left Unsaid seemingly unwilling to view its subjects from anything other than a glowing perspective.
That's not to suggest that Vanderbilt and Cooper aren't deserving of a viewer's sympathy, but Nothing Left Unsaid appears to be blind to the fact that it's a mouthpiece for the woes of a woman who was born rich and has lived a life of privilege ever since. Not to discount the significant amount of heartbreak she's experienced, but the documentary's refusal to even explore how strange it must be to grow up like Vanderbilt did feels like a missed opportunity — or one that couldn't be explored since the family participated in the documentary. (Likewise, Cooper doesn't talk much about being surrounded by celebrities and wealth from an early age.)
Formally, Nothing Left Unsaid is a conventionally breezy chronological portrait that's accented by animated interludes which serve as thematic motifs, the most central being that Vanderbilt always looked for a traditional family life, which she could never achieve — partly because she was so ambitious and didn't want to settle down, despite having children.
In that regard, Vanderbilt can easily be seen as one of the most important feminist icons of the 20th century, pursuing her passions above all else. Sadly, Nothing Left Unsaid doesn't show much enthusiasm for the topic, and the interviews with Vanderbilt in the film aren't very illuminating. By the time Garbus comes to Vanderbilt's final tragedy, the death of Carter, the same airbrushed professionalism that's pervaded the rest of the film once again creeps in. Your heart will probably go out to Gloria Vanderbilt, but this underwhelming overview too often treats her dark chapters as merely a greatest-hits reel of personal anguish.
Production companies: HBO Documentary Films, Moxie Firecracker Films
International sales: HBO, Jennifer.Bowen@hbo.com
Producer: Liz Garbus
Executive producers: Anderson Cooper, Sheila Nevins
Cinematography: Tom Hurwitz
Editor: Karen K. H. Sim
Music: Thomas Rutishauser