Dir. Sam Taylor-Wood. UK. 2009. 97 mins.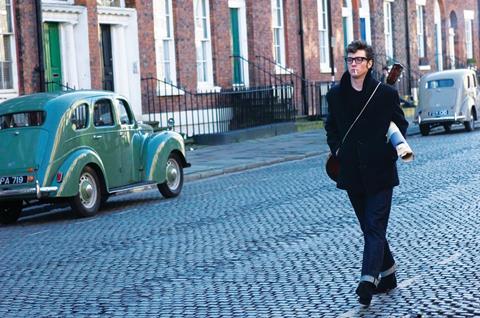 Sam Taylor-Wood's handsome feature debut offers a new insight into the early life of John Lennon; in her eyes, the unexpectedly sparkling suburbs of post-war Liverpool come to rich life. Nowhere Boy is occasionally moving, always interesting – there is plenty in here which isn't widely appreciated – but it straddles the arthouse and biopic uneasily at times, feeling a beat off.
Taylor-Wood has made some surprising, pleasing decisions in her depiction of post-War Britain.
The iconic story of John, Paul, George and Ringo has such a firm grip on the public's imagination that film-makers have generally steered clear (Backbeat being a worthy exception), but if the Queen of England can be depicted in a fact-based drama, why not John Lennon? This makes word-of-mouth and critical acceptance crucial to Nowhere Boy's future. The story itself, alongside Taylor-Wood's own media cachet, will market the film, but everybody has an opinion on the Beatles, as the director will discover when Nowhere Boy goes out at Christmas at home in the UK through Icon and in the US in 2010 through The Weinstein Company.
Nowhere Boy hones in on a domestic tug-of-love triangle; between the teenage Lennon, his guardian and aunt Mimi (Scott-Thomas) and his mother, Julia (Duff), who lived nearby and, the film suggests, suffered from some sort of depression. Flashbacks show a traumatised five-year-old Lennon, but the mystery of how he ended up with Mimi is only revealed much later.
Layered over this is Lennon's emergence as a budding musician (his mother teaches him how to play the banjo) and encounters with the lads who would later become the Beatles (McCartney, played by Brodie Sangster, teaches him how to play the guitar).
The shifts between the two strands can be jarring; from the tear-stained flashbacks to the soapy Mimi/Julia stand-off to popular history-in-the-making and back again, all framed via Seamus McGarvey's camera with a vibrant artistic sensibility (to say Taylor-Wood is fond of ruby red would be an understatement).
The film strikes amusing notes - kicked out of Julia's house, a distressed Lennon returns home to Mimi and declares: "I'm going to start a rock-and-roll band!" You don't say, thinks the audience, and a few moments later McCartney presents himself.
But then there's the high drama of Lennon's lost mother, with Taylor-Wood, via Greenhalgh's (Control) script suggesting a whiff of sexual attraction between Lennon and Julia. Against that, though, the frosty Mimi is depicted chain-smoking furiously in her kitchen – Scott-Thomas's uptight touch can nudge her character towards the comic.
Although the film is as tonally insecure as its swaggering subject, newcomer Aaron Johnson (Angus, Thongs and Perfect Snogging) mostly rises up to the challenge of presenting the young John Lennon in all his confidence, wit, and awkward prickliness. His Liverpool accent may be hit-and-miss – some suggested that middle-class Lennon exaggerated it for effect anyway – but Johnson is required to deliver raw emotion, especially at the film's powerful dramatic crux, and he mostly delivers.
Nowhere Boy follows on from artist-photographer Taylor-Wood's short, Love You More, which was produced by Anthony Minghella, and is dedicated to her late mentor (Yoko Ono is also thanked). Working again with McGarvey, she evidently has a firm visual grip on her film, and has made some surprising, pleasing decisions in her depiction of post-War Britain. Art direction is excellent.
As a side-note, this is a breath of fresh air for Liverpool, rescuing the city from grimy stereotypes and rebirthing the black-and-white Beatles in the fresh colours of their youth.
To sign up for Screen's weekly Reviews Newsletter with all the week's new releases, international openings and full festival reviewsdelivered free to your mailbox every Friday, please click HERE
Production company
Ecosse Films
International sales
HanWay Films
+44 (0) 207 290 0750
Producers
Robert Bernstein
Douglas Rae
Kevin Loader
Screenplay
Matt Greenhalgh
Cinematography
Seamus McGarvey
Production design
Alice Normington
Costime design
Julian Day
Main cast
Aaron Johnson
Kristin Scott-Thomas
Anne-Marie Duff
Thomas Brodie Sangster
Sam Bell
David Morrissey
David Threlfall