Feng Xiaogang's soulful drama is set largely in New Zealand where an expat widower looks back on his life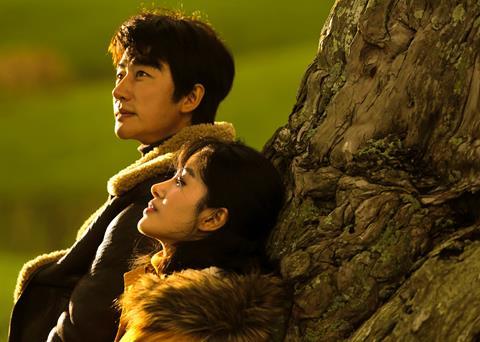 Dir: Feng Xiaogang. China. 2019. 132 mins
China's perennial box office king Feng Xiaogang may be widely associated at home with his own particular brand of scatological comedy, but there are more strings to his directorial bow. Following his last flat-out farce Personal Tailor (2013), Feng made the formally experimental social critique I Am Not Madame Bovary (2016), then the nostalgic coming-of-age drama Youth (2017), both of which travelled widely overseas, and he now tries his hand at romantic drama with Only Clouds Know. Based on a true story involving one of Fengs's colleagues and mostly set in the tranquil New Zealand countryside, it's an earnest, episodic tearjerker revolving around a relatable central couple. While it may not prove to be one of Feng's biggest hits, some of which have set local admissions records, Only Cloud Knows is sure to perform well with mature domestic audiences while its idyllic vision of rural overseas life could lure a millennial crowd seeking a cinematic respite from China's hustle and bustle.
Receiving a day-and-date international release from China Lion, the film could be warmly embraced by the disaspora, particularly throughout Australasia given it is based around an Auckland-based expatriate Sui Dongfeng (Huang Xuan), first seen as he comes to terms with the recent passing of his beloved wife, Luo Yun (Yang Caiyu). Fulfilling her request that her ashes be divided and left in four places of deep personal significance, he sets off on a journey that spans New Zealand and China. The first stop is Clyde, a rural town where the couple lived for fifteen years, with the road trip prompting the first of several extended flashbacks.
We learn that they had relocated from the city to open a Chinese restaurant and settled comfortably into the local community, becoming close friends with waitress Melinda (Lydia Peckham) whose enthusiastic personality ensures plenty of repeat business. Over the years, they weather their share of setbacks, with the passing of time marked by advertisements for the restaurant's annual anniversary specials. At one point, Yun asks Dongfeng if he would ever consider living somewhere else. He seems to think they already have the perfect life, but she is quietly harboring frustrations beneath a fairly contented surface.
As a take on the Chinese diaspora, Feng doesn't shy away from some of the difficulties, and occasional prejudices, posed by overseas living but largely portrays cultural assimilation as a smooth process through the shared experiences of an appealing couple. Although less wry than the director's usual male protagonists, Dongfeng is another practical type who sees the world as it is ("The mouth is king, if you can't fill it, who cares what your eyes and ears want?") but cheerfully tries to make the best of every situation. Like previous Feng heroines, Yun wrestles with her agency, occasionally demonstrating an independent, determinist streak yet ultimately conforming to a traditional role. Huang and Yang, both of whom starred in Youth, soon establish a tender rhythm.
Feng and cinematographer Zhao Xiaoding take full advantage of New Zealand's scenic splendor, lovingly portraying small town life in bright or earthy tones, with plenty of landscape shots to accentuate the peacefulness. Within the context of mainstream crowd-pleasers, Feng has taken on the mantle of ecological crusader, emphasising the ravishing vistas of Hainan Island in If You Are the One 2 (2010) and using the coda of Personal Tailor to make a plea to save China's natural environment before it's too late. While his previous statements have been arguably undermined by their association with China's booming leisure culture (protagonists were wealthy tourists or business travellers), the couple here is less well-heeled. Scenes depicting such wonders as the beauty of the Southern Lights and whale watching at Kaikoura transcend postcard territory to convey an everyday yearning for a glimpse of the extraordinary.
Given that China's romantic dramas have a propensity for outright melodrama, often through tragic twists, it's refreshing that Zhang Ling's screenplay is so resolutely low-key. Only Cloud Knows doesn't exactly reinvent the wheel as the catharsis of the final act hinges on revelations, but what could have been rather mournful instead becomes a poignant celebration of life thanks to Feng's deft handling of patently sincere material.
Production companies: Alibaba Pictures, Mayla Medi, Emperor Motion Pictures, Huayi Brothers
International sales: Emperor Motion Pictures, enquiry.emp@emperorgroup.com (US distribution: China Lion)
Producers: Hu Xiaofeng, Matt Noonan
Screenplay: Zhang Ling
Production design: Wang Kuo
Editing: Zhang Qi
Cinematography: Zhao Xiaoding
Music: Dong Gang
Main cast: Huang Xuan, Yang Caiyu, Lydia Peckham, Xu Fan, Zhang Hongjie