Rebecca Zlotowski draws from her own life for this portrait of a woman at the crossroads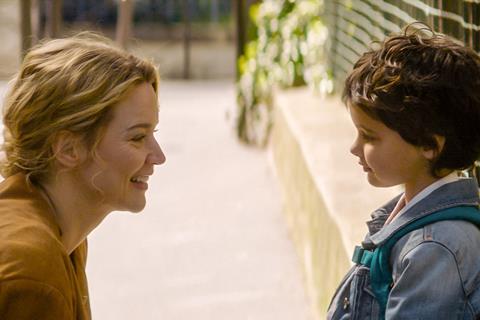 Dir/scr: Rebecca Zlotowski. France. 2022. 103 mins.
Other People's Children deals directly with a tender topic: the relationship between the childless and the kids of the title, whether that be by marriage, relationship, friendship or even through family. These ties are strong, but they don't bind: when the chips are down, they're not absolute, and can be cast aside, or just dissolve away. Rebecca Zlotowski (Grand Central, Planetarium), inspired by her own life experience, has crafted an ode to such love in a film suffused with romance. Painstakingly building up a starry-eyed relationship between 40 year-old Rachel (Virginie Efira) and Ali (Roschdy Zem), the writer/director slowly introduces the figure of four year-old Leia (Callie Ferreira-Goncalves).
It's an attractive package from the get-go
Premiering at the Venice Film Festival, Zlotowski's film is more of a portrait of a woman at the crossroads than an account of an involvement in a child's life. The director is interested in what makes Rachel, a high school professor of English, suddenly desire to have a child, any child, and what that biological need does to her psyche. With the lights of the Eiffel Tower glittering in the background as Rachel and Ali combust with attraction, this wafting film will appeal to lovers of tender French cinema and the considerable fan bases of Efira and Zem (who has his own film at Venice this year). It may be too distractible, too abrupt in its narrative, however, to satisfy those searching for topical depth, but it's an attractive package from the get-go.
Other People's Children boasts some old-fashioned ways — from the twinkly city lights to the fades around Efira's face — that give it a pleasing air. In a gorgeous, external sweeping shot, Rachel is shown from the window of her Lycee, confidently at work, as the camera moves into the room. She's beautiful, self-possessed, in the first flush of an attraction, and good friends with her ex-husband to boot.
The love story between Rachel and Ali is carefully grown, even though Zem has to contend with depicting a man of very little shading. Ali is an amateur guitar player, like Rachel, a lover, a father, and a car designer, and that's about all he is given to work with. We can figure out he's good in bed, increasingly happy with Rachel, and that his wife Alice (Chiara Mastroianni) left him — because he says so. We never find out any more about their relationship or his work, and when he makes a sudden, third-act decision, it comes as a jolt.
By contrast, Rachel is so fully depicted, we even get to meet her gynaecologist — bizarrely, he's 92 year-old director Frederick Wiseman, whose film is also in Venice. He's even called Wiseman, which leads you to wonder if this is all a dream, especially when he starts an internal examination to figure out the number of eggs she has left. Rachel is Jewish, her mother died when she was nine years-old, and she's very close with her sister (Yamee Couture), while her father is played by Zlotowski's real-life dad. She's a well-rounded being, and the film is Rachel's story — Leia and Ali are, essentially, narrative pawns in the tale of a childless woman facing up to her future.
There's a sidebar story about Rachel's urgent need to support a student, Dylan (Victor Lefebvre), who has gone off the rails. While this initially seems pro-forma, it does give Zlotowski's film a nice ending. A resonant snapshot of a moment in time, Other People's Children doesn't really award Rachel the Kramer vs. Kramer bond with Leia that might move audiences — yet neither is it a warts-and-all look at how tough "other people's children" can really be, like Joanna Trollope's novel and TV adaptation of the same name. It's a halfway house between reality and the desires and dreams and disappointments of a 40 year-old woman, and should be appreciated as such by Francophone audiences everywhere, even as they wonder why French men always turn out to be such bastards in films like these.
Production company: Les Films Velvet
International sales: Wild Bunch International, feripret@wbinter.eu
Producer: Frederic Jouve
Cinematography: George Lechaptois
Production design: Katia Wyszkop
Editing: Geraldine Mangenot
Music: ROB
Main cast: Virginie Efira, Roschdy Zem, Chiara Mastroianni, Callie Ferreira-Goncalves, Yamee Couture