HBO Europe premieres its complex drama about the Basque separatist movement ETA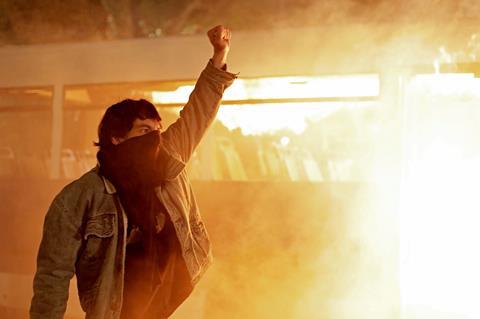 A significant televison undertaking carried out with rigour, HBO Europe's 8x60 series Patria tells the story – over three decades – of two Basque families ripped asunder by the armed conflict between the Spanish state and separatist movement ETA. Adapted from a best-selling novel, it rips off scabs which are still raw to show how lofty ideals of freedom and self-identity – the love of homeland called patria – come to ground in indiscriminate violence, grubby extortion rackets, threats, local grudges and lives ruined beyond repair.
A very deep dive indeed, made with clear respect for the complexities of what took place
Anchored by two commanding performances from older actors Elena Irureta and Ane Gabarin, Patria is a bold statement of intent from a defiantly high-end streaming service. It will undoubtedly prove a traumatic watch for home audiences, and for any country with direct experience of how guerilla warfare plays out in reality - while making no expedient shortcuts for others. Set for a global launch on September 27, Patria is a deeply moving experience in the whole: an odyssey that requires viewer commitment but is constantly enlightening and rewarding.
Maintaining a consistency in the technical team – and only two directors to execute showrunner Aitor Gabilondo's adaptation – helps establish the Basque Country as a firm visual base to anchor the two families at the centre of Patria. There are nine main characters whose stories spin out across the 480-minute show from one pivotal moment: the murder, in cold blood, of local businessman Txato (Jose Ramon Soroiz) in the street outside his home.
The announcement, in 2011, that ETA is to stand down, prompts his widow Bittori (Lena Irureta) to return to her home town from San Sebastian, where she was forced to flee in the wake of his death. Now she wants some answers. They almost certainly lie in the home of her former best friend, Miren (Ane Gabarain), her husband Joxian (Mikel Laskurain), and their children – Joxe Mari (Jon Olivares), Arantxa (Loreto Mauleon), and Gorkana (Eeko Sagardoy). To one extent or another they, like Bittori's children Xabier (Eneko Sagardoy) and Nerea (Susana Abaitua), have all been ruined by their past.
As Patria tracks backwards and forwards – to the friendship between the two women, the rupture between these close-knit families, and the present day – it awards itself the luxury of time and place. Repeatedly returning to Txato's death and replaying the sequence from different perspectives, the show details precisely who the main participants are and how they have been motivated into their polarised positions. Patria takes a very unexpected – and perhaps, domestically provocative - position to give ETA itself no more airtime than the Guardia Civil. There's talk of language and freedom, but no impassioned speeches, no inspirational rhetoric which might explain why a generation of boys would go out to unquestioningly commit murder on its behalf. And there's also no explanation given for the extortion racket which leads to Txato being ostracised in his home town, just a savage understanding that this is where guns and warfare inevitably leads – Northern Irish viewers in particular will understand this (as they will be familiar with the role of the Catholic church).
What the viewer is mostly left with is two old women looking for answers and/or justifications. Affluent Bittori, brusque with her children, has taken to talking to her husband at his grave in San Sebastian – he couldn't be buried in the town where he was born. Like her partner, she's stubborn enough to return to a place that doesn't want her, and refuses to leave until she finds out who shot Txato. Miren becomes more and more defiant and alienated in her support of ETA, backing herself into a corner from which there is no escape. Their children, meanwhile, shatter and disperse like broken pieces of crockery, seemingly beyond repair.
Gabilondo brings the viewer inside a small community and effectively shows what it's like to live with intimidation and fear and how a lifelong friendship between families can be twisted into something profoundly sad and ugly. Where, one day, you wake up to find that shops won't serve you and your friends shun you in the street. It's a very deep dive indeed, made with clear respect for the complexities of what took place in one small part of Europe. From the beaches of San Sebastian to the forests of French Basque territory, it's a singular place which many felt was worth fighting for – even as Patria shows that the price paid was far too high.
Production companies: Alea Media/HBO Europe
International distribution: HBO & affiliates
Executive producer/screenplay: Aitor Gabilondo, from the novel 'Patria' by Fernando Aramburu
Executive producers: Antony Root, Steve Matthews, Miguel Salvat
Directors: Felix Viscarret (episodes 1-4), Oscar Pedraza (5-8)
Cine: Alvaro Gutierrez
Main cast: Elena Irureta, Ane Gabarain, Jose Ramon Soroiz, Mikel Laskurain, Jon Olivares, Susana Abaitua, Loreto Mauleon, Inigo Aranbarri, Eneko Sagar