Dir: Peter Berg. US. 2016. 133mins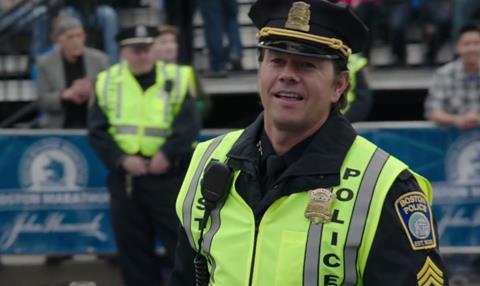 On a technical level, Patriots Day is a crackling action-thriller commemorating the 2013 Boston Marathon bombing and the subsequent manhunt to find the perpetrators. But that technical facility has such a dismayingly anonymous precision to it that, rather than mourning those who were killed or maimed in this unconscionable act of terror, the film begins to feel like a soulless, mechanical exercise in pure kinetic showmanship.
As exciting as the film may be, Berg too easily undercuts the human element of his story.
For the third time in a row, director Peter Berg and star Mark Wahlberg have crafted a solidly workmanlike tribute to real-life heroes in harrowing circumstances, but the familiarity of their approach is starting to grate. After premiering at AFI Fest, the film will hit select US cities on December 21 and the UK on February 24. Berg and Wahlberg's track record includes one hit, 2013's Lone Survivor ($155 million worldwide), and this fall's underperforming Deepwater Horizon (currently $104 million worldwide on a reported $110 million budget). American audiences' memories of the Boston bombing could drive interest, but there's a possibility that some may not want to revisit the attacks so soon.
Wahlberg plays Tommy, a temperamental cop trying to work his way back into his commissioner's (John Goodman) good graces. Volunteering to be on duty during the Boston Marathon, which is practically a citywide holiday, Tommy is startled when bombs explode near the finish line, resulting in panic and fatalities. Tommy, alongside a sergeant of an adjacent town (J.K. Simmons), a FBI agent (Kevin Bacon) and others, will try to track down the two brothers who masterminded the attack.
Berg, who co-wrote the screenplay, works on a broader canvas than usual, introducing us to several seemingly random characters who, we soon realise, will factor into the bombing, either because they're victims or because they encounter Dzhokhar (Alex Wolff) and Tamerlan Tsarnaev (Themo Melikidze) during their escape attempt.
Patriots Day has a taut, focused approach, Berg economically dramatising the terror attack and then the methodical procedure by which law enforcement ascertains who was behind it. As with his previous two movies, his new film conveys a gripping fascination with how highly trained men execute their jobs.
Working again with cinematographer Tobias Schliessler and editors Colby Parker Jr. and Gabriel Fleming, Berg emphasises the chaos of the bombing's aftermath, but Patriots Day really revs up once Dzhokhar and Tamerlan go on the run, killing police officers and taking innocent bystanders hostage to avoid capture. There's electricity to these scenes as the hunt intensifies and law enforcement starts closing in on the brothers, with Berg staging utterly enthralling shoot-outs and chase sequences.
And yet, Patriots Day's headlong rush ends up being one of its greatest liabilities. As exciting as the film may be, Berg too easily undercuts the human element of his story. Tommy, a composite character based on several real individuals, isn't well-drawn, and likewise most of the people we meet in Patriots Day are ciphers representing bland notions of good or evil. (When Berg tries to get us to sympathise with those wounded in the terror attack, it mostly yields broad, saccharine moments.)
In Berg's earlier films, his characters' crude construction mattered less because of the wizardly way that he shaped action sequences. But the filmmaker's formula is getting easier to spot of late — quick cutting, a fondness for guy's-guy machismo, simplistic portrayals of everyday heroism — and so the true story and its actual victims feel like little more than grist for Berg's flaunting of his action-thriller mastery.
This tendency is even more irritating when Patriots Day concludes with a protracted epilogue in which the real people portrayed in the film describe how they've adjusted since the attack. The heavy-handed sentimentality is yet another device that Berg has incorporated in his earlier films, and so it's hard not to be cynical about the recycling of an emotionally manipulative technique.
The performances are stripped bare, with Wahlberg doing his patented regular-guy routine without much distinction. Simmons makes for a reliable presence as a small-town lawman who rises to the challenge during a deadly showdown, and Bacon exudes confident authority as an FBI agent who recognises the political implications if they botch this manhunt. As for Wolff, he tries in vain to bring a little humanity to a character who's clearly meant to be an uncomplicated villain whose downfall the audience can feel good cheering for.
Production companies: CBS Films, Lionsgate Films, Closest to the Hole, Leverage Entertainment, Bluegrass Films, Hutch Parker Entertainment
International sales: Lionsgate, www.lionsgate.com
Producers: Scott Stuber, Dylan Clark, Mark Wahlberg, Stephen Levinson, Hutch Parker, Dorothy Aufiero, Michael Radutzky
Executive producers: Eric Johnson, Paul Tamasy, Nicholas Nesbitt, Dan Wilson, John Logan Pierson, Louis G. Friedman
Screenplay: Peter Berg & Matt Cook and Joshua Zetumer, from a story by Peter Berg & Matt Cook and Paul Tamasy & Eric Johnson
Cinematography: Tobias Schliessler
Production design: Tom Duffield
Editors: Colby Parker Jr., Gabriel Fleming
Music: Trent Reznor & Atticus Ross
Website: www.patriotsdayfilm.com
Main Cast: Mark Wahlberg, Kevin Bacon, John Goodman, J.K. Simmons, Michelle Monaghan