Di/scrr. Sharunas Bartas. Lithuania, France, Russia, 2014. 105mins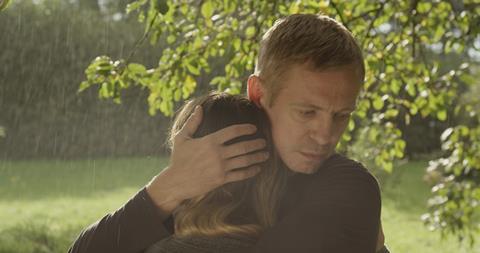 Sharunas Bartas may not be the most popular or accessible of filmmakers, but his long, elegant shots, slow demeanour and heavily atmospheric pictures have quite a following among film buffs and Peace To Us In Our Dreams, probably his most personal film to date, is bound to satisfy their expectations. Still a tough prospect, even for festival audiences, this elegy which takes place within one glorious sunny day - a feast for nature in every respect - finds Bartas' Nordic characters at anything but peace, either in their own troubled reality or their dreams.
Locked in tight close-ups, Bartas's characters are constantly trying to reach out to each other in their own ways
The plot, if there is any, and Bartas is not particularly keen to reveal its details, revolves around an intellectual from the city (played by Bartas himself) who takes his daughter (Bartas's own daughter, Ina Marija Martaite) and his partner, a violinist (real-life violinist Lora Kmielliauskaite) to his country house for a summer breather. Or is it much more?
There they find a neighbour who is supposed to take care of the house but spends most of the time fishing, his companion, an older woman who has had enough of her man's drunken ways, and the woman's son, an adolescent in search of his own identity and desires.
None of the film's characters has a name, just to indicate how emblematic they are supposed to be, but they are all in a state of personal crisis which they are trying desperately, but not very successfully, to make sense of. The violinist breaks down in the middle of a public performance and leaves the stage. The man is reaching the point in his life when he no longer looks ahead but back. The daughter, facing adolescence and all its complicated emotions, yearns for the guidance of a mother she no longer has. The unemployed neighbour fishes to feel better with himself and drinks to chase away the bad thoughts, while the fatherless boy has no one he can trust to help him in the process of becoming a man.
There is even a fashionable lady guest (a remarkable performance by the only professional actress in the cast, Russian Klaudia Korshunova) who arrives on a short visit, terrified when faced with the thought that she has lived for the moment and now there is no longer a moment to live for.
Locked in tight close-ups, Bartas's characters are constantly trying to reach out to each other in their own ways, and finding it difficult either to express their feelings and their fears or to provide the advice they are expected to give. They seek someone to lean on, and find answers to questions they don't even know how to ask.
Shaken by a tragedy that was hanging in the air, they may finally release some of the pent-up emotions they kept inside.
Wrapped in magical images of a peaceful, calm nature disturbed only by the presence of man, this looks very much like a painful, meditative and sad reflection on life from the point of no return for a character just like the one Bartas chose to play himself. His method of asking the cast to cast improvise their dialogue along previously established lines and shooting each scene until the result sounded true to life is probably responsible for the authenticity of all performances.
Lithuania, France, Russia, 2014. 105mins
Director: Sharunas Bartas
Production companies: Studija Kinema
International sales: NDM International Sales (info.ndm@mantarraya.com)
Producers: Jurga Dikciuviane
Cinematography: Eitvydas Doshkus
Editor: Gintare Sokelyte
Production design: Julija Matulyte
Music: Alexander Zekke
Main cast: Sharunas Bartas, Lora Kmieliauskaite, Ina Marija Bartaite, Edvinas Goldsteinas,Eugenijus Barunovas, Aushra Eitmontiene, Klaudia Korshunova