Paul Thomas Anderson directs Daniel Day-Lewis in what is reportedly his last feature as an actor, playing a London-based dressmaker in the 1950s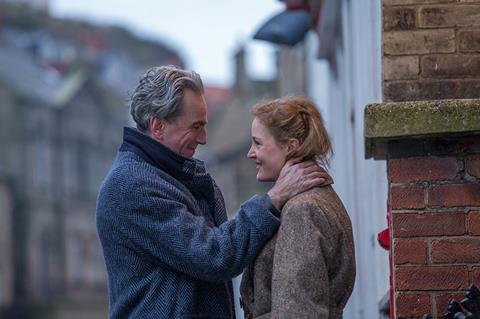 Dir/scr: Paul Thomas Anderson. US. 2017. 131mins
An impossible love affair rendered in impeccable detail, Phantom Thread beguiles as it confounds, tracing a brittle romance that defies easy categorisation but ultimately articulates the universal truth that nobody can possibly fathom the inner workings of other people's relationships. Writer-director Paul Thomas Anderson has crafted a period drama of startling tonal fluidity, and Daniel Day-Lewis and Vicky Krieps deliver reserved performances that slowly reveal significant depth, transcending the material's potential plight-of-the-artist clichés to hit at something far richer and more mysterious about desire, ambition and control.
At the film's core is the simmering tension between Alma's efforts to win Reynolds' heart and his determination to keep her at a remove
Opening in the US on December 25 and the UK on February 2, the film should attract significant art-house attention — particularly now that Day-Lewis has indicated that Phantom Thread will be his final film. Awards buzz and strong reviews should build awareness for an idiosyncratic work that, like other recent Anderson offerings, may not thread its way into the mainstream.
Day-Lewis plays Reynolds Woodcock, a celebrated 1950s London-based dressmaker who, alongside his stern and supportive sister Cyril (Lesley Manville), has built a successful business that allows him to focus solely on his work at the expense of his non-existent personal life. That's when he meets Alma (Luxemboug-born Krieps), a shy waitress who strikes his fancy. Reynolds brings Alma into his cloistered world, but she quickly realises that he doesn't want her for a conventional relationship — she's more of a live-in muse and occasional sexual dalliance than a proper lover.
Anderson's Punch-Drunk Love (2002) chronicled an anxious, volatile romance, but Phantom Thread might be an even more challenging high-wire act, consistently subverting expectations as Alma and the audience come to understand how withdrawn and demanding Reynolds actually is. Though she is smitten by this dashing artist, Alma must navigate through several layers of his defence mechanisms, aloof posturing and fussy, exacting work methods to make an impact on him.
Incorporating classical music and composer Jonny Greenwood's elegant score, which can be knowingly suffocating in their refinement, Anderson sets much of the action in Reynolds' home studio, giving Phantom Thread a claustrophobic atmosphere to emphasise Alma's sense of imprisonment. As she tries to find her comfort zone amidst the sullen Reynolds and the caustic Cyril, who doesn't take kindly to this interloper, the film occasionally flirts with psychological horror — or even the intense intimacy of a Bergman chamber drama. Phantom Thread expertly juggles these different tones, not to mention deadpan comedy, exquisite melodrama and wistful romance. But at the film's core is the simmering tension between Alma's efforts to win Reynolds' heart and his determination to keep her at a remove — treating her like just another tool in his repertoire.
Anderson leaves their relationship dazzlingly opaque, which requires both actors to commit to the enigmatic narrative and the characters' shifting power dynamics. Day-Lewis is less towering than he was in his Oscar-winning turns in Lincoln and Anderson's There Will Be Blood, but that lack of fire has been replaced by an unspoken emptiness within Reynolds. This dressmaker is not treated like a standard complicated-but-fascinating genius. Instead, Phantom Thread regards him as a man who has put his heart and soul into his creations but remains deeply, profoundly unsatisfied. Movies such as 8 1/2 have celebrated the rampaging, indulgent visions of brilliant, artistic men, but Anderson and Day-Lewis adopt a more critical view, depicting Reynolds' world as one that produces gorgeous garments but otherwise offers very little beauty.
Day-Lewis' measured, fragile performance finds space to express Reynolds' emerging craving for Alma, and Krieps is superb playing a woman who is utterly intimidated by this accomplished dressmaker but starts to chafe at his desire to control her. Alma may not be as sophisticated as her moody beau, but she understands human nature, and Krieps lets the viewer relish her character's ability to incrementally crack his icy remove.
Meanwhile, Manville conveys just the right glassy exterior as Cyril, who has come to tolerate Reynolds' rigorous work methods but, like Alma, has learned what buttons to push to keep him in line. For much of Phantom Thread, this trio are engaged in prickly gamesmanship, which is why it's even more impressive that the film arrives at such a warm, but no-less-inscrutable finale that asserts love's resilience as well as its eternal mystery.
Production companies: Focus Features, Annapurna Pictures, Perfect World Pictures, JoAnne Sellar Productions, Ghoulardi Film
US distribution: Focus Features, www.focusfeatures.com
UK distribution: Universal Pictures UK, www.universalpictures.co.uk
Producers: JoAnne Sellar, Paul Thomas Anderson, Megan Ellison, Daniel Lupi
Executive producers: Adam Somner, Peter Heslop, Chelsea Barnard
Production design: Mark Tildesley
Editor: Dylan Tichenor
Music: Jonny Greenwood
Website: www.phantomthread.com
Main Cast: Daniel Day-Lewis, Vicky Krieps, Lesley Manville