Nawazuddin Siddiqui stars in Ritesh Batra's return to Mumbai after 'The Lunchbox'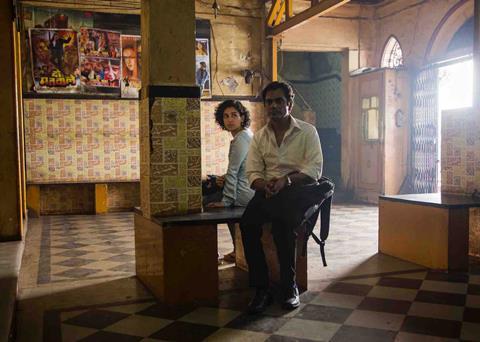 Dir. Ritesh Batra. India. 2018. 110 mins.
Like his worldwide arthouse hit The Lunchbox, Ritesh Batra's Photograph is set in Mumbai's fast lane and chronicles a hesitant romance between a mis-matched couple of significantly differing backgrounds. The Indian-born, UK-based director has made the less impactful Our Souls At Night and The Sense of An Ending in between, and it is hoped that Photograph, starring Nawazuddin Siddiqui and Sanya Malhotra, will return Batra to the promising form of his debut. It's a slow, slow journey, though, to redemption, with characters talking about busy lives even as the pace onscreen turns ever more languid, threatening to sink into torpor.
Nostalgia plays as big a role in this film as either of its two leads
Still, Photograph's deliberate pace does bring some rich rewards for the patient viewer, while a lovely ending feels like a throwback to the old-fashioned big screen romances of yore. Gorgeously-shot in Mumbai, Photograph will find its following with hopeless romantics, whether that be on the big screen or small. Sold internationally by Match Factory and premiering in Sundance followed by a European rollout in Berlin, Photograph should be able to trade on The Lunchbox and the allure of its two stars to attract modest art house audiences internationally. It pre-sold to Amazon in the US, where it is scheduled open theatrically in the spring.
Again, Batra has written a highly-romanticised view of his characters, who are of different castes, religion, and means. He's a Muslim from a impoverished village; she's a city girl. He lives in a slum; she has a maid. His parents are dead; hers are very much alive and trying to arrange her marriage. Physically, too, Rafi (Siddiqui) is a "black raisin" while Miloni (Malhotra) is light-skinned. As with last year's Sir, this is not a story in which the female lead has been given much of a voice, so we have to imagine her feelings. It's a two-hander, but one is tied.
The audience first sees Miloni on a poster, she has won top place in an all-India accountancy exam. Her parents are extremely proud; Miloni is mute and seems depressed. Happenstance is important in this film. She meets Rafi at his place of work, The Gateway of India – with the Taj hotel in the background – where he's a jobbing photographer, taking snapshots of tourists and urging them to preserve this moment in time. Impulsively, she agrees to have her picture taken: just as impulsively, she takes it and runs off without paying.
The old-fashioned romance element comes into play when, in order to get his forthright but frail grandmother (veteran actress Farrukh Jaffar) off his back, Rafi sends her the picture of Meloni and claims they are betrothed. Then, of course, granny decides to visit Rafi and his labourer pals in their slum to check out Meloni, and Rafi has to find this girl and persuade her to agree to take part in the deception.
Both characters yearn for different lives, it seems, and nostalgia plays as big a role in this film as either of them. Rafi insists on paying off his parents' debts and insists he doesn't want to be a "softie": he has a life to build for himself in the big city. Meloni suddenly starts hankering after the countryside, chatting to her maid, and deciding she might like to be a farmer. There's an abrupt sequence implying sexual harassment by her teacher, but it's just as quickly dropped. She's not communicative with her family: the longing is silent, and ends up being centred around a long-since-gone Indian cola brand. Rafi, meanwhile, is visited by the ghost of a fellow migrant worker who killed himself in the room he shares with his friends.
Mostly, Photograph entrances when it's swimming through the city with its star-crossed lovers. Ben Kurtchin's camerawork is steady yet beguilingly liquid – some sequences are clearly hand-held, but they glide. Mumbai is burnished with his available light, making even Rafi's single-dwelling slum seem seductive. In the absence of complex plot, or any sense of urgency in its telling, a piano-based score by Peter Raeburn becomes a little too much of a crutch.
Normally cast as a bad buy, Nawazuddin Siddiqui portrays the melting of this "kulfi" labourer with unceasing dignity. It's a fine performance, and he is given much to work with. This film will probably appeal more to the export market, however, than his legions of fans in the Subcontinent.
Production company: Poetic Licence, Pola Pandora, Film Science
International sales: The Match Factor, info@matchfactory.de
Producers: Ritesh Batra, Viola Fugen, Michel Merkt, Vincent Savino, Anish Sayjani, Michael Weber
Screenplay: Ritesh Batra
Cinematography: Ben Kurtchins, Timothy Gillis
Editing: John F Lyons
Production design: Shruti Gupte
Music: Peter Raeburn
Main cast: Nawazuddin Siddiqui, Sanya Malhotra, Farrukh Jaffar, Vijay Raaz, Virendra Saxena,