Dir. Jiu-liang Wang. China, 2016, 81 mins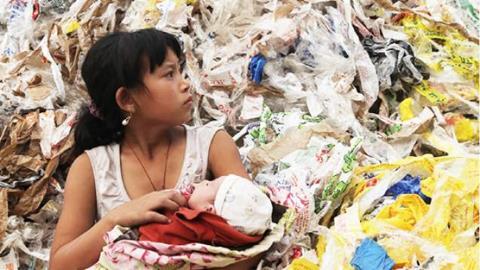 Director Jiu-liang Wang's follow-up to debut documentary Beijing Beseiged By Waste (2011), Plastic China captures a plaintive sense of the human casualties from unfettered global consumerism. His gently observed portrait of the families toiling at a plastic recycling factory in Shandong builds into a damning commentary on a modern China marked by extreme divides in wealth and opportunity. Wide festival exposure seems assured, particularly at events with a focus on environmental issues, and specialist distribution is a strong possibility.
Wang's focus is very much on individuals and family tensions
Farmer-turned-factory owner Kun and his family are literally scraping a living from the discarded waste of the world. We are told that China is a leading importer of plastic waste from Japan, Korea, Europe and America, and Kun is surrounded by mountains of often smouldering waste that is shredded, processed, incinerated and transformed into what appears to be a grey sludge. It is a Sisyphean task undertaken in a toxic atmosphere.
Kun's employee Peng works backbreaking hours for a pittance, in order to support his four children. There is a fifth on the way. It is the antics of the cute kids that initially melt the heart, the vast expanses of discarded plastic an adventure playground filled with familiar household names in the West and a veritable treasure trove of items waiting to be discovered, from balloons to magazines, plastic toys, elastic bands and sunglasses. Ironically, the pictures they glimpse in scraps of magazines and newspapers create the initial stirrings in them for goods they might never own.
The cheerful, bright-eyed optimism of the children is one of the more engaging elements of the documentary but, as we experience their sometimes hellish lives their resilience only grows more heartbreaking. This is a film that tugs at the heartstrings, especially in the overly sentimental score of Tyler Strickland.
Wang's focus is very much on individuals and family tensions, with special attention given to the issue of education. Kun is prepared to pay the money required to send his three year-old to a local school so he can improve his prospects and one day have a life in Beijing. The drink-befuddled Peng does not have the resources to educate his children. His eldest daughter Yi Jie is clearly bright and creative but is expected to be a combination of uncomplaining child minder, cook, worker and teacher. The camera frequently captures her glassy-eyed stoicism at a life that may never give her the chances she would relish.
A well-observed humanist tale, Plastic China leaves you with a strong sense of real lives that could be the focus of a Ken Loach drama. Poverty wages and the unrelenting grind of toil make for a pitiless existence. Wang also makes connections to the bigger picture; a trip to a motor show points to a different side of Chinese society, with Kun attracted to gleaming new vehicles with a price tag that represents what he might earn in a decade.
The visit to a mausoleum with the communist slogan "All the People will have a well-off life" adds a bitterly ironic final note to the film's poignant reflections on the realities and inequalities of a post-Mao China.
Production companies: CNEX, Beijing TYC, Oriental Companion Media
International sales: CNEX distribution@cnex.com.tw
Producer: Ruby Chen
Cinematography: Jiu-liang Wang
Editor: Bob Lee
Music: Tyler Strickland