Dir: Bartosz M. Kowalski. Poland, 2016, 82 mins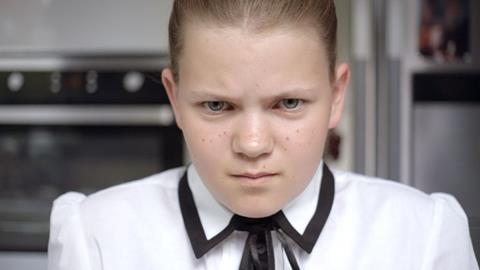 A study in child violence, Polish drama Playground is so bleakly exposing of the darkness of the juvenile soul that it might be described as a modern-day Lord of the Flies – except that there's nothing very fictional about it.
Playground acquired instant notoriety last month when its final scene caused shocked mass walkouts at its San Sebastián debut
Writer-director Bartosz M. Kowalski has talked about being influenced by a real-life case – and anyone familiar with the original facts will instantly read Playground as being modelled on the killing of two-year-old Merseyside child James Bulger by two ten-year-old boys in 1993. This ambitious yet highly problematic film is not strictly about that case, however – its two killers are slightly older – nor is it only about the film's climactic act of brutality.
Destined to be hugely divisive, Playground will have admirers on the basis of the controlled, forensic approach to its theme; but the film will also alienate, especially with the highly sophisticated way that it dramatises subject matter which many will consider strictly taboo. Playground's contentiousness should fuel its festival career, though its deeply troubling content will make it a challenge even for bold art-house outlets.
Playground acquired instant notoriety last month when its final scene caused shocked mass walkouts at its San Sebastián debut. But Kowalski's film is pitched as anything but a confrontational shocker. Rather, its sober, super-controlled tone makes it stylistically close to Michael Haneke's demystifying approach to violence and method of detached fragmentation. Playground follows a group of early-teenage school students through the last day of the school year, depicted in six separate chapters.
The first three introduce us to the young characters they are named after. Gabrysia (Świstuń) is a thick-set, solemn-looking girl, living in a well-heeled middle-class household; she's seen scowling at herself in the mirror, as she adjusts her white school uniform and tentatively attempts to put on lipstick. Szymek (Przygoda) lives on a poorer estate, where he looks after his wheelchair-using father and eventually comes to blows with him. And Czarek (Balinski) is another boy whose pre-school preparations culminate in shaving his hair off.
These three characters' trajectories, made to overlap in Kowalski's editing, converge in a fourth chapter at school, where we realise that Gabrysia has bribed a female schoolmate to pressure her adored Szymek into joining her for an afterschool tryst. In the next section, 'Ruins', set around a deserted building, Szymek shows up with Czarek in tow, and the boys proceed to terrorise and humiliate Gabrysia. The final chapter, 'Playground', shows Szymek and Czarek with a small boy that they have abducted from a shopping mall.
The questions that Playground poses are familiar ones when it comes to screen violence: what is the effect of horrifying the viewer, and what is the point of a dispassionately realistic demonstration of a violent act? Kowalski's intention is clearly serious: he wants to understand how ordinary young people might find themselves performing acts of inhuman brutality. The film offers plenty of clues, perhaps too many for a coherent answer. Playground variously alludes to parental neglect, the over-sexualisation of children, violent video games and social media phenomena such as revenge porn.
But in the end, it's unclear whether Playground is saying anything more than that we live in a terrible world, especially a terrible world in which to be young.
Whatever its goals, Playground has two serious limitations. One is the explicitness of the climactic scene, which is as much likely to repel viewers as to draw them further into a debate. Another is the fact that many of the film's techniques are familiar: along with Haneke, there are echoes of Ruben Östlund's Play (2011), a similarly detached depiction of bullying, which used CCTV-style surveillance effects, as Kowalski sometimes does. Also troubling is the technical brilliance with which Playground presents the unthinkable: for example, the fine calibration of Radosłąw Ochnio's sound design, the child's cries just audible amid outdoor atmospherics, feels like a too-calculatedly subtle assault on our sensibilities. In addition, Kowalski lays on the sonic rhetoric too heavily at points, with ominous ambient music foreshadowing the final crime.
It remains to be seen whether, as it's more widely viewed, Playground will stand up on its own merits, or whether it is destined to become an auxiliary exhibit to the controversy it generates. Certainly, Kowalski proves himself a director of some brilliance – not least in the controlled direction of an intrepid and impressive cast of young unknowns. Whether he is entirely in control of that brilliance and its repercussions is a moot point.
Production company: Film It, Orka Studio
International sales: Latido Films, latido@latidofilms.com
Producers: Dariusz Pietrykowski, Andrzej Połeć, Mirella Zaradkiewicz, Feliks Pastusiak
Screenplay: Bartosz M. Kowalski , Stanislaw Warwas
Cinematography: Mateusz Skalski
Production designer: Marek Warszewski
Editor: Bartosz M. Kowalski
Music: Krystian Eidnes Andersen
Main cast: Michalina Świstuń, Nicolas Przygoda, Przemek Baliński, Paweł Brandys