Fantasia's opener is a fast-paced and bloody parable set in a future suffering a permanent winter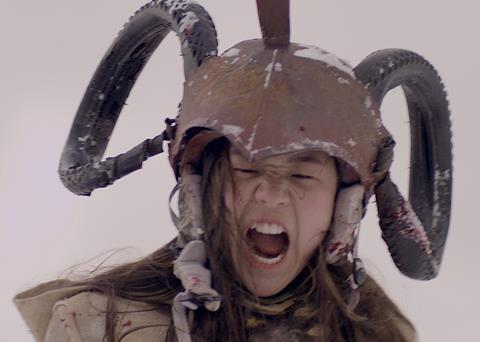 Dir/scr: K.C. Carthew. Canada. 2022. 92mins
The second feature from writer/director Kirsten Carthew (The Sun At Midnight, 2017) funnels a smorgasbord of influences into a fast-paced, all-female eco action fantasy. Set in a 2144 plunged into a permanent winter, Polaris follows a young girl running for her life and searching for a destiny written in the stars. The storytelling isn't always coherent but the mixture of vast snow covered landscapes, blood-spattered action and a steam punk vibe could attract genre fans in search of something a little offbeat following its premiere in Fantasia, where it serves as opening film.
Without the violence, it might have served as a solid family adventure with a social conscience about a sick, polluted planet and the search for fresh hope
Filmed in northwest Canada's Yukon Territory, Polaris opens in dazzling frozen wastelands. Winds howl, snow falls in an inhospitable, post-apocalyptic world. Sumi (Viva Lee) has been raised by a polar bear who is a combination of parent, protector and giant duvet. (The bear also appears to have taught Sumi how to fashion boots and design an entire wardrobe.) The one-eyed Sumi acts like a wild animal; sniffing the ground, tasting the snow, crawling on an all fours and occasionally unleashing primal screams.
When a Morad hunting party appears, Sumi is captured, caged and transported into a makeshift camp. There is a strong Mad Max vibe to the mixture of old and new as abandoned tractors and snow plows surround the home of a tribe of female warriors sporting animal skins, furs and elaborate metal helmets. They prove to be handy with flaming arrows and an arsenal of lethal weapons.
All of the scene-setting and initial jeopardy happens within the first ten minutes. Once Sumi escapes, the chase is on as she attempts to outrun marauding warriors, finds herself grateful for the kindness of strangers and seems to discover the key to her destiny when she meets the gravely injured Frozen Girl (Khamisa Wilsher).
The list of possible influences here stretches beyond Mad Max to Jeremiah Johnson (1972), Atanarjuat: The Fast Runner (2001) and The Revenant (2015) – although with a much friendlier bear on this occasion. Carthew stitches them together with mystical, folkloric elements. Sumi seems to have a particular affinity with trees that strive to protect her. She is able to heal and rehouse human organs, acquiring a new eye from an unwilling donor and managing to restore Frozen Girl to life. Her powerful connection to the bright, blinking light of the North Star guides her onwards to a beckoning future.
Carthew rarely lets the pace slacken in Polaris and the sometimes confusing storyline is frequently punctuated by bursts of bloody combat, beheading and evisceration. Without the violence, it might have served as a solid family adventure with a social conscience about a sick, polluted planet and the search for fresh hope. The bloodshed tips it more obviously into genre fare.
We learn little about the society that has formed in this dystopian narrative, or what happened to all the men, but Carthew remains true to her vision. There is little dialogue and all of it is unintelligible to our ears. Communication often comes through the soothing playing of a harmonica, evoking the scores of Morricone and lending the film a slight spaghetti western feel.
The story demands physical commitment rather than emotional nuance from the actors. Supporting players are often reduced to guttural cries and flaring nostrils as they enthusiastically embrace their villainous parts. Muriel Dutil brings a scene-stealing warmth to the role of Dee, a scarred, hermit-like older woman who gives shelter to Sumi, whilst Viva Lee makes Sum herselfi a fierce, intelligent central figure.
Production companies: Little Dipper Films
International sales: Epic Pictures sales@epic-pictures.com
Producers: Paul Cadieux, K.C. Carthew, Max Fraser, Alyson Richards
Cinematography: David Schuurman
Production design: Mercedes Coyle
Editing: Geoff Klein
Music: Judith Gruber-Stitzer
Main cast: Viva Lee, Muriel Dutil, Khamisa Wilsher