An 'Italian favela' south of Rome is the setting for Francesca Mazzoleni's poignant documentary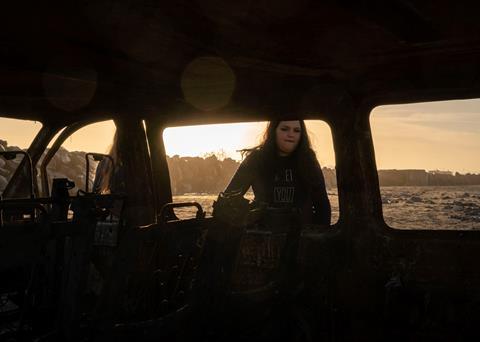 Dir: Francesca Mazzoleni. Italy. 2020. 96 mins
Where the Tiber flows into the sea south of Rome lies Punta Sacra, a spit of sandy, alluvial land that is given some small protection from storm tides by a breakwater of concrete blocks. In the 1960s, people started building makeshift houses on this desolate Land's End, entirely without planning permission, and a village took shape that is currently home to around 500 families. Francesca Mazzoleni's lyrical feature-length documentary enters into the life of this community – especially its resilient women – in a film that is both political and poetic.
Fragility is an abiding theme in Mazzoleni's evocative documentary
Drone footage at the beginning of each of the film's seven chapters gives objective, Google Earth perspective to the mess of yards, low jerry-built houses and potholed, unpaved streets that we see at ground level. But it's not until right at the end that the camera flies high enough to give an overview of the whole village, and bring home just how fragile its location is, on a shifting bar of land where you would never normally expect to see anything past perhaps a well-anchored lighthouse. This fragility is an abiding theme in Mazzoleni's evocative documentary, which is prefaced by captions that sketch in the history of the settlement, and inform us that half its houses were torn down in 2010 by the local council.
Punta Sacra is one of those depressing, down at heel Italian seaside locations that might have ended up in a Matteo Garrone film: there's even a sad kid's play area with a couple of ride-a-lion felines that have shed most of their fur and look more like rats. But this is no documentary spin on Dogman: following three generations of women who live here, Mazzoleni shows that damaged places don't necessarily produce damaged people.
Franca, a tough grandma with big hoop earrings, is a pillar of the film and the community, an activist who is leading the fight to block further evictions and bring some basic services – like a doctor – into these Roman badlands. Her dreamy 14-year-old granddaughter Silvia and her girlfriends are the film's other main focus, a young generation born in this temporary place which is the only home they know.
It's here that Punta Sacra is at its most lyrical, with Emanuele Pasquet's sensitive camerawork using shallow focus and faces backlit by the sunset over the Mediterranean to bring a yearning, existential feel even to discussions about boys and haircuts or impromptu karaoke sessions. A lovely soundtrack by Lorenzo Tomio that deftly interweaves digital and analogue instrumentation brings extra resonance to this film which extends a story about a community threatened by politicians and the sea into a wider reflection on precariousness and life as a serious of transitional balancing acts.
Only briefly, in the film's third chapter, do the men of this Italian favela get much of a look-in, chiefly via a Chilean-Italian rapper called Chiky Realeza who uses his experiences of life in Punta Sacra as material for his rhymes. But Punta Sacra's sympathies are firmly with a sisterhood who, while not always united, is the bedrock of the community. In one telling scene, an adolescent boy plays a shoot-em-up video game in a room where the women are discussing grievances and the need to take collective action.
It's this focus on sorority support networks that provides pretty much the only link between Punta Sacra and Mazzoleni's previous feature, the 2018 teen comedy Succede. In its mix of hard-bitten realism and poetic optimism, Punta Sacra is in all other respects a very different beast, that pays gentle homage to the early work of Pier Paolo Pasolini, a director who was murdered on a patch of wasteland not far from this place where the river flows into the sea.
Part of the International Feature Film Competition, 'Punta Sacra' plays in www.visionsdureel.ch between April 25 and May 2
Production companies: Morel Film, Patroclo Film
International sales: True Colours, gaetano@truecolours.it.
Producer: Alessandro Greco
Story: Francesca Mazzoleni
Editing: Elisabetta Abrami
Cinematography: Emanuele Pasquet
Music: Lorenzo Tomio