Magnolia sales pick-up by Nana Mensah tells the story of a Ghanaian-American woman who unexpectedly inherits a Christian bookstore in the Bronx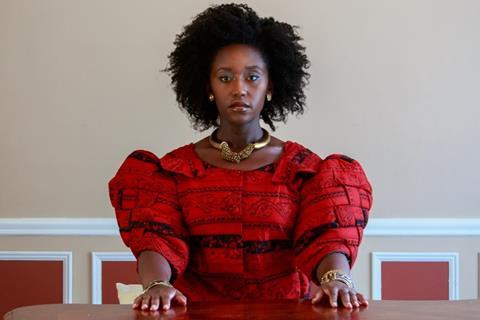 Dir/scr: Nana Mensah. US. 2021. 78 mins.
In her feature filmmaking debut, writer-director Nana Mensah plays New Yorker Sarah, a PhD student whose planned future is thrown into disarray by the unexpected death of her mother — and the surprising news that Sarah has inherited her Christian bookstore. Queen Of Glory is a modest, well-observed drama about identity, touchingly exploring the protagonist's relationship to her Ghanaian heritage. The personal nature of the narrative gives the film its heart, but Mensah's eye for life's messy complications gives it its spirit.
Mensah capably illustrates the myriad micro-aggressions people of colour face on a daily basis
Screening as part of the Tribeca Festival's US Narrative Competition, Queen Of Glory boasts a likeable, crowd-pleasing tone. Magnolia recently scooped up worldwide sales rights, and this tale of immigrant New Yorkers will appeal to the same audiences who supported similarly-themed indies such as Farewell Amor, in which Mensah also starred.
Her character Sarah is a doctoral science student at Columbia about to move to Ohio with her longterm boyfriend Lyle (Adam Leon), who has landed a cushy university position there and swears he will finally get a divorce from his wife. Excited for her new life, Sarah is shocked to learn that her mother has died from an aneurysm. The funeral planning requires her to speak to her estranged father Godwin (Oberon K.A. Adjepong), who moved back to Ghana many years ago, but she's just as upset to discover that her mother's will has left her the Bronx bookstore King Of Glory. Sarah wants to sell the place, but once she spends time at the store with its one employee, an ex-con named Pitt (Meeko Gattuso), she starts to have second thoughts.
Working with cinematographer Cybel Martin, Mensah breezily depicts a multicultural New York full of life and energy. (She's especially good at staging chaotic home scenes stuffed with characters moving in and out of the frame without warning.) An actress who appeared in the series Bonding and 13 Reasons Why, the writer-director draws from autobiographical elements for this character study. (Like Sarah, Mensah is Ghanaian-American and her family owns a Christian bookshop in the Bronx.) But while the plotting may be predictable — for instance, her relationship with the married Lyle encounters foreseeable obstacles — Mensah's examination of a bright young woman who has never fully asserted herself is so compassionately rendered that those shortcomings don't prove troublesome.
Queen Of Glory's central relationship is actually the platonic one between Sarah and Pitt, an intimidating man with tattoos all over his face and arms. Initially, she's leery of him — plus, she has no interest in running a bookstore — but an unlikely bond forms between them, in part because she senses that Pitt was actually closer to her mother than she was. Gattuso gives a tender performance as someone trying to turn his life around, while hinting at the darkness within that once made Pitt a criminal.
Much of the picture concerns the West African cultural traditions surrounding a person's death that Sarah is expected to carry out. (Adjepong is superb at conveying her father's gruff indifference as the out-of-touch patriarch more concerned with watching soccer than helping out.) Forced to reconnect with her patriarchal Ghanian heritage, Sarah seems to become unmoored, almost as if she's regressing back to the unconfident little girl she used to be. Whether it's putting together her mother's funeral or recognising that Lyle isn't as committed to their relationship as she is, Sarah stumbles toward independence in Queen Of Glory, with the bookstore serving as an opportunity to finally stand on her own two feet.
Mensah capably illustrates the myriad micro-aggressions people of colour face on a daily basis. From politely enduring a snooty white university colleague to wearing her hair in a more western style so that she can blend in, Sarah hides herself in so many ways, and the viewer slowly begins to appreciate how this desire to be accepted in America has caused her to be perpetually timid — especially in her decision to sacrifice her own career to move to Ohio to support Lyle's.
While it wouldn't be entirely accurate to call Mensah's debut a coming-of-age story, the film does suggest that immigrants sometimes run from their roots in order to assimilate — only to learn that family holds the key to discovering the person they're meant to be. Queen Of Glory exults in Sarah's courage to unlock her authentic self, as well as in a filmmaker's exuberance at finding her voice.
Production company: Cape Coast Media
International sales: Magnolia Pictures International, LTorres@magpictures.com and international@magpictures.com
Producers: Jamund Washington, Kelley Robins Hicks, Baff Akoto, Anya Migdal
Production design: Katie Hickman
Editing: Cooper Troxell
Cinematography: Cybel Martin
Main cast: Nana Mensah, Meeko Gattuso, Oberon K.A. Adjepong, Adam Leon, Russell G. Jones, Anya Migdal